"Australia" has had a near-death experience, at The Australian:
Australia's current ambassador to China gave the green light to Victoria to sign on to President Xi Jinping's signature Belt and Road Initiative, which has been criticised by Scott Morrison.

The Australian can reveal that Graham Fletcher, then a senior Foreign Affairs official, told the Victorian government in May 2018 that its plan to sign on to the BRI had merit.

The Prime Minister said last weekend: "We didn't support (Victoria's) decision at the time they made it." However, The Australian has learned senior Foreign Affairs officials told a Victorian Premier and cabinet team the state's plans to sign up the BRI did not undercut federal government policy — advice that was seen by state officials as offering implicit support for the move.

The Australian can reveal the advice was conveyed at a meeting with Mr Fletcher, who was then head of the Department of Foreign Affairs and Trade's Northeast Asia branch. Mr Fletcher was appointed ambassador to China in August 2019.
ScoMo's lies are neither here nor there. What matters is that this is where all Australian governments were at just three years ago. Sailing under full spinnaker into the Chinese empire sphere of influence. We were literally a few years from losing control of our own nation as the Chinese sellout was entrenched by pollies across the political spectrum led by Andrew Robb, Bob Carr and others. MB was running virtually solo on the issue for years.
That is no excuse for Manchurian Dan to persist now. More pressure from Domain:
The board of an Australian and Victorian government funded Belt and Road foundation was stacked with advisers with high-profile links to the Chinese Communist Party.

The list of advisers, which includes members of China's Treasury, spearheaded lobbying of the Victorian government before it became the only Australian state to sign up to the multinational infrastructure initiative.

Premier Daniel Andrews signed on to the package in 2018 and in May declared it "was more important than ever" to stimulate Victoria's post-coronavirus economy.
It is clear that the CCP and its BRI are not in the Australian national interest. Moreover, that Australia should not allow itself to be wedged by the CCP at any level.
CCP stooge, Gladys Liu, is another figment of the China close shave. She ventures out of her Coalition cell today to wave a leaf of wet lettuce at the CCP Hong Kong takeover:
"As someone who was born and raised in Hong Kong, I am saddened by the current violence and I am concerned about the proposed laws," Ms Liu told The Sydney Morning Herald and The Age.

Ms Liu has previously been criticised for her connections to community organisations linked to the Chinese Communist Party. Last year she was reluctant to criticise China's military expansion into the South China Sea.

"I have consistently supported the principles of autonomy that have underwritten Hong Kong's stability and prosperity and are critical to maintaining international and business confidence in Hong Kong," she said.
The CCP must be shaking in its boots at that thundering critique. Pull her leash, ScoMo.
Meanwhile, Australian of the Year elect, Drew Pavlou, keeps humiliating the treasonous UQ hour by hour:
Facing expulsion over his anti-Beijing stand, student activist Drew Pavlou has launched a blistering 11th-hour attack on the University of Queensland, branding vice-chancellor Peter Hoj "a barefaced liar."

Yep. He should be sacked and stripped of his AO!https://t.co/9mCITddGby

— Drew Pavlou 柏乐志 (@DrewPavlou) May 28, 2020
Facing expulsion over his anti-Beijing stand, student activist Drew Pavlou has launched a blistering 11th-hour attack on the University of Queensland, branding vice-chancellor Peter Hoj "a barefaced liar."

Yep. He should be sacked and stripped of his AO!https://t.co/9mCITddGby

— Drew Pavlou 柏乐志 (@DrewPavlou) May 28, 2020
We aren't expecting UQ's decision regarding expulsion until 7.00 pm tomorrow. This is likely the work of the PR firm advising UQ so that the story won't make Saturday morning papers. Unfortunately for stupid PR firm I'm already on the front page of The Australian for Saturday

— Drew Pavlou 柏乐志 (@DrewPavlou) May 28, 2020
The only folks getting boned should be the chancellor and his vice for the staggering mismanagement of the Chinese bribe, followed by Mr Pavlou turning them inside out on basic brand management.
And then there is El Trumpo:
President Donald Trump said he'll announce new U.S. policies on China on Friday, after the country passed a national security law curbing freedoms in Hong Kong. His top economic adviser said Beijing would be held accountable by the U.S.

"We'll be announcing what we're doing tomorrow with respect to China. And we are not happy with China. We are not happy with what's happened," Trump told reporters on Thursday, in answer to a question about whether the U.S. would remain in the "phase one" trade deal he signed with Chinese officials in January.
So far it has been a faux war to support the stock market. Sinocism that continuing:
The shortened National People's Congress (NPC) has concluded and the Decision on Establishing and Improving the Legal System and Enforcement Mechanisms for the Hong Kong Special Administrative Region to Safeguard National Security passed as expected. The next steps I believe will be the passage by the NPC Standing Committee in the next few weeks, then promulgation.

President Trump will hold a press conference Friday to discuss China. The speculation is that he will outline US actions in response to the Hong Kong law that will include changes to how the US treats Hong Kong in trade and immigration as well as "penalties" on the PRC and possibly PRC-linked entities and individuals. If President Trump still thinks the phase one trade deal is useful then expect the measures to be fairly weak. Whatever he announces, I highly doubt the actions will change the CCP's course on Hong Kong.

The US runs the risk of having made a big deal about this law and then issuing a weak response that imposes relatively little cost on Beijing. I believe that is what Xi is betting on, and certainly the utterances from other governments have been fairly milquetoast, or non-existent as in the case of most of the PRC's neighbors.

For Xi and the CCP, Hong Kong political security and the territory's place in the Motherland trump whatever increase in US-China friction may come, and in the logic the two countries are now stuck in a harsh US response will only confirm to Xi and many in China that the US is hellbent on keeping China down, while a weak response from DC will add to the view already held by more than a few in Beijing that Trump and the US are paper tigers, as Mao liked to say, and Beijing can increasingly act with impunity. It is a toxic dynamic.
But Trump is running out of time as the virus guts the nation and his polling: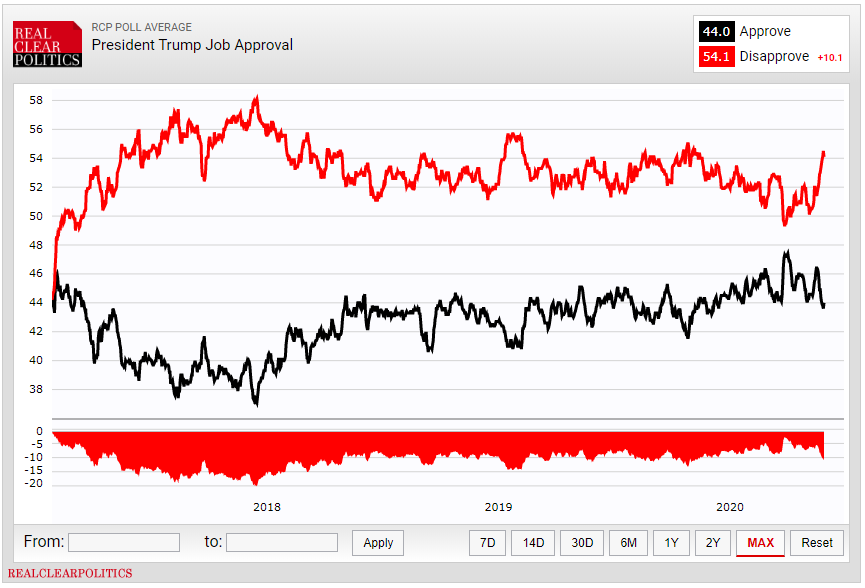 Time for something real?
Australia's China worm has turned, in the nick of time.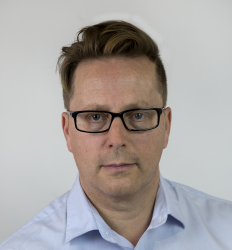 Latest posts by David Llewellyn-Smith
(see all)