See the latest Australian dollar analysis here:
DXY was belted last night:

The Australian dollar universally flew:

Gold was dumped:

Oil to the moon:

Dirt too:

Miners!

EM equity to the moon:

EM junk to the moon!
Bonds belted:

Stocks to the moon but only Nasdaq hit record highs:

Everything went right, via Westpac:
Event Wrap

COVID-19 update: The global case count, according to the latest data from John Hopkins University, indicates 80k new confirmed cases worldwide on 17 May, vs 92k the previous day. Whereas in March daily cases accelerated, in April and May they have trended sideways. Although cases in much of Europe and the US are rolling over, cases in Russia, Brazil and India are accelerating.

An experimental vaccine from US biotechnology company Moderna showed signs that it can create an immune-system response to fend off Covid-19. The results are from the first small trial designed using human volunteers. "This is a very good sign that we make an antibody that can stop the virus from replicating," Moderna CEO  Bancel said. The company is moving ahead with plans for a larger test.

Fed Chair Powell said people should never "bet" against the US economy and downplayed the possibility of a second Great Depression, but also did to promise a V-shaped rebound: "This economy will recover. It may take a while…It could stretch through the end of next year. We really don't know."

China announced the reduction of import tariffs in an attempt to increase import demand and activity (they did impose an 80% tariff on AU barley for the next 5 years, though such action was widely expected) in further attempts to open their economy. President Xi addressed WHI in Geneva and pledged to make any COVID-19 vaccine universally available as part of a defusing effort given the mounting criticism of China.

US NAHB May homebuilder sentiment survey rose to 37 from 30, and slightly above estimates of 35, but it remains substantially lower than its pre-lockdown levels of 70+.

German and French leaders Merkel and Macron held a joint press conference to announce that they agreed on a EUR500bn rescue fund backed by joint EU borrowing, with repayment based on EU bloc's budget ratios. EU officials seemed to welcome the plan, which would have to gain full EU-17 backing (their next scheduled Summit is mid-June).

Event Outlook

Australia: The day will open with "Weekly Payroll Jobs and Wages" for week ending May 2. This ABS special series provides a weekly estimate of the impact of COVID-19 on jobs and wages. In addition, the RBA will publish the Minutes of its May Board Meeting. The market will be looking for a little more colour on the views set out by the Bank in the Statement on Monetary Policy.

Euro Area: The May ZEW survey of expectations is due. The index has been volatile, with the spike to 25.2 in April offsetting March's collapse.

UK: The ILO unemployment rate is expected to jump to 4.3% in March. The release represents a three-month rolling average and will continue to weaken as the series moves into Q2.

US: Both April building permits (market f/c -25.9%) and housing starts (market f/c -24.1%) are poised for a collapse in the face of severe disruptions to activity. The FOMC's Kashkari (00:00 AEST) and Rosengren (04:00 AEST) will speak, then Fed Chair Powell will testify before the Senate Banking Committee (00:00 AEST).
It's the fake 'til you make it recovery:
Jay Powell offered a bit of rhetoric;
China's WHO enquiry is opposed by all other countries given it is a total fix;
the EU recovery fund has no support yet (though of the night's events it is perhaps the most promising), and
the Moderna vaccine trial was conducted on a grand total of eight healthy young people plus, in a pure coincidence, it issued equity after the close.
It's not all fake. There are some bullish developments. Oil has bottomed. The iron ore rally has legs as Brazil supply sinks into a viral morass. Yeh, that's about it.
The Australian dollar remains yoked to the fake it 'til you make it trade and nothing else: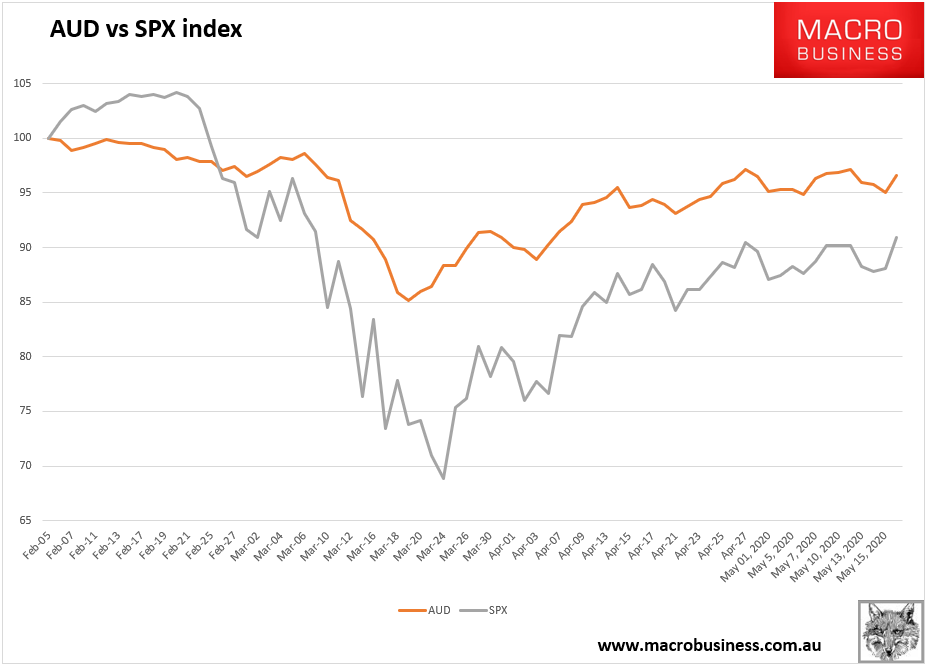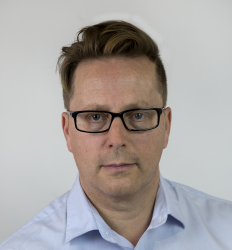 Latest posts by David Llewellyn-Smith
(see all)