See the latest Australian dollar analysis here:
DXY was still soft last night:

The Australian dollar broke out then flamed out:

Gold is still hovering:

Oil fell:

Dirt was firm:

Miners too:

EM stocks rolled:

But junk powered on post-Powell:

Bonds were bid:

Stocks fell:

Westpac has the wrap:
Event Wrap

COVID-19 update: The global case count, according to the latest data from John Hopkins University, indicates 88k new confirmed cases worldwide on 18 May, vs 80k the previous day. Whereas in March daily cases accelerated, in April and May they have trended sideways. Although cases in much of Europe and the US are rolling over, cases in, Brazil and India are accelerating.

Fed Chair Powell and Treasury Sec. Mnuchin affirmed their current policy stances but added little as they appeared in Congress. "We are committed to using our full range of tools to support the economy in this challenging time even as we recognize that these actions are only a part of a broader public-sector response," Powell said to the Senate Banking Committee. He also said the scale and speed of the downturn "are without modern precedent and are significantly worse than any recession since World War II."

US April housing starts slumped -30%, close to the -26% expected. The level of permits fell less precipitously, -20.8%.

ZEW May surveys for Germany and Eurozone showed deeper declines in current conditions (-93.5 and -95.0, prior -91.5 and -93.9), but expectations surged to the highest levels in five years (+51.0 for Germany, est. 30.0, prior 28.2; +46.0 for Eurozone, prior 25.2).

The more timely components of UK employment report recorded a record rise in jobless claims of 856.5k in April to 5.8% (from 3.5%).

Austria opposed the Merkel/Macron EU rescue fund proposals. Austria, Netherlands, Denmark, Sweden, and Poland, are opposed to EU grants, rather than loans, to support struggling EU member nations, and are also opposed to the shared fiscal responsibility of EU bonds.

Event Outlook

Australia: The day will open with the Westpac-Melbourne Institute leading index. The growth rate of the index fell to -2.47% in March, which is consistent with a deepening economic impact from the virus. The April update is set to be much weaker and will be dominated by the 9.2% decline in hours worked. Following this, the ABS will release the preliminary estimate for April retail sales, and Westpac is looking for a fall of 15%.

Japan: March machinery orders are expected to fall by 6.8%, reflecting weaker investment in the face of extreme uncertainty.

Euro Area: The consumer confidence index is set to fall to -23.7 in May, which would approach the all-time low of -23.9 seen during the GFC.

UK: The market expects that CPI growth will remain sluggish at 0.1% in April.

US: The Federal Reserve will publish the Minutes of the April 29 policy meeting. Following this, the FOMC's Bostic (00:00 AEST) and Bullard (02:00 AEST) will speak.
The market fell late after Moderna was exposed. Hoocoodanode:
Heavy hearts soared Monday with news that Moderna's Covid-19 vaccine candidate — the frontrunner in the American market — seemed to be generating an immune response in Phase 1 trial subjects. The company's stock valuation also surged, hitting $29 billion, an astonishing feat for a company that currently sells zero products.

But was there good reason for so much enthusiasm? Several vaccine experts asked by STAT concluded that, based on the information made available by the Cambridge, Mass.-based company, there's really no way to know how impressive — or not — the vaccine may be.

While Moderna blitzed the media, it revealed very little information — and most of what it did disclose were words, not data. That's important: If you ask scientists to read a journal article, they will scour data tables, not corporate statements. With science, numbers speak much louder than words.
Can anyone spell "rumourtage". Much more here. We still think a vaccine is unlikely at all.
Finally, somebody else had noticed that all that matters to the Australian dollar right now is US stocks: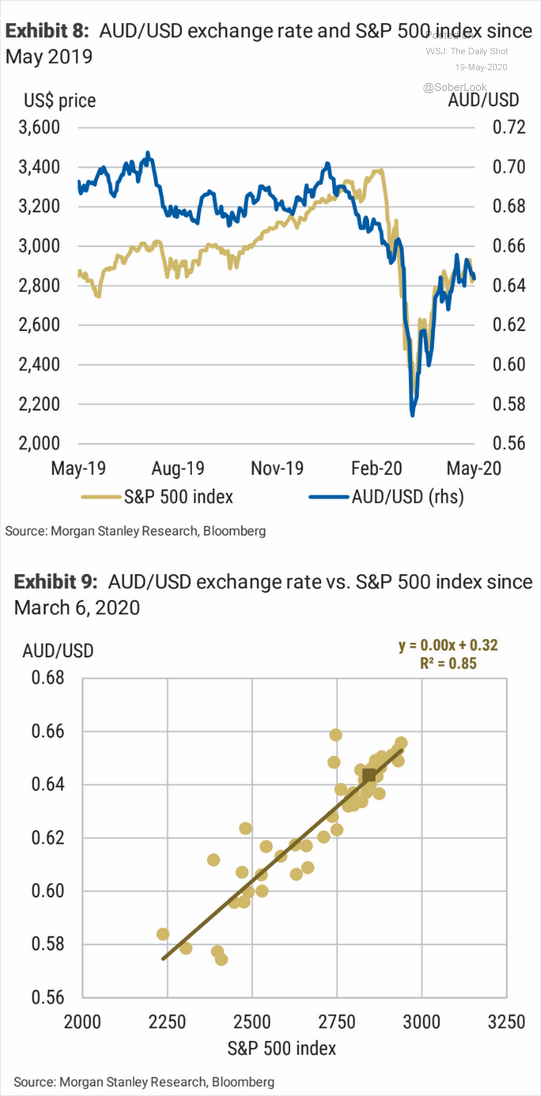 And stocks are totally disconnected from reality.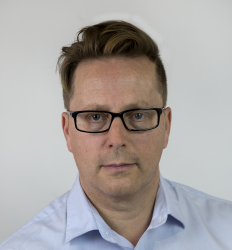 Latest posts by David Llewellyn-Smith
(see all)