The majority of the Morrison Government's COVID-19 support measures are due to conclude at the end of September. These measures include the JobKeeper program, the expanded JobSeeker allowance, and the loan guarantee scheme for small and medium businesses.
Although some sections of the economy are showing signs of recovery, the majority of economists believe that ending the support measures in September is unrealistic and would stifle the economic recovery:
"When jobseeker payments fall, it will affect growth further," Pradeep Philip, head of Deloitte Access Economics, told Guardian Australia.

"In previous crises we have tried to give money to people who need it and who will spend it. This is the conundrum the government needs to sort out. It needs to find a transition pathway."

Access Economics refers to this task as "job tweaker"…

Virtually all economists agree that the next phase – the transition to recovery – is just as important as the first phase, and that it is not realistic to end support measures in September.

"We have basically spent about $200bn transferring net wealth from the public sector to the business community and the household sector," [Greg Smith, a former deputy secretary of Treasury] said. "I suspect that won't be the end of it by any means."
Meanwhile, analysis by Melbourne Institute economist Roger Wilkins suggests that 28% of Australian workers are in sectors that were either directly or secondarily affected by the coronavirus lockdown, equating to 3.5 million workers.
However, Wilkins estimates that only around 645,000 people live in households where the main income earner works in a sector that is directly vulnerable to lay-offs, with these households tending to be poorer: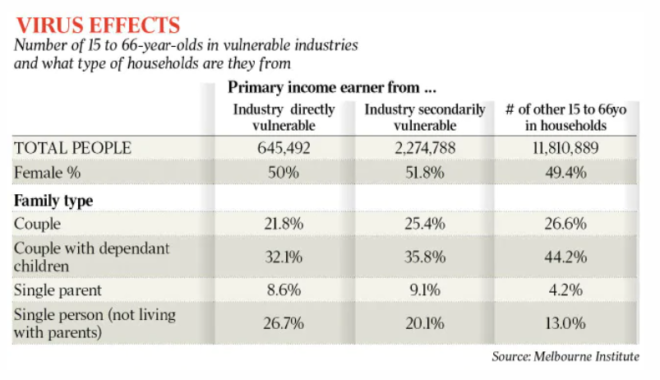 While the $60 billion downgrade in the cost of JobKeeper has been depicted as a disaster, it is actually welcome news as it suggests that the Australian economy has not been hit as hard as first thought and also means there is more fiscal headroom to extend welfare beyond its legislated late September expiry.
At a minimum, the JobSeeker supplement should be extended to provide Australians that have lost their jobs with adequate basic income support.
The government should also turn its sights to traditional styles of stimulus, such as infrastructure investment, in order to stimulate job creation and fill the hole left by lower consumer, business and dwelling investment.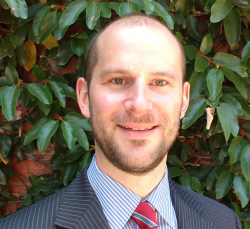 Latest posts by Leith van Onselen
(see all)