Although older Australians are much more likely to die from the coronavirus, the pandemic will have a major impact on the future income and career prospects of many younger people. A recent study by Reserve Bank of Australia economists Zoya Dhillon and Natasha Cassidy found that while younger generations find it hard enough to get into the labour market during good economic times, this is even more so during a downturn, and they are also often the first to be laid off:
A recent study by two economists at the Reserve Bank of Australia, Zoya Dhillon and Natasha Cassidy, looked at labour market outcomes for younger people in Australia. With little work experience and often few job-specific skills, quite a few young people were found to struggle to secure a foothold in the labour market at the best of times.

When the economy turned sour, however, the impact fell disproportionately on young people as they failed to secure jobs and were often the first to be laid off.

These cyclical effects were overlaid by some structural changes in the labour market that have seen youth unemployment rise relative to overall unemployment. Additionally, the rate of underemployment — people wanting to work more hours — has been rising for young people, and the proportion of young people not in the labour force, employment or training (the so-called NEETs) has also increased.
This should send a shiver down the spines of all younger Australians.
Even before the coronavirus outbreak, the youth labour market was sick with underemployment and underutilisation rates tracking near all-time highs: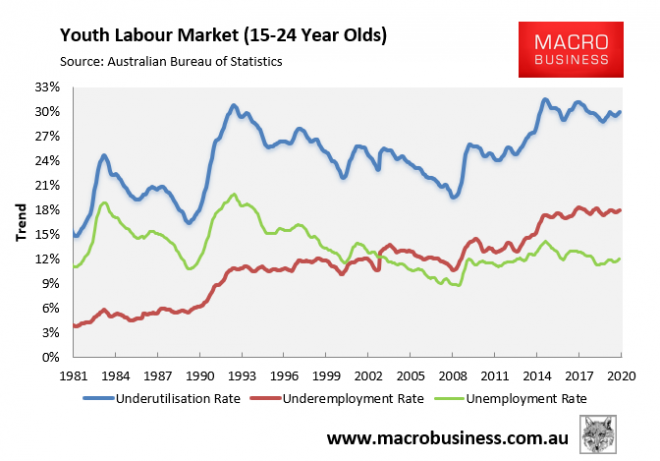 The problem would be mitigated with a substantial cut to immigration – both temporary and permanent – given competition from migrants has unambiguously crowded-out younger Australians.
As noted by the Grattan Institute last year:
As shown below, the shape of Australia's migration system14 has shifted significantly over the past six years, towards younger, less-skilled migrants…

Many believe that Australian migration is highly skilled and has nothing to do with the underpayment of minimum wages. That might have been true in the past, but it's less true now… the number of temporary migrants (other than New Zealanders) in Australia has almost doubled since 2007 to almost 1 million (Figure 1).

New migrants to Australia are disproportionately 18-40 years old… Consequently, temporary migrants are about 10 per cent of the younger-aged workforce…

Of those temporary visa holders who do work, most (59 per cent) are in low-skill occupations. Of those with student and working holiday visas who work, even more (about 75 per cent) are in low-skill occupations…

If we look at the flow of migrants, the story is even starker. Net overseas migration for 2017-18 was 237,000 people. Of these, 105,000 (of the net migration) were students, 27,000 were working holiday makers, and 58,000 were visitors…

About three quarters of net migrants to Australia today are not high-skill, at least when they arrive… The stock of temporary students remains relatively low-skill…

As the Productivity Commission noted, where migration does displace existing populations, it tends to affect people with low skills and youth most. That seems to be happening in Australia. And because international students and backpackers are primarily looking for part-time work, they may affect under-employment more than unemployment…

Low-skill migrants might also put downward pressure on wages (if accurately measured). The measured wages of those aged 20 to 34 have not risen as fast as the wages of older workers for some time (Figure 7)…

Summing up

Australia is now running a predominantly low-skill migration system. People from this system form a material proportion of the younger workforce. Because of visa conditions, many of these migrants have incentives to work for less than minimum wages, and there is anecdotal evidence that many do. It is impossible for data sources on the Australian labour force to pick up all of this phenomenon. It is possible that the scale of this influx to the labour market is depressing wages and increasing under-employment specifically for low-skill younger workers.
We also know that migrants took around three quarters of jobs created in Australia between 2011 and 2016:
The permanent and temporary skilled migration policies established by the Australian Government from 1995 played an important role in meeting that labour demand, especially in the boom years of the first decade of the 21st century…

From July 2011 to July 2016, employment in Australia increased by 738,800. Immigrants accounted for 613,400 of the total increase…

Migration has had a very large effect on the age structure of employment with most new immigrant workers (595,300) being under 55 years.
With mass unemployment looming, the last thing young Australians need is to be competing for scarce jobs with huge numbers of migrants.
Once the coronavirus crisis has passed, and air travel has resumed, the federal government must send a significant proportion of "temporary" migrants back to their home countries, as well as slash the migrant intake.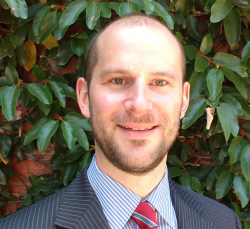 Latest posts by Unconventional Economist
(see all)