Universities Australia estimates that the sector's revenue could fall by about $4.6 billion in 2020 due to the coronavirus pandemic, while 21,000 full-time jobs could be lost over the next six months:
Universities Australia warned that the coronavirus crisis could result in the loss of 16 per cent of the university workforce, or 21,000 full-time jobs, over the next six months, with ­another major round of job losses likely to follow that…

The group said that universities were facing a conservatively estimated $4.6bn revenue hit this year due to the coronavirus…
Accordingly, the university sector is demanding that they be treated as registered charities so that they can access the lower 15% turnover test to access the federal government's JobKeeper wage subsidy scheme:
Major universities were expecting a massive coronavirus bailout worth over $2 billion this morning after a late night tweet from Treasurer Josh Frydenberg on Sunday announced that the government would increase access for registered charities to its $130 billion JobKeeper scheme…

All universities are registered as charities with the Australian Charities and Not-for-profit Commission so the import of the Treasurer's words was clear. Universities, hard hit by the fall in Chinese students, would receive over $2 billion from the JobKeeper scheme to subsidise thousands of jobs which otherwise may be lost in coming months.

But the Treasurer misspoke… a senior government source said on Monday that universities will not be given the special access to the JobKeeper package which is being offered to other charities…

The major universities in the Group of Eight, which have high numbers of Chinese students and are particularly hard hit by the coronavirus travel bans, feel misled…
Advertisement
It is hard to take the universities' charities claim seriously. For years they have acted like profit maximising corporations raking in billions of dollars from international students often to the detriment of local students.
They have also paid their vice chancellors and senior administrators obscene sums of money more akin to major private corporations.
The below charts tell the story. There were an obscene 442,000 international students enrolled at Australia's universities ('Higher Education')as at the end of 2019, up 91% from 231,000 in 2013:
Advertisement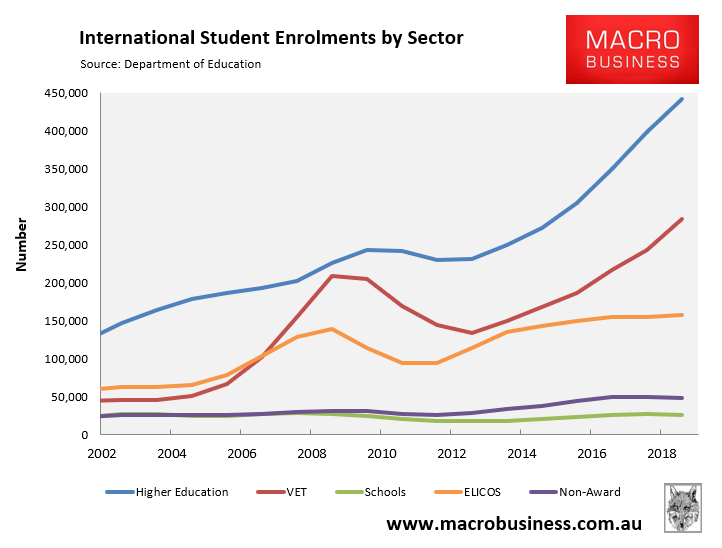 In a similar vein, university international student fees rocketed to $12 billion in 2019, up 143% from $5.0 billion in 2013: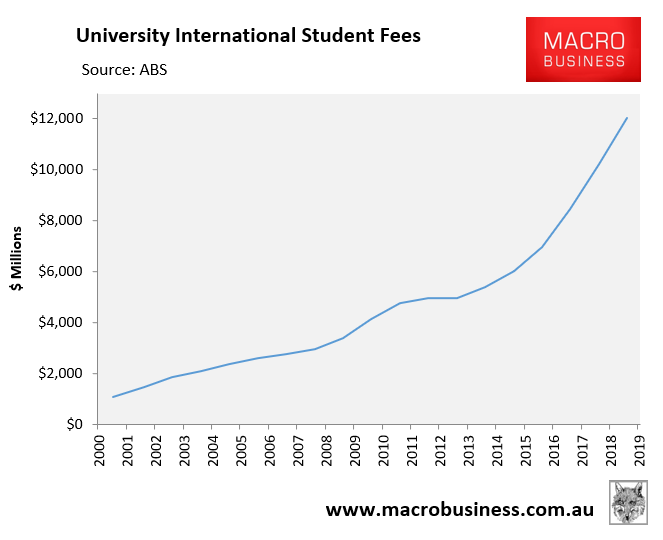 Advertisement
Now the international student 'rivers of gold' are dissipating, the universities are predictably crying poor.
Risk management is a core responsibility of any business and you would think that universities, full of such academic talent, would be all over that skill set.
Instead, Australia's rent-seeking universities are displaying classic 'moral hazard' behaviour. After privatising the financial gains from booming international student enrolments, they are now seeking to socialise the losses on taxpayers as student numbers retrace.
Advertisement
The federal government must not come to the universities' rescue and must make them stand on their own two feet.
This is the only way to eradicate the toxic moral hazard culture that has developed and to curb the extortionate pay of vice chancellors and senior administrators. It will also help return international student numbers to sustainable levels, offering spillover benefits to both entry and teaching standards.