Over the weekend, it was revealed that nearly 900,000 Australians have registered their interest to withdraw part of their superannuation nest eggs early.
This follows the Morrison Government's announcement last month permitting those suffering from financial hardship to withdraw $20,000 from their superannuation savings, beginning from 20 April.
The number of applications for early release was up 260,000 over the past week and is already nearly 70% of Morrison Government's forecast of 1.3 million people: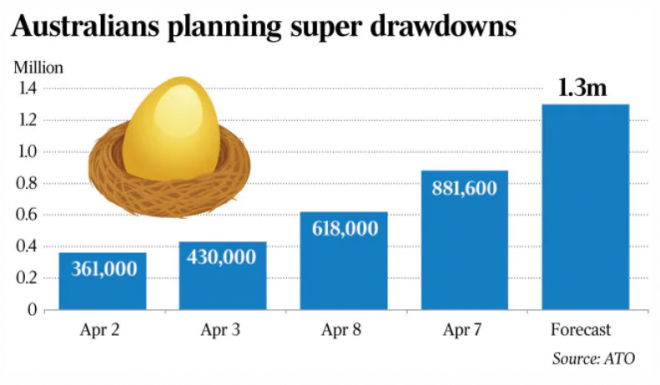 Meanwhile, the Australian Treasury forecast that up to $27 billion would be withdrawn from superannuation balances, whereas the superannuation industry estimated early redemptions could top between $50 billion and $65 billion.
I have previously argued that even $65 billion of withdrawals should not pose significant difficulty for the superannuation system, since it would constitute less than 2.5% of total superannuation savings of $2.8 billion as at December 2019 (latest available data):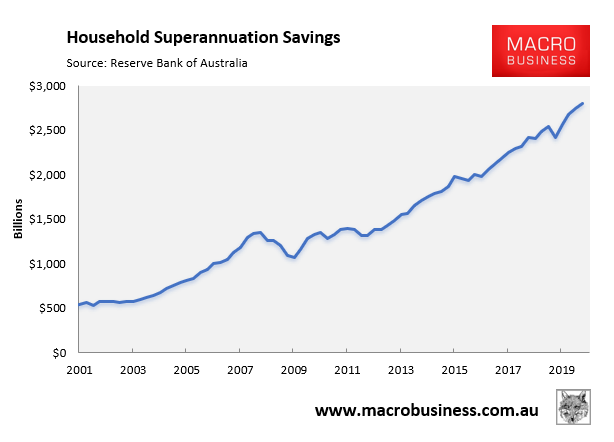 The problem is that some industry superannuation funds operating in areas hardest hit by the COVID-19 lockdown could face the bulk of withdrawals, thus endangering their viability. The AFR's superannuation writer, Joanna Mather, described this as the "black swan for super in the virus crisis":
The virus-induced shutdown of hospitality, tourism and retail is putting pressure on super funds with large membership bases drawn from those industries, and possibly others if a deep recession emerges.

Funds face a double-whammy of early access claims under the government's hardship scheme, plus the drying up of super contributions by employers until people can get back to work…

Amara Haqqani, the director of insights and strategy at Milliman, a global actuarial firm specialising in retirement, said… "This crisis has shed light on what the risk posed by the connection not just between employment and retirement savings generally, but the link between specific employment and specific super funds"…

"We had this notion that the constant inflow of compulsory contributions coming from employment benefits would insulate the funds.

"In the end, the black swan event was that employment itself has been called into question across entire sectors, and with it, the concept that there will always be a constant level of super contributions to rely on."
It will be interesting seeing how this plays out. Industry funds operating in hospitality and the arts look like they will be hardest hit, according to the Grattan Institute's latest unemployment projections: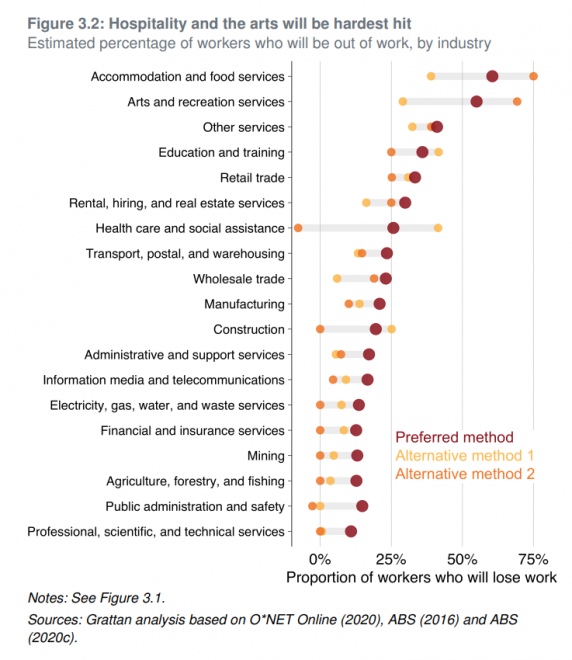 As shown above, these two industries could lose up to three quarters of their jobs under the worst case scenario, which would obviously put tremendous pressure on industry superannuation funds operating in these areas. 
When the crisis is over, regulators will have to give greater consideration into ensuring that superannuation funds are not just liquid and diversified in the asset mix, but also that their member bases are not too concentrated in a single industry.
This will rub salt into deep wounds as returns for members will necessarily fall.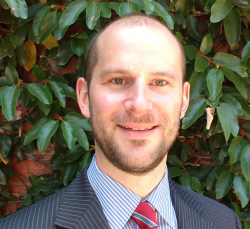 Latest posts by Unconventional Economist
(see all)