While residents of Sydney are suffering from mass job losses and falling incomes, and all companies are taking haircuts, monopoly toll road operator Transurban is pushing ahead with hefty toll increases across its Sydney road network:
Opposition roads spokesman John Graham said the government needed to work with toll operators to freeze price increases for the quarter, and possibly beyond.

"NSW is in a precarious economic position right now and we need to look at different ways to ease the financial burden on families and businesses," Mr Graham said.

Transurban, which owns all four toll roads that are set to increase, is refusing to budge on its pricing on the Cross City Tunnel, Eastern Distributor, M2 and Lane Cove Tunnel.

A spokesman for the company said the revenue generated from the price increases was being funnelled into its big infrastructure projects in the state, including NorthConnex and WestConnex.

"Tolls allow us to invest billions of dollars into new road projects, which have created more than 10,000 local jobs and none of them have stopped during this crisis," the spokesman said…

Asked whether it could intervene to assist Sydney motorists, the NSW government said the price escalation on the state's toll roads were "set and legally binding".

"Under individual contracts with the NSW Government, motorway companies have the right to increase prices," a Transport for NSW spokesman said.
Australia's the NSW Government is ultimately responsible for the massive escalation of tolls across the road network. It is the State Government that signed the dodgy contracts that have given Sydney the dubious honour of having the most expensive and extensive toll road network in the world, most of which are owned and operated by Transurban.
These contracts will see tolls on some of Sydney's roads rise at triple the rate of inflation, which has raised alarm among transport experts:
Martin Locke, an adjunct professor at the Institute of Transport and Logistics Studies at the University of Sydney, said… "If someone is struggling to pay tolls today, in 10 years time it will be significantly worse if the tolls increase at 4 per cent per annum…

The Grattan Institute's transport director, Marion Terrill, said she was concerned that the NSW government was continuing to lock in "extremely long-lived arrangements" for toll roads, citing WestConnex's concession deed lasting until 2060.
All of which is part of Transurban's plan to control Australia's road system and become the prime beneficiary of Australia's mass immigration 'Big Australia' policy:
Toll road giant Transurban is positioning itself to manage the entire road networks of Australia's three major cities as governments make the "inevitable" shift to road pricing.

A senior Transurban executive told a private meeting of investors this month that the company wanted to be viewed as the "natural custodian" of the nation's motorways, in the likely event of motorists being charged to drive on them.

The Melbourne-based company has a near monopoly on private roads in Australia already, controlling 13 of the 15 toll roads in Melbourne, Sydney and Brisbane.

Analysts Morgan Stanley have described a Transurban-run, user-pays system across all roads as a "meta-monopoly".

Such a move would further entrench the company – which owns Citylink in Melbourne, the M2 in Sydney and all of Brisbane's toll roads – as a de-facto private sector planning agency in those major cities.

Few, if any, countries in the world have allowed a private operator to control so much of their road network.

Even Jeff Kennett, the man who in effect launched Transurban through its Melbourne CityLink contract in 1996, now warns governments against granting the company more toll road projects, arguing that taxpayers are being "ripped off".
The only silver lining is that the coronavirus quarantine has collapsed road traffic by 75%, which is certainly hurting Transurban: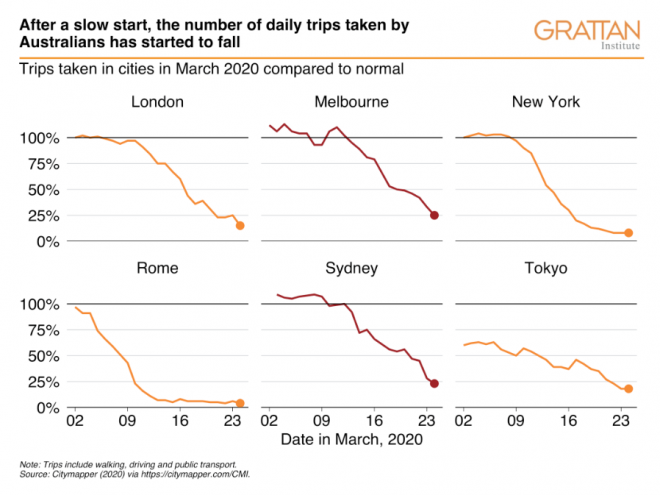 Indeed, as reported in The AFR:
Averaged daily traffic dropped 14 per cent across the company's roads in Australia and North America overall during March compared with a 3 per rise in traffic in January and a flat performance in January, leaving traffic down 4 per cent over the first three months of the year.

The decline in traffic in Australia has worsened as the month has continued and governments imposed tougher restrictions on the movement of people…

Transurban's North American tollroads have been hit by a 65 per cent decline in traffic in the final week of March and overall, group traffic dropped 36 per cent.
Nevertheless, for too long Transurban has outmanoeuvred and bullied Australia's governments at great cost to motorists and taxpayers. This must stop.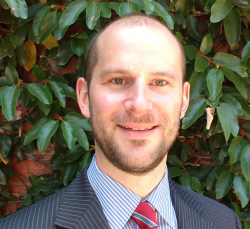 Latest posts by Unconventional Economist
(see all)