Australia's official unemployment rate is forecast to peak at around 10% during the COVID-19 lockdown, according to the Australian Treasury.
However, ANZ economist David Plank says the 'shadow' unemployment rate is likely to be much higher, and the number of hours worked will be the best indicator of the virus's impact on the labour market. Mark Wooden from the University of Melbourne agrees that hours worked is a far better measure of the labour market than the unemployment rate.
From The AFR:
"Hours worked will be the best indicator and you are likely to see a massive drop in full-time jobs and a jump in part-time jobs," Mr Plank said.

"Calculating the unemployment rate is going to be complicated and it will understate the degree of underused labour"…

University of Melbourne labour economist Mark Wooden said the unemployment rate had never been a great measure of the labour market and "hours worked has always been a better measure".

"There's going to be people on JobKeeper working zero hours who are almost unemployed people."
Both are right. The official unemployment rate will be next to useless given:
Those receiving JobKeeper but not working will be counted as employed; and
Those that have given up looking for work (but would like a job) won't be counted as unemployed.
Total hours worked were already falling before the COVID-19 lockdown hit: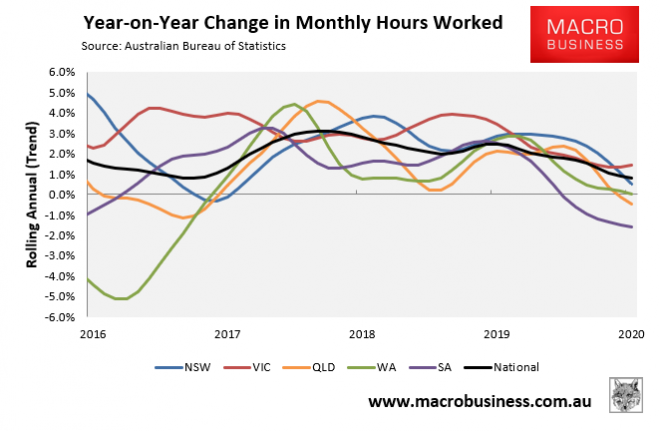 Average hours worked had also tanked to the lowest level on record: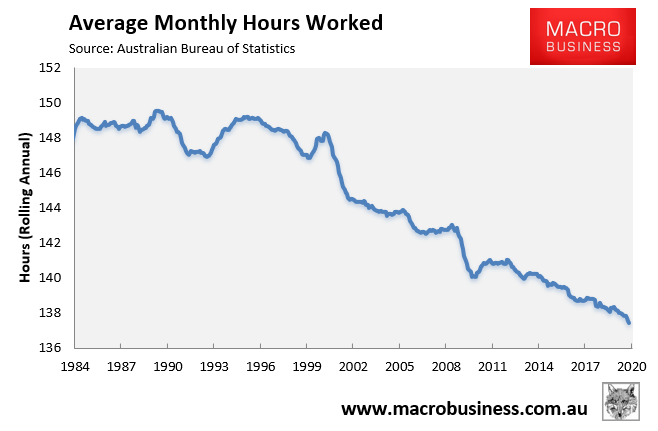 Meanwhile, the Reserve Bank of Australia forecasts a "staggering" 20% decline in the number of hours worked over coming months.
Goldman sums it up nicely:
real rate of unemployment is likely to hit 19% by the middle of this year;
JobKeeper's working very few hours;
others will leave the labour force;
significantly undermine the usefulness of standard measures of underemployment and underutilization; and
slowing wages growth.
We'll get our first official indication of the employment impact mid-May when April's labour force data is released.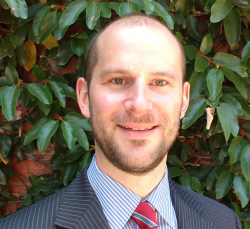 Latest posts by Unconventional Economist
(see all)