LaTrobe Financial has optimistically tipped a "strong and sharp rebound" for the Australian housing market once the coronavirus outbreak passes:
Amid the doom and gloom over coronavirus, LaTrobe Financial says it expects the housing market to surge following a temporary slowdown.

In a message to investors, LaTrobe Financial senior vice-president and chief investment officer Chris Andrews said he anticipates the housing market to have a "strong and sharp rebound", highlighting the "immense resilience previously seen in the Australian housing market".

According to Mr Andrews, there is "little doubt that housing sales activity will slow dramatically" beyond April, something made worse by the recently announced restrictions on open houses and public auctions.

"Fundamentally, as we've said before house prices tend to be less volatile than equity markets because of course housing is not just an investment, it's also an instant essential consumption item," Mr Andrews said.

He then went on to reference the housing market's response to other broad economic challenges, such as the 2008 global financial crisis (GFC) and the credit squeeze of 2017-19.

"In both cases, there was an initial drop of around 10%, where the largest peak to trough observation in that period was Sydney in the 2017 to 19 period at 14.9% retracement," he said.

"That was followed by a sharp rebound, as more normal market conditions re-emerged.

"So that is a really good baseline for our thinking around the house prices."
This is panglossian thinking by LaTrobe.
With widespread business closures anticipated, unemployment is likely to remain high well into 2021.
According to Westpac chief economist, Bill Evans:
"…the unemployment rate holds at 11% in the September quarter and then moves a little below 9% by the end of 2020 and then towards 8% by end 2021".
Bloomberg Economics economist, James McIntyre, noted similar:
"The labor market dislocation will be substantial, and is likely to linger for an extended period, even though economic growth may 'bounce back"…
How will the Australian housing experience "a strong and sharp rebound" with mass unemployment and falling wages? It won't.
Remember too that prior downturns saw sharp reductions in mortgage rates. This time around, mortgage rates are already at their lower bound and no further reductions will be forthcoming to rescue the housing market.
Perth provides a useful insight into what is facing Australian property amid chronic high unemployment and falling income: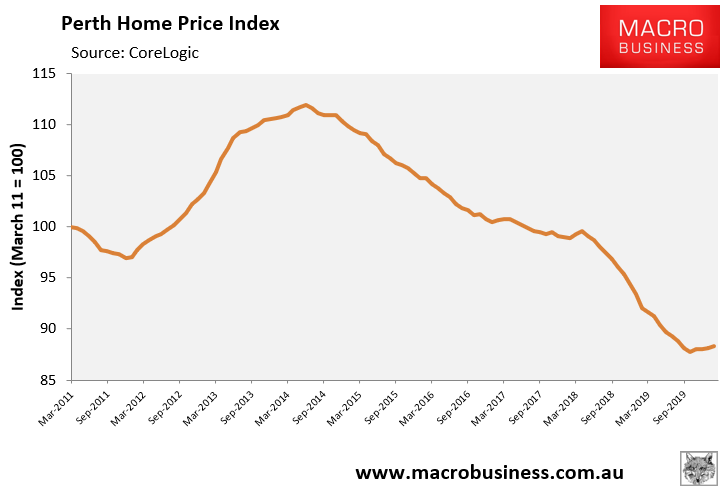 Perth's house prices are down around 21% from peak over 5.5 years.
And this is with an unemployment rate that peaked at only 6.9%.
Join the dots for yourselves.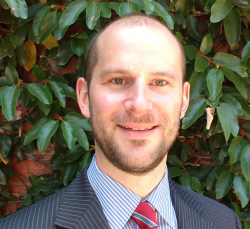 Latest posts by Leith van Onselen
(see all)