The Morrison Government has announced that it would introduce a 'welfare wage' to help those made unemployed to ride out the coronavirus:
Hundreds of thousands of workers who face losing their jobs due to the coronavirus crisis will be given fast access to a new, temporary wage that will be set at a higher rate than the dole.

The new transitional income support will be a central feature of a forthcoming package that will be more about survival than stimulus, and which, sources say, will dwarf last week's $17.6 billion package of economic measures aimed at stimulating supply and demand.

Similar survival assistance for small and medium businesses will be the other focus of the new package…

The Australian Financial Review understands the new income payment will be available to casual and full-time workers who lose their jobs "through no fault of their own" and will be higher than the rate of Newstart – which is currently $490 a fortnight for a single with no dependents, for instance.

Access will be immediate, meaning the usual qualifying conditions for Newstart will not apply.

It is not known whether current Newstart recipients will receive the higher rate as well, or be given another temporary cash payment on top the one-off $750 they will receive from March 31 under last week's stimulus package.
This is obviously a good move. However, the government should have used the virus pandemic as an excuse to permanently raise Newstart by $95 a week, as demanded by ACOSS.
Remember, Australia's unemployment benefits are the lowest in the developed world: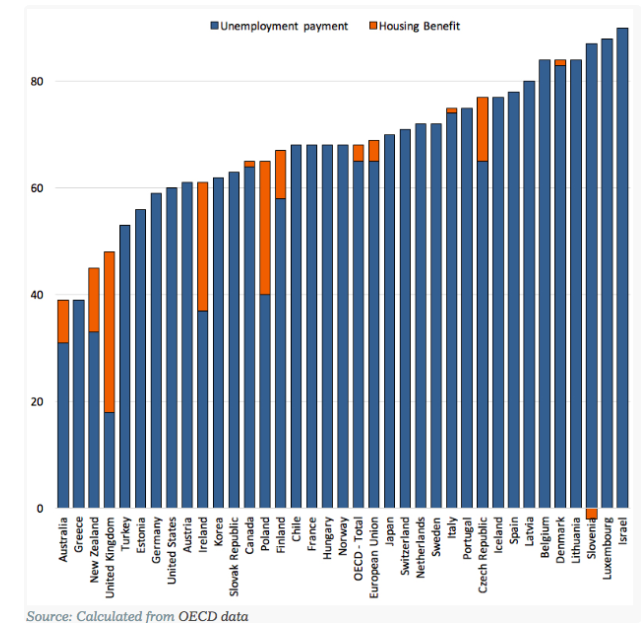 They have also fallen 30% below the poverty line: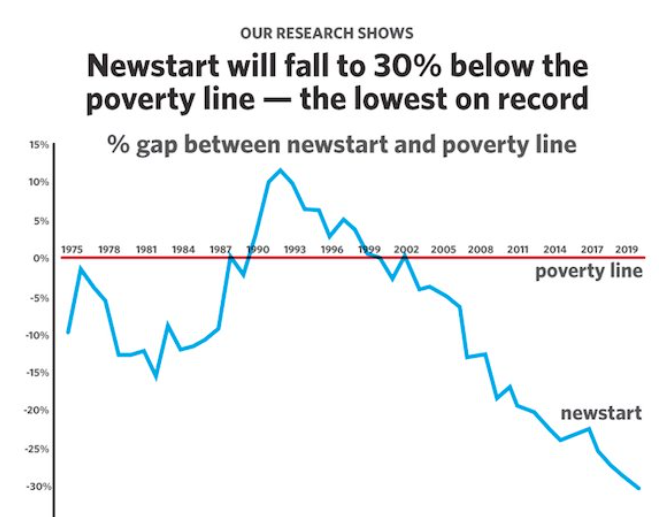 After experiencing zero real growth in nearly 30 years, unlike wages and the aged pension: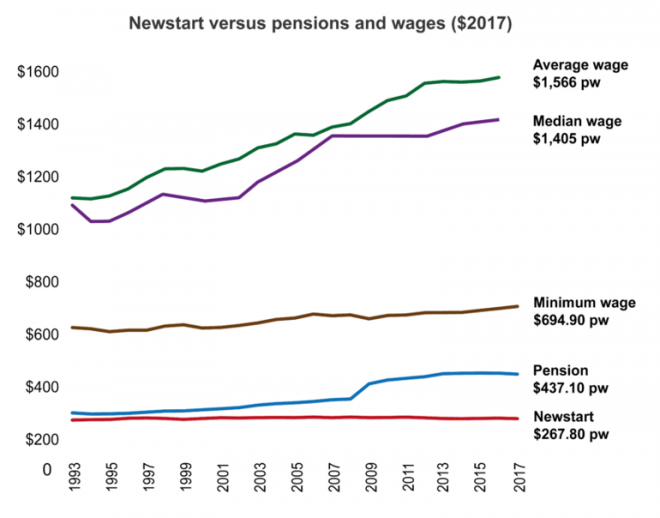 A significant lift in Newstart was long overdue before the coronavirus outbreak. Thus, the Morrison Government has senselessly wasted a crisis, and should have used this as an opportunity to abandon its blind ideology against raising Newstart.
Another stimulus option the government should consider is an immediate $2,000 monthly taxable cash payment into every taxpayer/ABN holder's bank account. This scheme could be set to run for three months initially and would effectively operate as a form of temporary universal basic income.
Sure, higher income earners that remain employed would also receive this payment, raising question marks around equity. However, these concerns are partly erased by making the payments taxable at one's marginal rate, thus ensuring they are progressive.
The important thing is that the Government moves quickly to avoid a household/small business liquidity shock and a deeper economic recession/depression. In extraordinary circumstances such as these, speed of implementation is more important than policy purity.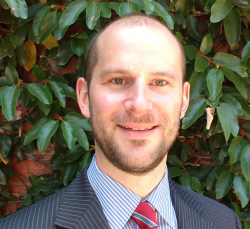 Latest posts by Unconventional Economist
(see all)