See the latest Australian dollar analysis here: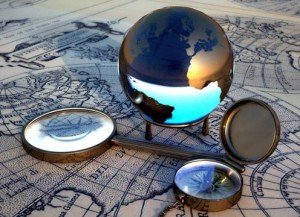 By Chris Becker 
Panic has set in on risk markets around the world with shares suffering their worst one day loss since 1987 as Wall Street plummets 10% in a single session. Everything was sold off as money managers literally just wanted money in their accounts and nothing else. The scheduled ECB meeting resulted in new QE, while the Fed announced more out of cycle measures, with cash injections and more asset purchases. Will it be enough or will we have another few weeks of falls and epic volatility as the coronavirus spreads into its next stage throughout Western Europe and the US? There has to be a bottom soon, but there could be another 20-40% to go.
Looking at Asian share markets from yesterday where the Shanghai Composite fell almost 2% going into the close, with a minor rebound to finish 1.5% lower at 2923 points while the Hang Seng Index fell faster, down nearly 4% to close at 24306 points, well below the previous session low and looking extremely oversold. Its time for the monthly charts! The lower black line is the trendline from the GFC 2008 lows – almost broken and then definitively in a bear market: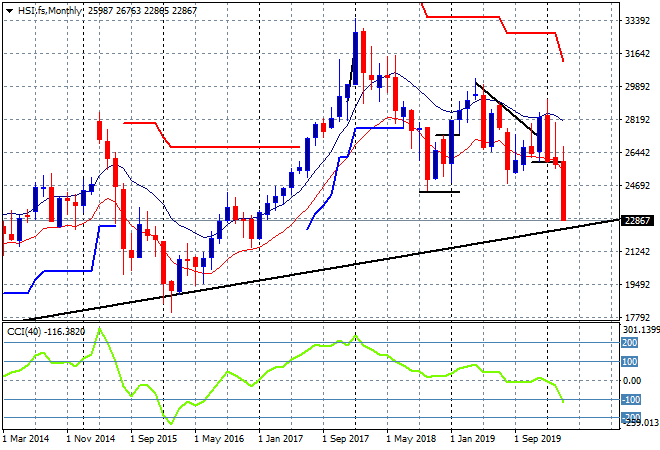 Japanese share markets are off about the same magnitude, the Nikkei 225 closing 4.4% lower to 18559 points, down to a four year low as recession fears increase. Futures are looking terrible to say the least given the carnage overnight – let's look at the weekly chart where price has evaporated all of 2018 and then some, with the 2016 lows at 14700 now in sight: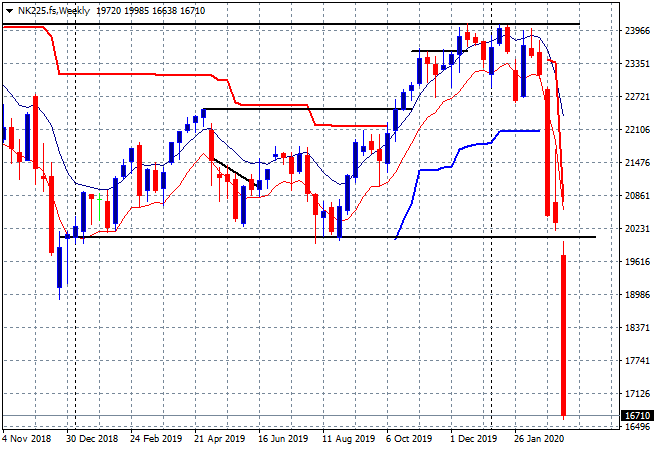 The ASX200 has now lost more than 12% year on year – hope you've got some sort of hedging in your super if planning to retire soon? The falls were accelerated by the news that Tom Hanks and his wife tested positive for coronavirus, staying locally in the country, with a run throughout the afternoon on almost everything to close 7.4% lower to 5304 points. The good news is that won't be as bad as today maybe? With Wall Street falling 10%, we are likely to see carnage here on the open. The monthly chart clearly shows a break of the rally from the 2008 lows and a likely break below the 2015 lows at 5000 points – where will it end? I reckon around about 4000: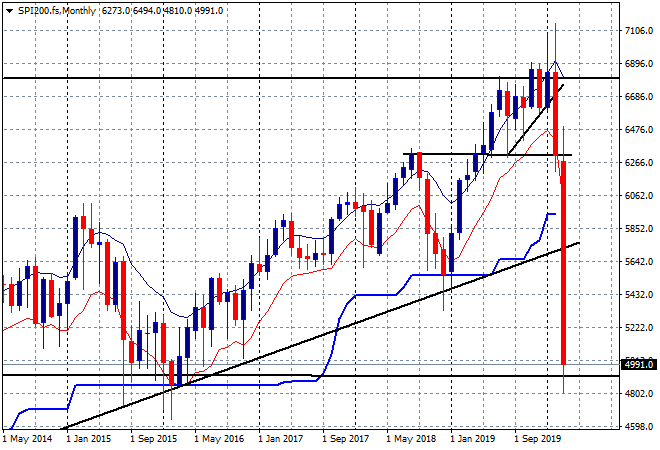 European markets entered correction territory in just one session with falls measured in 10-12% range! That just bakes in a half year or longer recession, which may be very close to the truth.  The broader Eurostoxx 50 was off by 12.4% while the German DAX finished almost the same amount lower, closing at 9161 points, now falling over 30% since the top and off by 20% year on year. Bear market here we are. The monthly chart shows a complete break of the 10,000 point psychological barrier and the big trendline from the 2008 lows. The next layer of support is another 20% lower at 7500 points: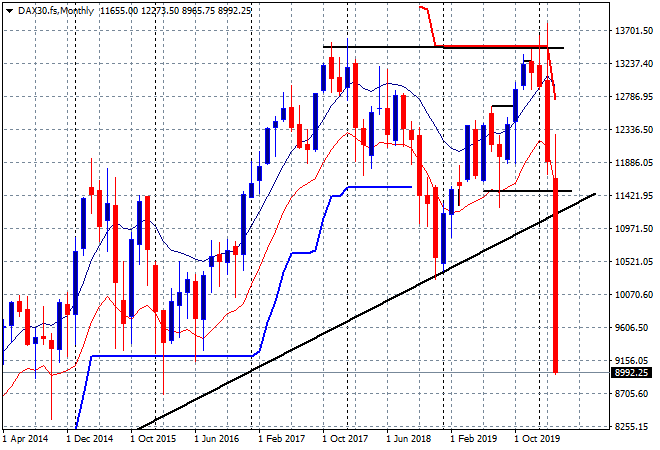 Wall Street lost its collective shit and kept me up all night (I've been sleeping about four hours a night all week)…What superlatives can be said but, yeah. The upside is the S&P500 is only back to the 2017 highs, erasing the bubble of the Trump years, so that's a good reset I guess? The 2600 point level was the real uncle point, but breaking the long held trendline from the 2008 lows means this epic 12 year bull market is over and only helicopter money can save it getting down to the 2015 lows at 2000: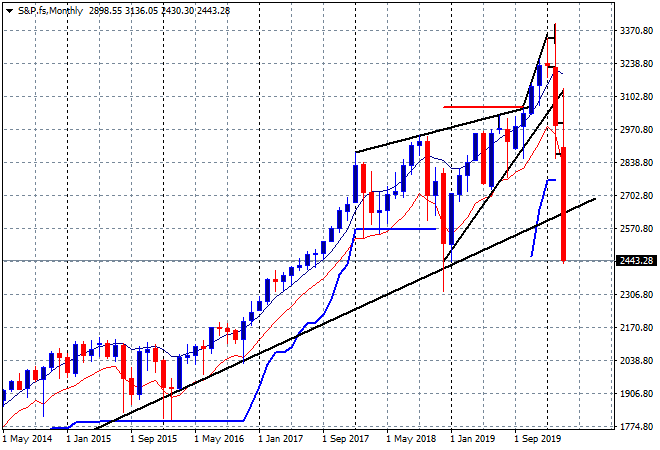 Onto currency markets where the USD keeps coming back as Euro melted following the ECB meeting and the Fed's QE4 plan, with a wide range that saw it touch the 1.10 handle, but relatively speaking, only takes it to a one week low. I'm anticipating more volatility here as money is pushed around in the trillions in baking in a worldwide recession, so risk management is key: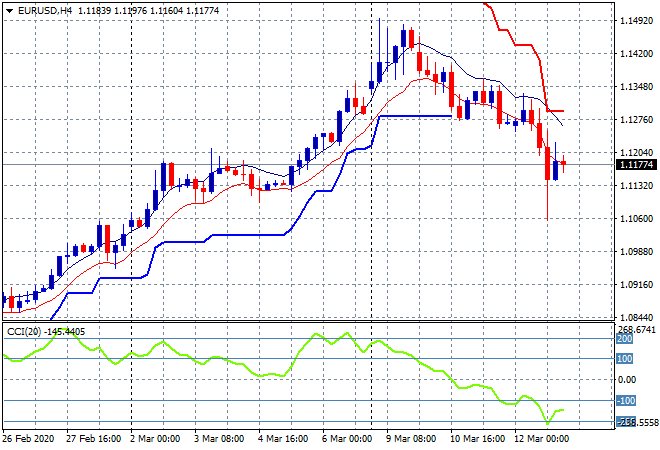 The USDJPY pair is losing its risk proxy profile here with quite a sanguine session overnight where it lightly retested the former mid week highs just above the 105 level before retracing, with almost no reaction to the Fed's efforts. I continued to watch that low moving average very carefully as momentum has not yet cleared the throat for a full rally, so I'm cautious at best: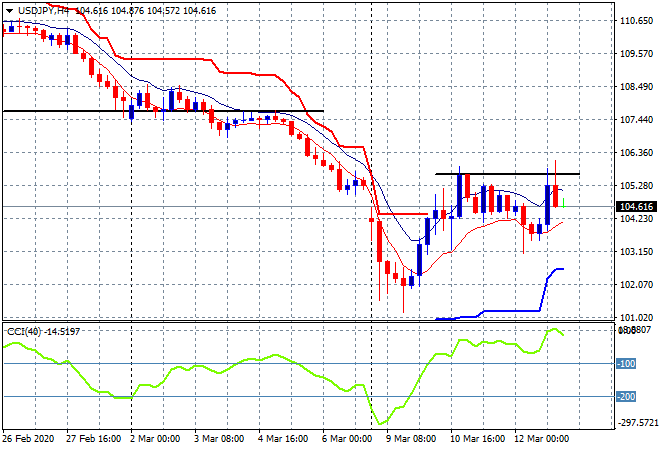 The Australian dollar however was the big casualty overnight, with a 200 pip fall straight through the 63 level to almost break below the 62 handle as well with another yearly low. Note the four hourly ATR is nearly triple the average, indicating far too much volatility – but its been a fun ride for Aussie dollar shorts nonetheless.  Momentum is now extremely oversold but everyone is watching this level here – its back to the GFC low: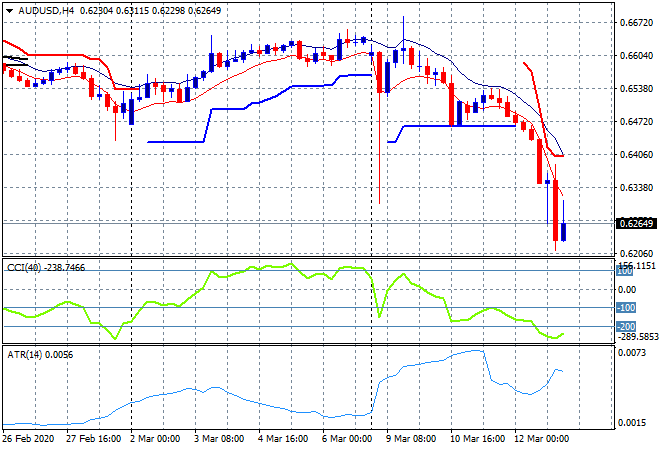 Oil remains the problem child with Brent falling nearly 9% while WTI crude slowly melted down to the $30USD per barrel level. The classic bearish rising wedge pattern on the four hourly chart continues to work, but hasn't made a new low unlike Brent, so I expect some catch up here and a break below $30 – because why buy at the moment?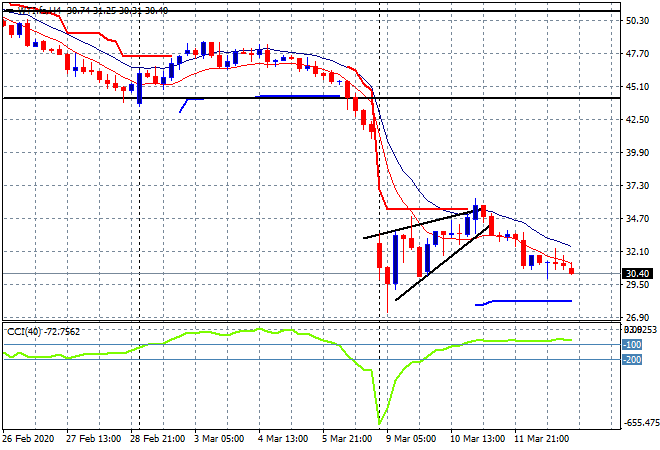 Finally to gold, which suffered from a lot of market repositioning overnight with a huge range overnight, selling off sharply to finish well below the $1600USD per ounce level. The weekly chart is the most illustrative here – a perfect megaphone top pattern has now completely formed so carefully watch longer term support at the $1525 level: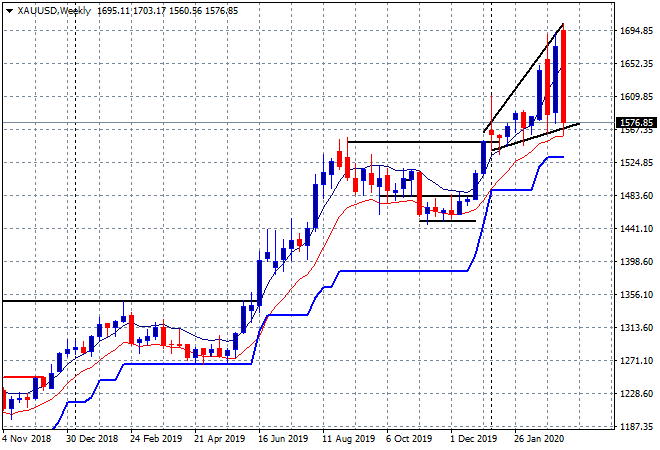 And with that, I'm going to bed. Might have a whiskey first. Stay safe out there – just remember falls are transitory, things will recover. But it will take time…
Glossary of Acronyms and Technical Analysis Terms:
ATR: Average True Range – measures the degree of price volatility averaged over a time period

ATR Support/Resistance: a ratcheting mechanism that follows price below/above a trend, that if breached shows above average volatility

CCI:  Commodity Channel Index: a momentum reading that calculates current price away from the statistical mean or "typical" price to indicate overbought (far above the mean) or oversold (far below the mean)

Low/High Moving Average: rolling mean of prices in this case, the low and high for the day/hour which creates a band around the actual price movement

FOMC: Federal Open Market Committee, monthly meeting of Federal Reserve regarding monetary policy (setting interest rates)

BOJ/Abenomics: Bank of Japan, economic policy/direction enacted by PM Shinzo Abe

DOE: US Department of Energy 

Uncle Point: or stop loss point, a level at which you've clearly been wrong on your position, so cry uncle and get out!
Latest posts by Chris Becker
(see all)