See the latest Australian dollar analysis here: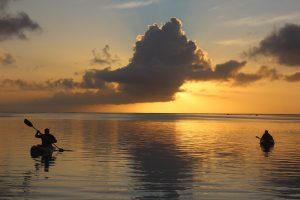 Here we go again. Local stocks lead the reaction to the Fed's cut to zero and new round of QE, with all other central banks now acting in kind with the BOJ today accelerating its bond buying program and the RBA finally admitting it needs to do the same. The ASX200 suffered its worst one day result in nearly 30 years, falling nearly 10% for the session, but other Asian stock markets had relatively modest falls, although futures are looking dire for the European and US sessions tonight. Seems the only thing people are buying in Yen and sovereign bonds – everything else is on sale!
The Shanghai Composite was down slightly before the lunch break but then put the hammer down into the close, eventually closing 3% lower to 2789 points while the Hang Seng Index fell over 4% lower to 22991 points, taking back half of the previous one day gains: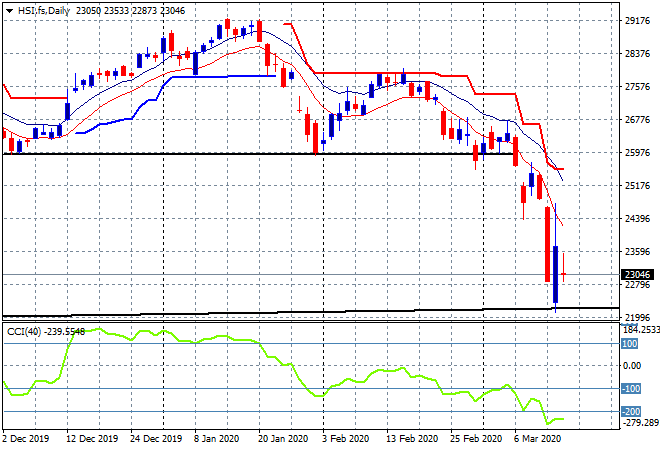 Japanese share markets were surprisingly the best performers, only losing 2% or so as Yen buying ramped up on the morning gap, absorbing the weekend news. The Nikkei 225 fell 2.5% to just over 17000 points with the USDJPY pair almost back to its pre-breakout level just above the 106 handle: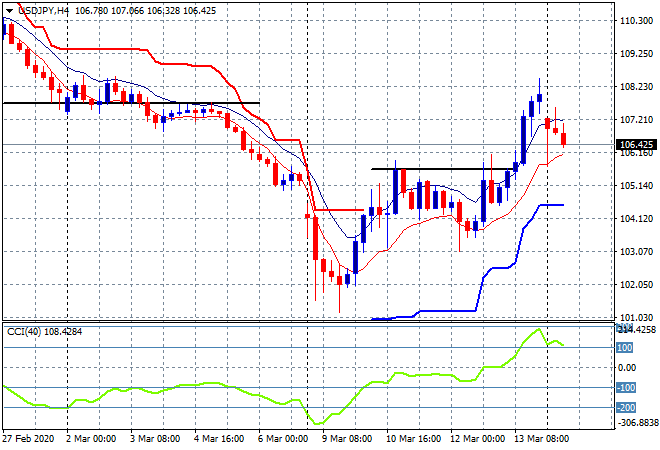 Can't use many other superlatives for the ASX200 but a definited Keanu Reeves: whoah. After Friday's rally snapped up a lot of fools and bottom pickers, today's session has scared off anyone wanting to buy, almost closing below the 5000 point level, losing over 500 points. The Australian dollar had a wide range taking into consideration the RBA news amid the other central bank action, breaking below the 61 handle briefly  before steadying here at the 61.60 level and looking extremely oversold: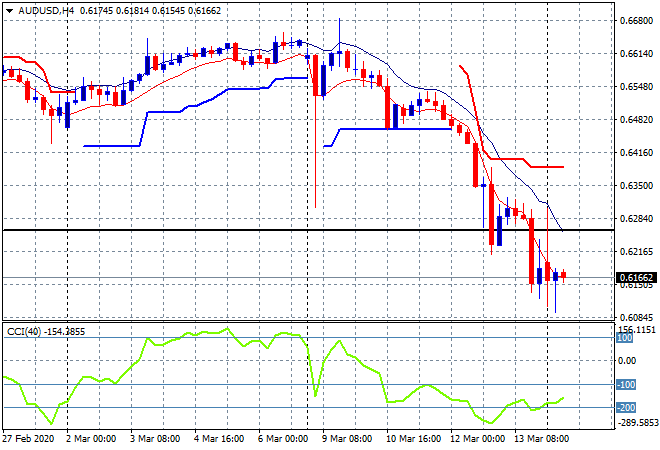 Eurostoxx and S&P futures are falling sharply, off by at least 4% as panic sets in again with the four hourly S&P futures chart looking to retrace back below the very temporary 2600 point level: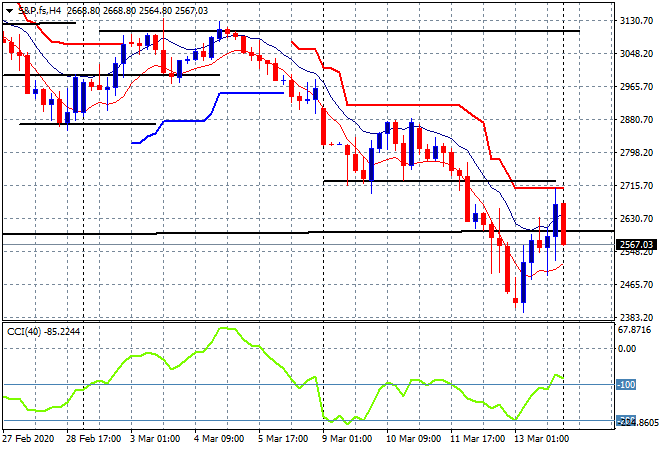 The economic calendar really doesn't matter at the moment with central bank action dominating the news wires, along with the near hysterical news surrounding the virus. I still contend we've got a few more weeks of this before any sign of stability.
Latest posts by Chris Becker
(see all)