See the latest Australian dollar analysis here: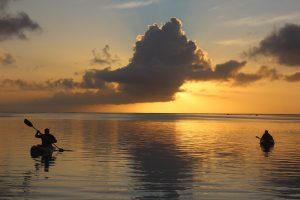 It's still ugly out there with Asian equities falling sharply but not as fast as Wall Street overnight, but all stock indices are now in bear market territory for the year. Currencies are mixed with a small bounce in undollars, with the Aussie lifting off the floor but only just, while gold falling another $15 to be around the $1565USD per ounce level.
The Shanghai Composite is down over 3% going into the close, currently at 2826 points while the Hang Seng Index fell twice as fast, down nearly 6% to be at 22904 points, and now looking extremely oversold, right on the monthly uptrend: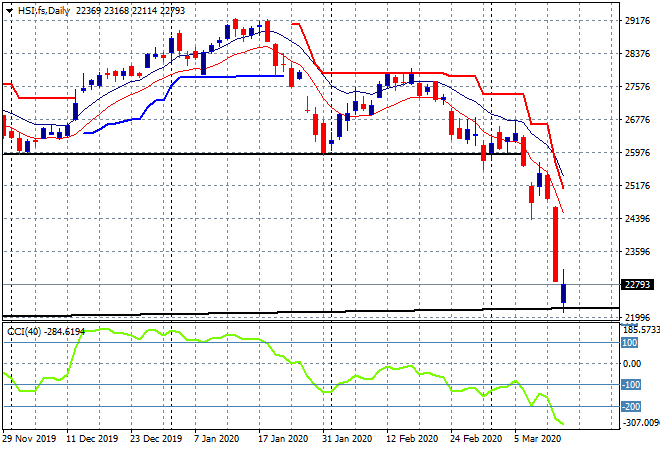 Japanese share markets are the biggest casualties in the region, despite Yen stabilising with the Nikkei 225 currently down over 8% to 16984 points, to yet another yearly low. The USDJPY pair is still in a stall phase here, unable to breach the 105 handle and ready to head back to support at the 101-102 level, despite the BOJ stepping in for another unscheduled buyup on bonds: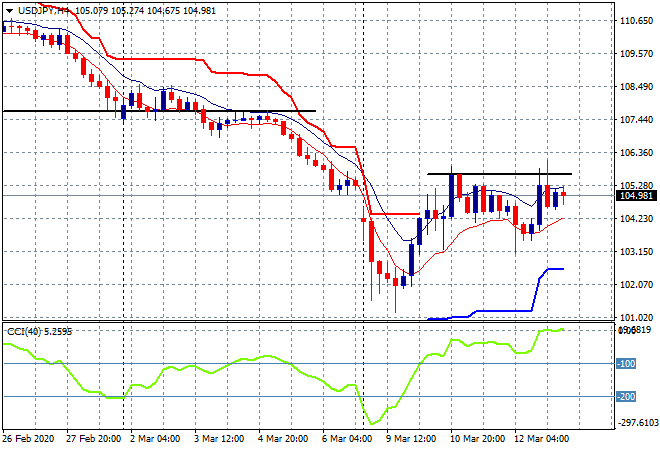 The ASX200 is actually up! Whoah! Yes, there's green on the board with a 1.4% rally going into the close after briefly dipping below the 5000 points earlier in the session. Perhaps the news of a potential vaccine plus ScottfromMarketing saying avoid large gatherings this afternoon (but you can still see the footy this weekend!) is the catalyst? Who knows at this stage. Even the Australian dollar rallied, albeit meekly to just below the 63 handle as it still hovers around the GFC extreme lows (lower black line):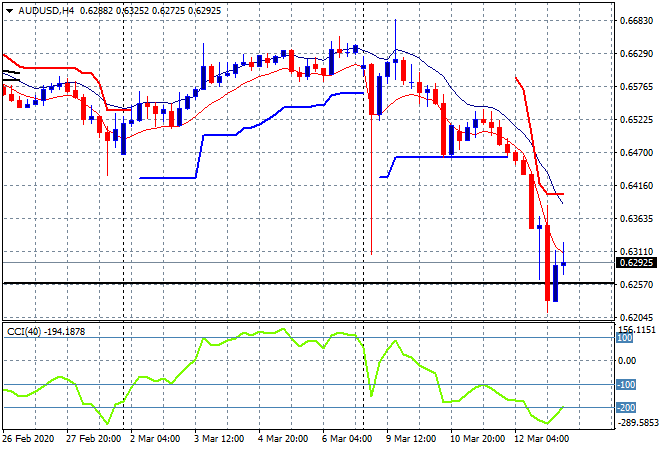 Eurostoxx and S&P futures are falling again but its hard to tell given the circuit breakers still shooting off on each session. Maybe the vaccine news (which will take up to a year before even distributed if it works) will imbibe a rally, or maybe a decisive speech by the orange faced idiot in the White House?
Let's see. The four hourly chart of the S&P500 show price is still below the lower trendline from the 2008 low so unless this thing rallies soon, its more of the same, as all of the gains since Trump came to the office have now been wiped out.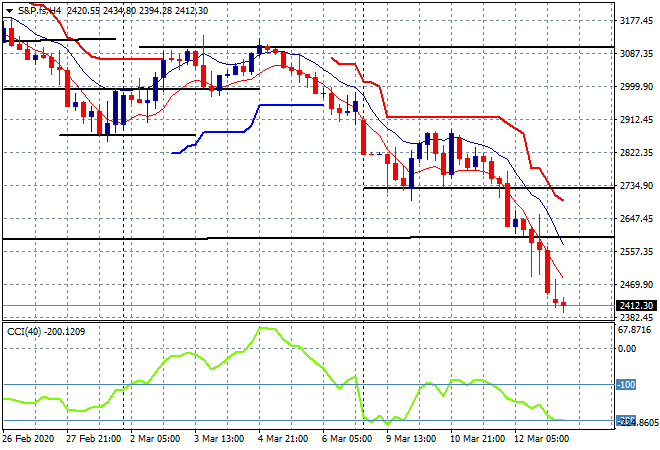 The economic calendar is relatively clear tonight, thank Dog below, but there could be more catalysts around the corner. This is prime time risk management.
As I said this morning, just remember this will pass – help each other out and have a great weekend!
Latest posts by Chris Becker
(see all)