See the latest Australian dollar analysis here: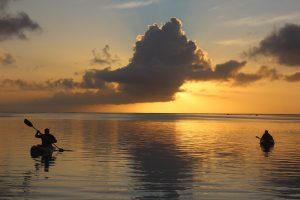 It's getting ugly out there with the ASX200 having its worst day since 2008, falling nearly 8%, while other Asian equities are off by about half that as Trump enacts a European travel ban. Currencies are mixed with the Aussie, Kiwi and Loonie falling sharply alongside commodities while Yen is being bid strongly for a new daily low, gold is still struggling to make headway below $1700USD per ounce.
The Shanghai Composite is down 2% going into the close, currently at 2908 points while the Hang Seng Index fell faster, down nearly 4% to close at 24306 points, well below the previous session low and looking extremely oversold: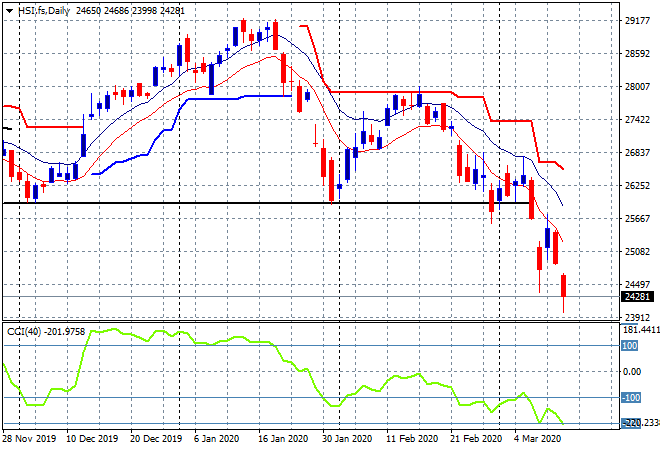 Japanese share markets are off about the same mangitude, the Nikkei 225 closing 4.4% lower to 18559 points, down to a four year low as recession fears increase. The USDJPY pair has moved from a stall to a rollover after its recent weak bounceback, falling back below the 104 handle and ready to head back to support at the 101-102 level: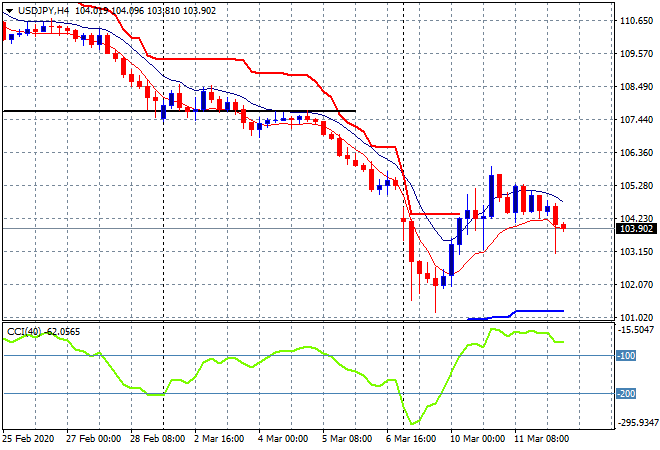 The ASX200 has now lost more than 12% year on year – hope you've got some sort of hedging in your super if planning to retire soon? Today's falls were accelerated by the news that Tom Hanks and his wife tested positive for coronavirus, staying locally in the country, with a run throughout the afternoon on almost everything (I think only 2 stocks advanced in the top 200) to close 7.4% lower to 5304 points. The Australian dollar rolled over again, making a new session low for the week (save for the flash crash), now at the 64.60 level: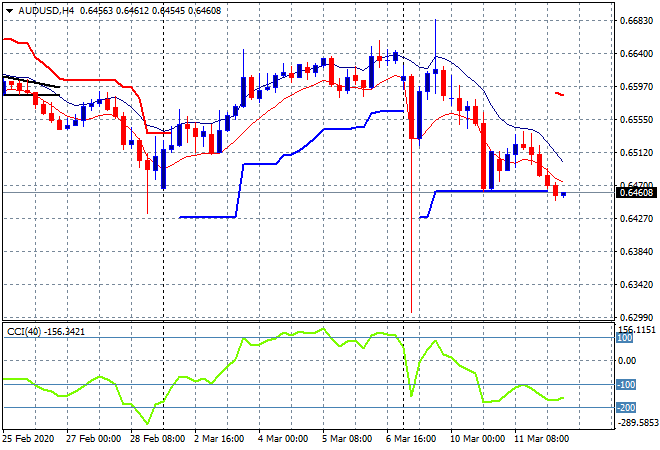 Eurostoxx and S&P futures are falling sharply with limit down session probably the order of the day, as traders react to the anemic response by the Trump administration and try to make sense of what's really coming. The US is probably the worst nation poised to lose from the virus, so really, prices should be a lot lot lower – but the weekly chart of the S&P500 shows the lower trendline from the 2008 low finally coming under threat since being in a bubble for nearly two years now: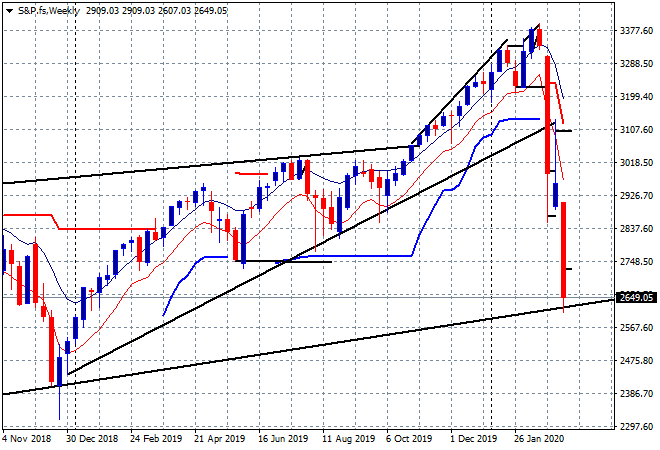 The economic calendar will be very interesting tonight given the ECB has already cut rates, its still having its meeting which may involved some more unorthodox (or is it now orthodox?) monetary measures.
Latest posts by Chris Becker
(see all)