Globalisation expert Professor Salvatore Babones has penned a thought provoking article in trade magazine – Times Higher Education – asking whether the coronavirus crisis spells the end of an era for international education:
Until now, the number of Chinese students studying abroad only ever moved in one direction: up… Many prestigious research universities have come to depend on Chinese student tuition for a substantial portion of their total revenues. At the University of Sydney, probably the most China-dependent university outside of China, roughly one quarter of total revenue is derived from fee-paying Chinese students…

Assuming that the international education market bounces back in a few months, China-dependent universities in Australia and New Zealand will take a one-time loss in the first semester of 2020 but otherwise move forward with their business models intact.

But there's no guarantee that the pandemic will be over by June. With the coronavirus now apparently under control in China but spreading rapidly in Europe, North America and Australia, we may soon see China imposing travel restrictions on the countries that only weeks ago were imposing restrictions on China.

For China's ruling Communist Party, that would represent not only a sensible public health provision, but a major propaganda victory.

It would also help them meet their long-term goal of bringing students home…

For some of Australia's most China-dependent universities, it would be catastrophic. But for China, it would give a welcome boost to its own universities at a time of economic uncertainty while helping the country further shore up its restrictive currency regime. What is more, China faces a long-term decline in the size of its university-age student cohorts due to the historical legacy of its now-defunct one-child policy. In the coming decade, it will either have to bring its international students home or start closing its own universities.
Professor Salvatore Babones was the first to sound the alarm on the Australian education industry's financial over-dependence on Chinese international students in his seminal research report for the Centre for Independent Studies last year. Now his prophecies are coming true.
As we know, China accounted for 27% of Australia's total international student enrolments in 2019, and 37% of university international student enrolments: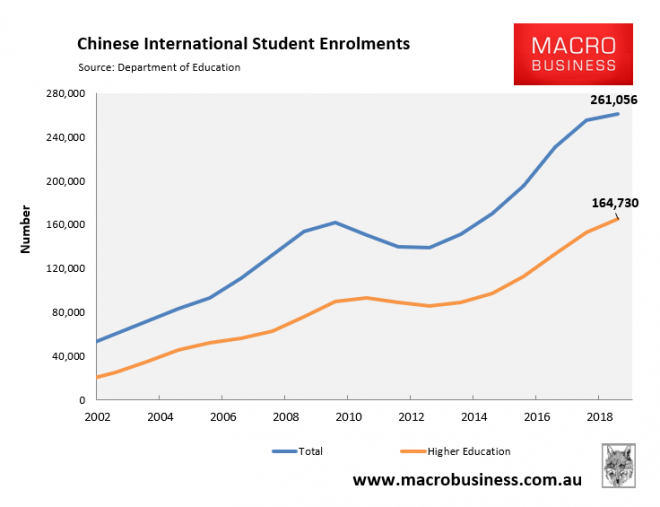 China also accounted for one-third of Australia's total education 'exports' (i.e. tuition fees and expenditure) in 2019: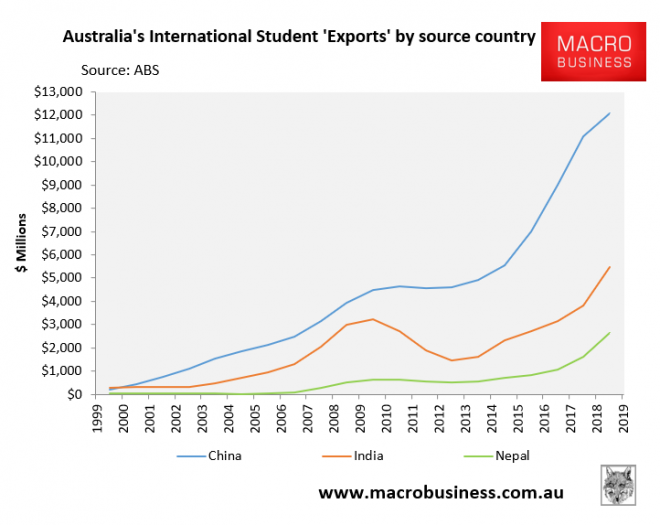 Therefore, the collapse in the Chinese international student trade would cause extreme financial pain for Australia's education industry.
To add insult to injury, Professor Babones also believes that students from other nations, such as India, could stop coming if the virus drags on and Australia is perceived as being too greater risk.
These issues were discussed in Professor Babones excellent interview with Martin North yesterday (video below).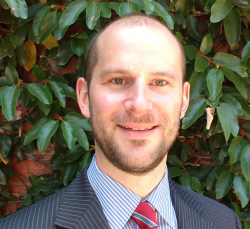 Latest posts by Leith van Onselen
(see all)