DXY eased again last night. CNY hit is lowest in 2020. Devaluation anyone?

The Australian dollar rally flamed out across the board:

Gold tried and failed again:

Oil doesn't even try any more:

Dirt lifted:

Miners too:

And EM:

Junk led:

As bonds were bid:

Stocks lifted modestly:

Westpac has the wrap:
Event Wrap

Coronavirus update: Latest WHO data, via the Situation Reports, indicates 39,827 new cases on 24 March, slightly lower than the previous day. Unofficial source Worldometer indicates 36,135 new cases on 25 March.

US lawmakers reached agreement yesterday on a record $2tr stimulus package which provides aid mainly to small companies and individuals affected by the COVID-19 slowdown. The package is equivalent to around 10% of GDP. The Federal Reserve's Bullard said it is "about right for the situation", but added it was temporary relief: "This is not stimulus."

Further key developments came from Europe with the relaxing of EU debt restrictions, Germany signalling potential debt issuance with no limits and providing total backing for their banks during the COVID crisis.

UK announced that they are days away from approving the release of some 3.5m finger prick tests to assess if people have or have had COVID-19.

US Feb durable goods orders rose 1.2%m/m (est. -0.9%) although the ex-transport measure fell 0.6%m/m (est. -0.4%m/m).

German March IFO slipped slightly further from the initial readings with expectations slipping to 79.7 (initial 82.0 from 93.2 in Feb.) taking the headline climate down to 86.1 (initial 87.7 from 96.0 in Feb.)

UK Feb. Inflation data showed a slight rise in CPI (+0.4%m/m, est. +0.3%m/m) with core CPI lifting to +1.7%y/y (est. +1.5%y/y, prior +1.6%y/y).

Event Outlook

The advance read of Singapore's Q1 GDP is due, and the market expects a substantial contraction of 7.2%qtr annualised. February industrial production will follow, and is similarly expected to fall by 15.8%, with more weakness ahead.

In the Euro Area, February M3 money supply is expected to hold at 5.2%yr. Credit data is also due.

UK February retail sales are expected to have risen by 0.2% as stockpiling and precautionary saving offset each other. The Bank of England will convene at their scheduled meeting. However, the policy rate is expected to remain unchanged at 0.10% following significant policy easing at unscheduled meetings earlier in March, the last occurring on 19th March.

US wholesale inventories are expected to have wound down, declining by 0.2% in February. The market will watch initial jobless claims closely to gauge the impact of COVID-19 on employment. Claims are expected to surge to 1500k, well above the 281k claims seen last week.  Finally, the March Kansas City Fed index is expected to pull back sharply to -10 as US industry comes under increasing pressure.
I could show you one hundred different indicators as evidence that global growth is crashing. There's no point. It just is, massivly and at unprecendented speed.
That raises the question of where are we in the crisis and, by extension, how real is this rally? My answers are not far and not real.
So far we have had the China virus panic. The Korean virus panic. And the Italian virus panic. Ahead is still the US and pan-European virus panics. That should at least end the biological leg of the crisis.
What comes next is the depression. A huge uneployment shock, never experienced in modern life. Take the US as example: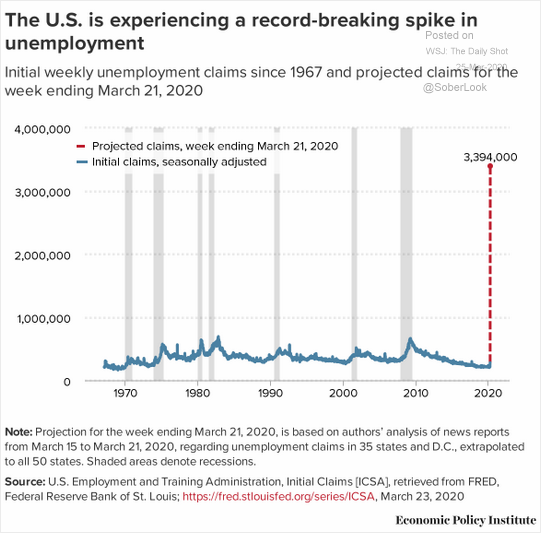 We then expect one final leg to the crisis. A return to the financial domain as the mass defaults from both business and households destroy banks worldwide. This crisis did not start with the banks but it will end with them.
That's when we hypothesise a bottom is possible, for forex as much as stocks. Though it must be added that political and geopolitical crisies are also likely and may intervene.
However, in the Australian dollar's case, it must be remembered that it faces two longer term headwinds. The first is our seasonality vis the virus. We expect a twin peaks scenario for Australia. As SloMo finally gets it together enough to retard the virus over the next few weeks, then he relaxes shutdowns, and we see another, larger apread into Winter. Thus we will be shut longer and sustain greater economic damage.
Second, bulk commodities are yet to crack but they will as global recession lands on China.
So, no, the Australian dollar has not yet bottomed.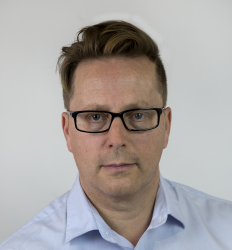 Latest posts by David Llewellyn-Smith
(see all)