See the latest Australian dollar analysis here:
Via Goldman:
…without medical breakthroughs of some kind, the next few weeks could be challenging for markets as we price in a deep global recession."…the Dollar pulled back this week as risk assets rebounded, but our best guess is that the historic rally is not quite over.

… the real trade-weighted Dollar has perhaps 3-5% upside from the latest highs, in our view.

This would take the Dollar close to its peak during the last bull market (which ended in February 2002) and key crosses (e.g. EUR/USD and USD/CAD) to levels which might prompt debate over US-directed intervention.

Although intervention has been rare in recent years, the disorderly surge could call for a policy response.

Further financial market de-risking, persistent USD demand, sticky FX carry and continued US economic divergence underpin the case for more USD strength ahead, after the recent retracement. This despite sharply lower bond yield differentials, which have turned correlations on end, highlighting the extent of USD overshoot and rich long-term overvaluation.
BoAML agrees:
Our economists are now calling for a global recession. Economic contractions around the world are likely to be significant, notwithstanding policy response. A history of recessions indicates that risk assets are likely to remain under pressure for an extended period – months and possibly quarters.

We therefore continue to think that the US dollar will remain supported as economic and financial fallout of COVID-19 leads to persistently volatile conditions in which flows tend to seek perceived safe havens, the US included.

Our call remains that in such conditions:

USD should continue to appreciate on most pairs with the exception of JPY and CHF, and that
currencies suffering the greatest term of trade declines due to the energy market crash and the highest external financing requirements (necessitating large capital inflows) are likely to continue to underperform (Chart 6).

And although the US runs a substantial current account deficit, USD carry and favorable relative growth prospects probably offset these external sector-related risks, particularly given that USD is the world's reserve currency.
When could the case for intervention build? Floating exchange rates are designed to address economic and terms-of-trade shocks such as COVID-19. A key tradeoff is shock absorption vs. market disorder and capital flight risk. We do not think that exchange rates have adjusted enough to justify global central bank participation just yet. But because the virus is global, weak FX translates to tighter US financial conditions. Consequently, we suspect that the US could begin to push for a coordinated FX response with DXY above 104 and EUR/USD below 1.05 (highest and lowest levels since 2002). But we suspect that broad agreement on the need to contain dollar strength will emerge at higher USD levels.
The US Federal Reserve's trade weighted nominal broad dollar index data begins in 1973. Since then the trend has been up with notable corrections in 1978, 1985-1988, 2002-2010 and 2017. A double bottom began to form in 2011 and thereafter the trend began rounding out the "cup" portion of a bullish cup and handle technical pattern. The correction in 2017-2018 and rally back in 2018-present formed the "handle." The surge in the US dollar this year broke the neckline of the pattern as the index reached a new all-time high. This breakout confirms the pattern, suggests more new highs to come and activates an initial upside target in the low 130s and an overall bullish trend into the 150s. This supports our bullish USD view.
Makes sense to me.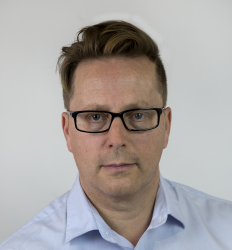 Latest posts by David Llewellyn-Smith
(see all)