Yesterday was another bloodbath for banks on the ASX, with the ASX 200 Financials index plunging another 9.3% to be down 44% since the 21 February peak: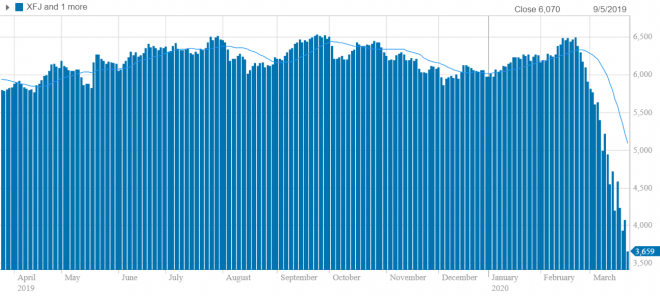 According to Goldman Sachs, the domestic economy will contract by 6% in 2020, and that this will see the banks' bad debts increase to 50 basis points of loans and reduce the sector's earnings by 20%:
Goldman Sachs said it was now forecasting a 6 per cent contraction in the domestic economy in 2020 — the biggest since the 1920s Great Depression — with unemployment peaking at 8.5 per cent.

On the upside, the strength of Australian bank balance sheets in terms of funding, liquidity and capital left them "significantly less vulnerable than compared to any point in the recent past".

"Similarly, the source of historic loan losses for banks — corporate balance sheets — enter this downturn in a better condition than at any point in the last 40 years, with close to all-time-low levels of gearing and all-time low debt-servicing ratios," Goldman said.

But given the scale of the forecast contraction, bad debts were now expected to rise significantly to 50bps of loans and slash bank earnings by 20 per cent.

A hard-landing scenario would wipe out between 50-70 per cent of the sector's earnings.
Goldman's unemployment forecast seems hopelessly optimistic. Thus, a "hard landing" scenario seems more likely.
The article also goes on to state that Australia's banks typically receive 5-10 enquiries per day about their hardship packages. However, this has increased significantly since the major banks announced that mortgage repayments will be deferred by six months due to the pandemic.
Indeed, banks are under siege as Australia's businesses close. With tens-of-thousands of businesses forced to close, the CBA experienced a 300% increase in queries from small business customers yesterday, while other banks reported a similar surge in activity:
The Australian Financial Review understands Westpac had a spike of up to ten times the normal level of inquiries, while Commonwealth Bank reported a 300 per cent increase in the number of queries from small business customers with more than 600 enquiries lodged by 11am…

The surge in demand follows Sunday's second stimulus package from the federal government, which included a $40 billion lifeline for businesses affected by the fallout from the coronavirus. The package would take the form of three-year unsecured loans of up to $250,000, with the first six months interest-free.

The loans are 50 per cent underwritten by the government and follow moves from the banking industry on Friday to offer customers repayment holidays of up to six months and another $105 billion in cheap funding extended by the Reserve Bank and the federal government on Thursday.
How bad it gets for the banks and broader economy largely depends on the federal government's stimulus packages, which will be rolled out again and again.
Again, my preference is for the federal government to immediately implement a temporary universal basic income to avoid a liquidity and small business liquidity shock. It would ensure that the Australian economy does not descend into another Great depression with widespread business collapses, mass unemployment, and poverty.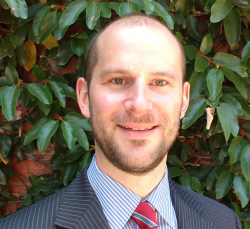 Latest posts by Leith van Onselen
(see all)