The faux outrage over women's lower superannuation savings in retirement has hit fever pitch, with range of commentators demanding action.
For example, South Australia's Equal Opportunity Commissioner claims the superannuation system is failing women:
Superannuation, or rather the lack of it, is a huge problem for women.

The super system works pretty well if you stay in it continuously, working each year to accumulate funds and increase the size of your pay packet, largely through ongoing promotions and establishing a well-paid career. If you are a low-income earner, or take time out from working to care for others, it's bad news…

Women start out behind the eight-ball due to persistent gender pay gaps ($241 less than men each week), unpaid parenting breaks, and a prevalence toward lower paid and part-time or casual work offering few career prospects.

Although women might start out with a similar super balance to men, once they reach their 30s and 40s, it reduces significantly, leaving women to retire with around half the superannuation of men, despite the fact they live longer.
According to the SBS, the superannuation system is failing migrant women, in particular:
Many migrant women in Australia are disadvantaged as they approach retirement after working in part-time, lower-paid jobs, says a leading finance expert…

"The Australian superannuation system fails women dramatically. Women are retiring with around half the superannuation balance of a male," Ms Venkatesan said.

The median superannuation balance of Australian women at retirement is $119,000, according to Australian Bureau of Statistics figures – that's around 65 per cent of the median superannuation balance for men.

The latest figures from the Household, Income and Labour Dynamics in Australia Survey reveal 66 per cent of overseas-born women from non-English speaking backgrounds aged 55 to 59, have a super balance of zero or less than $50,000.
Whereas Kirstin Hunter, the managing director at Future Super, claims we have a lot of work to do to create equity in superannuation between men and women:
For many women in Australia, superannuation is a really, really tragic time in their lives and it shouldn't be that way. But the way the system has been set up, currently, means that for the average Australian woman, she's retiring with around 47% less super than the average Australian man. That is linked to the gender pay gap, but it's kind of the long term effect of a gender pay gap over a woman's lifetime combined with other societal factors like women being more likely to take time out of the workforce to look after children or ageing parents. When they do return to work, they're more likely to work part time. And then the fact that women make up a lower proportion of the senior leadership roles and companies so they're more likely to be in lower-paid roles. Over the course of woman's lifetime, that really, really adds up and results in women in Australia retiring with so much less super than men…

Because Australians contribute 9.5% of their salary into their superannuation each year, that means that if you're working full time, if you're in a higher-paid position, you're going to accumulate more super. And particularly, with the effect of compound interest, having time out of the workforce in your, sort of, earlier working years, really adds up over time as well to a big reduction in the super that you retire with…

100% it's structural inequality, absolutely. The system really was designed with the very traditional nuclear family in mind. So you'd have one partner who works full time their entire life, the other partner who might come in and out of the workforce, but the family's retirement income is the combination of both contributions. But in our world that we live in today, where there's increasingly separation, there's increasingly people living in non-traditional domestic arrangements, living by themselves, then that system starts to break down. And so when you have a structural inequality that relates to working in the way that women tend to be disadvantaged in Australia, because of those things that you mentioned like taking time out for caring, working part time, that really does impact on the equality within the superannuation system.
The reason why women accumulate less superannuation than men is straightforward.
The whole system has been set up so that the longer one works, and the more one gets paid, the bigger the superannuation balances they retire with: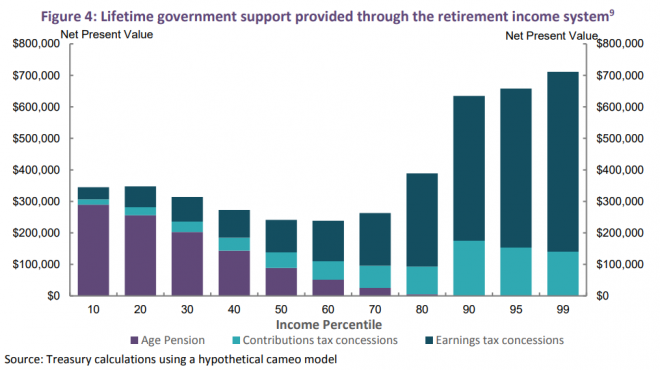 This set up obviously leads to men accumulating bigger superannuation balances, despite not living for as long.
The solution to this purported retirement inequity is not to pour more taxpayer resources into superannuation, for example by lifting the superannuation guarantee to 12%.
Rather, scarce taxpayer money should instead to channeled into lifting the Aged Pension, which is Australia's true retirement pillar.
Think about it logically. The Aged Pension does not discriminate by gender. It does not discriminate on how long someone spends in paid work or how much they earn. And via means testing, it is generally targeted towards those that need it most (with the exception of properly accounting for home ownership).
As noted by Dr Cameron Murray, the pension system is also far more efficient from a resource allocation perspective than the superannuation system:
The superannuation system employs 55,000 people at a cost of $36 billion per year, to provide $40 billion in benefits. This is nearly as many people as the enlisted Australian Defence Force (58,000) with a similar total cost ($34 billion).

Australia's complete welfare system, including administering the age pension, disability, unemployment benefits, and Medicare, costs just $6 billion per year and employs 33,000 people while providing $45 billion in pension benefits.
Because superannuation concessions cost the Budget $43 billion a year and are very poorly targeted to high income earners, this necessarily means there are less funds available in the Budget to lift the Aged Pension, which penalises lower income earners (especially women).
Ultimately, it is the high cost of superannuation concessions that is preventing the pension from being lifted and penalising women.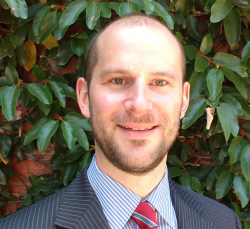 Latest posts by Unconventional Economist
(see all)