After experiencing an unprecedented boom in high-rise apartment construction over the past decade: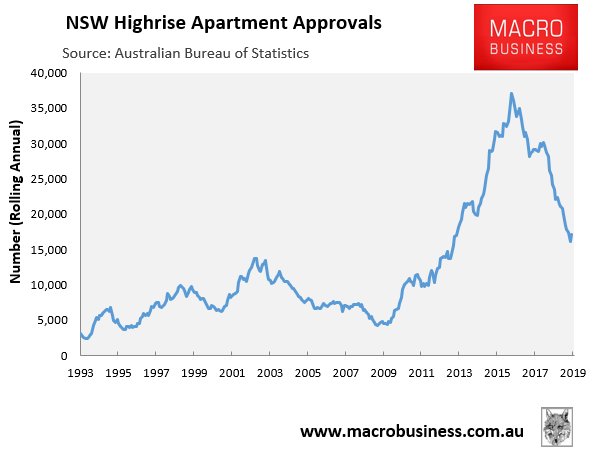 And with flammable cladding and structural faults proliferating, the State Government in January finally took action by giving the NSW Building Commissioner the power to block dodgy developers from building high-rise:
Designed to prevent repeats of the Opal and Mascot Towers ­crises, the reform package — likely to form a blueprint for a national ­industry shake-up — will grant sweeping powers to the NSW Building Commissioner to stop defective apartment blocks from being built, particularly if they are linked to contractors with poor track records…

The new regulations will for the first time rank builders, developers and certifiers according to their record on workplace safety, their track record on customer complaints, the age of their business, financial credibility, suspicions of phoenixing, and dozens of other metrics.

They would be given a score akin to a credit rating. Those with poor scores would be flagged on a database to ensure their practices were heavily scrutinised…
As I noted at the time, these reforms amounted to shutting the gate long after the horse has already bolted and the damage done.
A case in point is residents of a 250-apartment complex built by developers Holdmark Property Group, who have been pushing for the company to fix 'defects' like rotting gyprock walls, leaking lifts and crumbling sandstone walls since it opened in 2018. As reported in the Sunday Telegraph:
One of Sydney's most prolific property development companies has been accused of failing to fix significant building defects 14 months after residents moved in.

Rod Jackson said he and fellow owners could face an enormous repair bill for a string of defects in Holdmark Property Group's Harvard building in Meadowbank.

The defects are so bad NSW Builder Commissioner David Chandler has personally stepped in to try and help desperate residents get the problems fixed.

And the chair of NSW Parliamentary inquiry into building standards said the building's waterproofing issues are indicative of the biggest defect issue facing apartment owners.

The 250-apartment building was completed in 2018 by Holdmark, the company founded by Sarkis Nassif — a developer worth an estimated hundreds of millions of dollars…

Mr Jackson said strata fees have increased 20 per cent between 2019 and 2020 to pay lawyers the initial $50,000 to get the case going…

NSW Greens MLC David Shoebridge, who is chairing an Upper House inquiry into building standards, said the building's problems are indicative of a wider issue, with owners potentially facing "financial ruin".

"The extent of defects in high rise apartments are so widespread that I would find it difficult to believe any apartment constructed in the last decade is free of them," he said.

"The most common, and often the most expensive, problem that keeps being identified is the failure of waterproofing.

"What we can see with this project, with a failing wall and widespread water penetration, is far from unusual."
Going by the ABS' approvals data, around 200,000 high-rise apartments were built across NSW over the past decade, many of which likely contain faults.
The NSW Government is too late the hero and should never have allowed this situation to develop in the first place.
The cost of rectification will be huge and will likely fall on both apartment owners and taxpayers alike, with most developers getting away scot-free.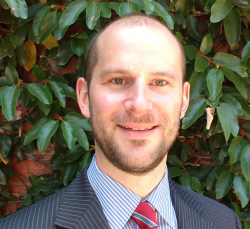 Latest posts by Leith van Onselen
(see all)