Via Global Times:
Central China's Hubei Province, the epicenter of the novel coronavirus pneumonia (COVID-19) outbreak, began to include the number of clinically diagnosed cases in its daily update for the first time on Thursday. According to the country's leading epidemiologists, the move was designed to help fix loopholes in curbing the spread of the epidemic.

Zeng Guang, chief epidemiologist with the Chinese Center for Disease Control and Prevention (CCDC), made the remarks during an exclusive interview with the Global Times on Thursday morning, following Hubei Province's report of 14,840 new cases including 13,332 clinically diagnosed cases of COVID-19 as of midnight on Wednesday.

The term "clinically diagnosed case" refers to cases with clinical symptoms similar to those of confirmed cases, though lab tests have yet to determine an infection, Zeng explained.

This means that a suspected case will be clinically diagnosed as long as the patient shows pulmonary lesions typical of the new coronary pneumonia following a CT scan, even if they have not been given a nucleic acid test, Xiang Hao from School of Health Science at Wuhan University told the Global Times on Thursday.

There are patients whose nucleic acid tests do not appear positive in the lab, but they cannot be ruled out as a potential infection, Zeng said. "In such cases, individuals could easily transmit the virus to the public."

"Including such patients in reports of new cases will facilitate quarantine measures and allow them to receive medical treatment in hospitals, which is good for both the patients and the public at the same time," Zeng noted.

Zeng predicts the move will help fix a loophole which has facilitated  the spread of the epidemic.

"It would allow relevant patients to receive standard medical treatment at an accelerated pace, streamlining the previous process where they would stand in line to receive confirmation of an infection before receiving treatment," Feng Zhanchun, president of the School of Medicine and Health Management under the Tongji Medical College of Huazhong University of Science and Technology in Wuhan, told the media.

Feng predicted that this will not lead to a surge in the number of new cases.

According to the latest official action plan for COVID-19 diagnosis and treatment released by the National Health Commission (NHC) on February 8, Hubei Province is required to include "clinical diagnosis," based on features of pneumonia, in its case diagnosis classification. That is different to requirements in other parts of the country.

Such an inclusion is designed to ensure patients receive quicker diagnoses and treatment, and will further increase the treatment success rate, the NHC told media on Thursday.

Cases of clinical diagnosis will first be quarantined. Patients with severe or critical symptoms will be transferred to a designated hospital. Patients with mild pneumonia will go to one of the makeshift hospitals, said the Wuhan Health Commission on Thursday.

Hubei has also expanded the standards of suspected cases. If patients have symptoms of fever or respiratory disease, if their total number of white blood cells in the early onset of their symptoms is normal or decreased, or if their lymphocyte count is decreased, they are considered a suspected patient.
Hubei news cases actually continued to trend down. What is more concerning is that rest of China cases also jumped: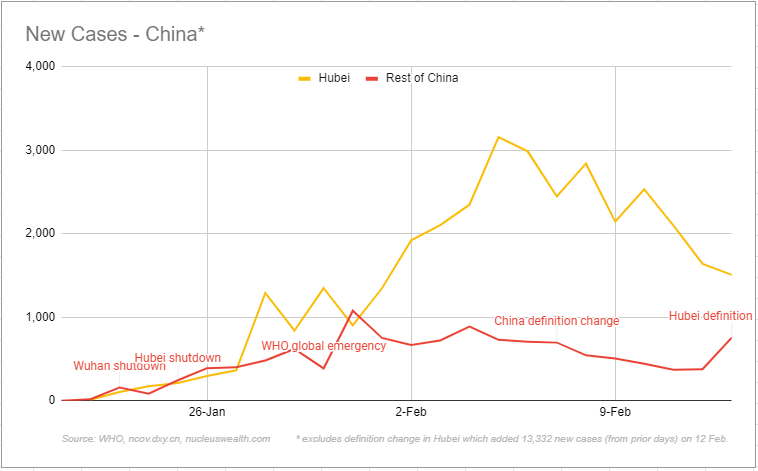 The definition change only happened in Hubei but perhaps some other provinces took the chance to adjust their methologies.
Or the virus is spreading faster throughout greater China.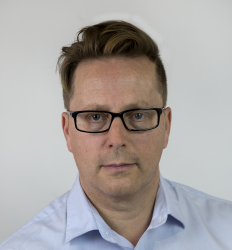 Latest posts by David Llewellyn-Smith
(see all)