Because it is still freakin' nailed shut. Via Capital Economics:
New York Times does some numbers:
Half of China's population is facing new travel restrictions.

At least 150 million people in China — over 10 percent of the country's population — are living under government restrictions on how often they can leave their homes, The New York Times found in examining dozens of local government announcements and reports from state-run news outlets.

More than 760 million Chinese people live in communities that have imposed strictures of some sort on residents' comings and goings, as officials try to contain the new coronavirus epidemic. That larger figure represents more than half of the country's population, and roughly one in 10 people on the planet.

China's restrictions vary widely in their strictness. Neighborhoods in some places require residents only to show ID, sign in and have their temperature checked when they enter. Others prohibit residents from bringing guests.

But in places with more stringent policies, only one person from each household is allowed to leave home at a time, and not necessarily every day. Many neighborhoods have issued paper passes to ensure that residents comply.

In one district in the city of Xi'an, the authorities have stipulated that residents may leave their homes only once every three days to shop for food and other essentials. They also specify that the shopping may not take longer than two hours.

Tens of millions of other people are living in places where local officials have "encouraged" but not ordered neighborhoods to restrict people's ability to leave their homes.

And with many places deciding their own policies on residents' movements, it is possible that the total number of affected people is even higher still.
This is in stark contrast to the CCP's clearly manipulated statistics about falling new cases and its claim that China returned to work last week. It did not, via Nomura: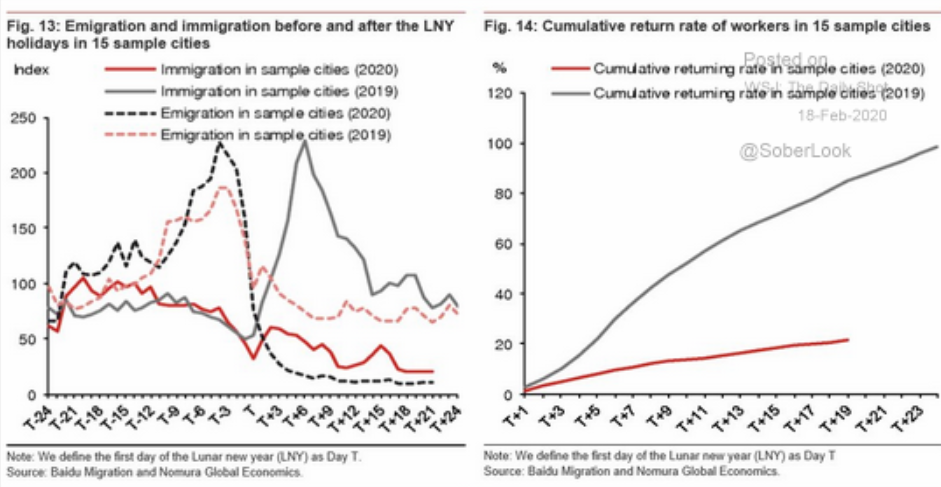 So, when will it?
The first answer is the official one, the second the reality. Given new cases outside of Hubei will fall to zero later this week thanks to robo-counter:
I guess we'll see various offical bans begin to lift next week.
But, the reality is likely to be much longer. Like it or not, China now has a private sector. I can't see anybody racing back to the office given the severity of this outbreak and, moreover, rampant CCP lying about it. Trust but verify!
Especially so as the Hubei case rages on.
That's before we consider the distinct possibility that the virus reappears as people mingle once more.  That would be disastrous to morale.
So, even in the best case, it probably takes China several months to return to any semblence of normalcy. And, more likely, several quarters before we see a full rebound in economic activity.
In short, it's H2 before we get the recovery markets have assumed and that may still be long enough for the global shock to take on a life of its own.
Let alone the virus outside of China's borders.
Here are today's links from Sinocism:
1. The outbreak

New infections of novel coronavirus drop for 14th consecutive day outside Hubei – Xinhua

A total of 79 new confirmed cases were reported on Monday outside Hubei, a 14th consecutive day drop since Feb. 3, showed figures released by the commission.

A total of 890 new cases were reported outside Hubei on Feb. 3.

The commission said it received reports of 1,886 new confirmed cases on Monday from 31 provincial-level regions and the Xinjiang Production and Construction Corps, including 1,807 in Hubei.

China Touts Fall in New Coronavirus Infections, Deaths – WSJ

On Tuesday, China's National Health Commission reported 1,886 new confirmed coronavirus cases in mainland China on Monday, the first time the daily tally has fallen below 2,000 since the beginning of the month. The daily number of confirmed cases outside Hubei province, the epicenter of the outbreak, also fell to below 100 for the first time this month, while the number of new deaths across mainland China—98 on Monday, all but five of them in Hubei—fell to less than 100 for the first time in nearly a week.

China's Hubei to comb for patients with fever – Xinhua

According to a notice issued Tuesday by the province's epidemic control headquarters, Hubei will check records of all fever patients who have visited doctors since Jan. 20, as well as people who have bought over-the-counter cough and fever medications at both brick-and-mortar and online drug stores.

Those people will be visited for health check-ups and, if necessary, be put in quarantine or hospitalized, according to the notice…

All neighborhoods in cities and rural villages will carry out door-to-door visits to look for fever patients, with results reported to the headquarters daily, said the notice.

Residents are encouraged to report information of untreated fever patients and misconduct in the work to treat patients and implement epidemic-control measures, it said.

In Depth: Hubei's Other Cities Offer Lessons on Battling the Coronavirus – Caixin Global

Qianjiang demonstrates that responding just a few days faster can make a big difference. Wu Zuyun, Qianjiang's party chief, first heard of the virus when he was attending a province-wide government meeting in Wuhan in mid-January. "The mayor and I had a feeling that this could be huge," Wu said. "So we took preemptive measures, even if that meant taking some risks by not following the rules."

Qianjiang took measures earlier than most other cities in Hubei, putting its first group of 32 suspected patients into quarantine on Jan. 17. On that day, the Wuhan health authority's official report was still saying there was "no clear evidence of human-to-human transmission."..

What a conclusion from Caixin:

The city was cited as an example of "villager autonomy" by the Ministry of Civil Affairs in 1999 for its experiments in rural democracy. Following such a tradition, residents in Qianjiang have a higher awareness of autonomous governance, which translates into a smoother interaction with the local authorities.

While most cities in Hubei were sending out cries for help, Qianjiang actually donated supplies to Wuhan twice. Its donations included 100,000 medical masks and necessities like rice and vegetables.

As the situation in Hubei remains dire, the rare example of Qianjiang offers a lesson. If only there were more cities in the province that acted early, before it was too late.

Ying Yong, the new party boss of Hubei, on Monday visited Huanggang and Xiaogan, making sure measures are properly implemented to keep all the residents at home.

武汉市委书记王忠林:这是人命关天的事,不能眼巴巴看着这些人失去生命

The Wuhan party boss Wang Zhonglin on Monday urged officials to make sure mild case patients will also receive treatment. "This is about life and death, [we] can't just watch these people die."

China seeks help of national tech giants to track coronavirus with QR codes – Reuters

On Wednesday, Alipay, the payment app operated by Alibaba's financial division Ant Financial, released a feature in collaboration with the government that assigns a coloured QR code representing the health of residents in Hangzhou.

Users in the city fill out an online form reporting their ID number, whether they have travelled outside Hangzhou recently, and any symptoms they might have that suggest an illness, such as fever or a heavy cough.

After filling out the questionnaire, users receive a colour-based QR-code, a type of barcode, on their mobile phones indicating their health status.

Coronavirus: Russia to ban Chinese citizens from entry – Reuters

"The entry of all Chinese citizens via Russia's state frontiers will be suspended from February 20 for work travel, private travel, study and tourism," said Tatiana Golikova, the vice-prime minister in charge of health, according to local agencies.

A Beijing district govt quarantines 69 employees after one confirmed coronavirus infection – Global Times

Sun's statement came after rumors began circulating on the internet claiming the confirmed case caused the Xicheng district government to shut down.

Rare coronavirus cases can have long incubation period, warns leading Chinese respiratory expert | South China Morning Post

The unusual length has raised concerns about giving an accurate diagnosis, but Zhong Nanshan said these cases were an exception.

He told a news briefing in Guangzhou that research suggested the incubation period could be as long as 24 days, but the median figure was three to seven days.

China's Super-Strict City Lockdowns May Be Illegal – Caixin

Zhao Hong, a professor at the China University of Political Science and Law, told Caixin that Chinese laws only permit the National People's Congress (NPC) — the country's main legislative body — and its Standing Committee to set out punishments for violating restrictions on freedom of movement. As local-level governments don't have that power, official actions in Xiaogan "have clearly violated legal stipulations," he said.

President Xi Jinping mentioned at a central government meeting Feb. 5 that lawful forms of epidemic control demand that officials adhere to legal norms even during emergencies.

Caixin Editorial: Coronavirus Epidemic Poses Test for Rule of Law

We believe the country's response to the coronavirus epidemic is a stress test for the rule of law in China. The desperate situation we face is no excuse to neglect the principle of the rule of law…

Some government departments, not to mention a large number of citizens, claim that disease control should be free from abstract, sometimes-pedantic debates about the rule of law. After all, they say, who will be in charge if the epidemic gets out of control? Any abuses can always be corrected later. Faced with criticism of their heavy-handed responses, they loudly fire back: "Have you got a better idea?" Such claims rely on shelving the legality and rationality of the means in order to justify the ends. As China's countless painful past experiences have proven, this can be a dangerous mix.

What makes Wuhan a Catastrophe? – Rui Zhong – Medium

Wuhan-based writer 方方, who has been a formidable force in Chinese literature, has been writing blog entries illuminating the tragedy left in the wake of the COVID19/coronavirus. I translated a paragraph in which she lashes out in anger at people that consider the city's anguish under COVID19 crisis overblown:

During the early days of the epidemic, there was no man power, there were no hospital beds, and there were no protections in place for medical personnel. Infection was widespread, and there weren't enough people to staff and transport bodies to crematoriums. There weren't enough cremation ovens. Yet the bodies carried the virus, and needed to be burnt as quickly as possible.

Are you aware of this at all? It's not a lack of effort from the people, but the arrival of a catastrophe.

---

2. The economy

Local Governments Start to Loosen Coronavirus Restrictions on Companies – Caixin

In a radical turnaround, doctors' certificates will no longer be required of anyone returning to work in Jiangxi, which has reported nearly 1,000 cases of Covid-19. Returnees from the outbreak epicenter of Hubei will still need to self-quarantine for 14 days, but everyone else will be subject to the more vaguely defined "health monitoring," which could refer to things like workplace temperature checks.

Also on Sunday, the Zhejiang provincial capital of Hangzhou in East China relaxed its rules in a similar fashion. Many companies in the city, known for hosting the global headquarters of Alibaba and other tech startups, will be able to resume business without being individually granted government approval.

Fewer Than a Third of China's Nearly 300 Million Migrant Laborers Have Returned to Work – Caixin

Many manufacturers have found it difficult to fill their factory floors as millions of workers have had trouble returning to their jobs after going back to their hometowns for the Lunar New Year holiday due to travel restrictions. Among those who have made it back, many face mandatory quarantines to contain the spread of the virus…

Many business owners said that shortages of funds and rising customer arrears were among the major issues they faced, and that the lack of labor was not as severe as imagined, according to an online survey of 950 business managers, employees and investors. "Operation of privately owned enterprises is basically driven by orders, and the anticipation of a shrinking market has led them to stop hiring or even start to lay off staff," two organizers of the survey wrote.

China cuts pension, insurance costs to help firms ride out coronavirus – Reuters

China will cut some pension contributions and insurance fees to help companies cope with the coronavirus, while firms in Hubei province, the epicenter of the outbreak, won't have to pay pensions, jobless and work-injury insurance until June…

Small firms in other provinces will be exempt from paying pensions, jobless insurance and work injury insurance until June, while payments by large firms will be reduced by half until April, state television quoted the cabinet as saying.

Yicai Global – PBOC Denies Market Talk of Adjusting Property-Loan Quotas in MPA

The statement from the People's Bank of China (PBOC) was in response to a media report that the central bank will tweak quota management of property-related loans in the MPA framework to spur lending to developers as part of efforts to minimize the impacts of the novel coronavirus outbreak.

Property Giant Offers Massive Discounts Due to Covid-19 Virus – Caixin

The latest sales promotion could potentially reflect Evergrande's need for cash, after it extended the Lunar New Year holidays to Feb. 20 for its 1,040 offline sales divisions.

"Keeping turnover moving quickly is crucial for real estate firms," said Li Yujia, chief researcher at a housing policy research institution in South China's Guangdong province. "Two weeks of suspension at sales department will have a significant impact on funding."

China stresses timely spring farming, stable employment – Xinhua

Local governments should take responsibility for guiding spring farming to ensure stable agricultural production and a bumper harvest, according to a statement released after a State Council executive meeting chaired by Premier Li Keqiang.

Efforts should be made to promote agricultural enterprises, involving seed, fertilizer, pesticide and fodder production, to resume work, while establishing smooth channels for the transportation of agricultural materials to ensure sufficient supply.

The country will provide support such as extending loans to key poultry suppliers with great losses, and strengthen cooperation between slaughtering enterprises and farmers, said the statement.

Economic Watch: China seizes the spring to ensure steady food supply – Xinhua

Held by China's e-commerce platform Taobao on Saturday, the so-called village livestreaming intended to help push sales of farm produce and keep the market stable.

Besides the livestreaming stunt, China is taking a raft of steps to ensure stable food supplies, incomes of farmers and steady preparation for spring plowing.

China's central SOEs step up efforts to resume production – Xinhua

The State-owned Assets Supervision and Administration Commission of the State Council (SASAC) will stick to this year's goals of production and operation and guide enterprises to resume work in a safe and orderly manner, said Ren Hongbin, vice chairman of the SASAC, at a press conference.

Over 80 percent of central SOEs' production subsidiaries have resumed operation, and more than 95 percent of the companies in the sectors of petroleum and petrochemical, communication, electricity and transport have resumed work, Ren said.

It is naive to expect Chinese economy to collapse – Global Times Editorial

In fact, all economic disasters ended up being completely out of control with the collapse of public confidence. The outside world should see clearly this time. As long as China has the political system it has today, a collapse of confidence on that scale would never happen in China, so the Chinese economy won't have the kind of collapse that some American elites expect.

The Chinese society will try its best to reduce and recover the economic loss this time, and the government and the market will try their best to help the enterprises in trouble. At the level of social ethics, this is the test we need to go through now. Any gloat from abroad during this period is disgraceful. As for strategy, those who want China to suffer can stop. All we can say is that they think too much and are naive and like to deceive themselves.

New Chinese fund attracts $17 billion; trading undeterred by virus – Reuters

The mutual fund, which can invest up to 95% of assets in stocks, aimed to raise 6 billion yuan, but the marketing campaign was cut short by the outpouring of interest.

South Korea warns of economic 'emergency' from coronavirus | Financial Times $$

President Moon Jae-in called for "all possible measures" to support the South Korean economy, as Singapore also unveiled a S$6.4bn ($4.6bn) stimulus package to offset the impact of the virus. This came a day after analysts said Japan faced a recession as the virus disrupted regional supply chains and exports.

Jaguar Land Rover rushes parts out of China in suitcases to prevent UK shutdown | Financial Times $$

Sir Ralf Speth, chief executive of the UK's biggest carmaker, said the company's British plants are "safe for this week" and the week after, but face difficulties sourcing parts from China in the weeks after, which represent "a risk for overall production".

Investor update on quarterly guidance – Apple

As a result, we do not expect to meet the revenue guidance we provided for the March quarter due to two main factors.

The first is that worldwide iPhone supply will be temporarily constrained. While our iPhone manufacturing partner sites are located outside the Hubei province — and while all of these facilities have reopened — they are ramping up more slowly than we had anticipated. ..

The second is that demand for our products within China has been affected. All of our stores in China and many of our partner stores have been closed. Additionally, stores that are open have been operating at reduced hours and with very low customer traffic.

Yicai Global – [Exclusive] Wuhan Workers Call on LCD Maker to Put Wellbeing Before Profit

Workers at China Star Optoelectronics Technology's Wuhan plant are calling on the maker of liquid crystal displays for TCL and Samsung to put their wellbeing ahead of profit and scale back production as they have hardly had a day off since before the start of the Chinese New Year holiday.

Chinese E-Commerce Companies Boost Supports to Coronavirus-Hit Merchants- PingWest

A number of tech giants including Alibaba, JD, Pinduoduo are offering financial services such as loans, subsidies, delayed repayments to thousands of merchants as the coronavirus outbreak threatens their businesses.

Coronavirus slows China's Belt and Road push | Reuters

China's top regulator of state-run companies said in a Tuesday briefing that the outbreak has caused "difficulties" on some overseas projects and investments.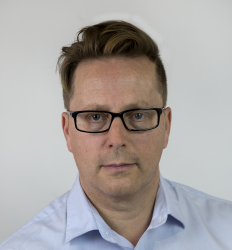 Latest posts by David Llewellyn-Smith
(see all)