Another report has been released lambasting the embarrassingly low speeds of Australia's $51 billion National Broadband Network (NBN):
The Measuring Broadband Australia Report has been tracking the performance of Australia's broadband internet since 2017.

The eighth report, conducted by independent internet measurement and analysis platform SamKnows, was published by the Australian Competition and Consumer Commission on Wednesday.

It showed 11 per cent of NBN customers were not getting the speeds they were paying for.

While it's a dire figure it is at least an improvement over the last reporting period, where one in every eight customers' connections were underperforming.

A service is classed as underperforming if it can't meet 75 per cent of its advertised speed at least one time in every 20 measurements, at which point it is closer to the speeds of the NBN bundle tier below it rather than the speed that's advertised.

If you're on one of those your service is underperforming if you can't regularly achieve speeds above 37.5Mbps.

Same goes if you're on the highest 100Mbps consumer plan but don't regularly experience speeds over 75Mbps…

Of the 11 per cent of services that underperformed, 95 per cent of them were fibre-to-the-node (FTTN) connections…

That means that if you're on one of those connections and you're paying for a 50Mbps or 100Mbps plan, there's a one-in-four chance you never come close to actually hitting those speeds.
Given the very generous leeway given to be classed as "underperforming" (i.e. 75% of advertised speeds one time in 20), this is another very poor result from the NBN.
It also follows other recent surveys, which showed similar poor speed performance.
For example, the Ookla fixed broadband speed rankings positioned Australia 68th place out of 177 nations, down three places from the prior year.
According to Ookla, Australia's average broadband speed was 41.8 megabits per second, way down from the global average of 73.6 megabits per second. The upload speed differential was even worse, with Australia coming in at 18.8 megabits per second versus the global average of 40.4 megabits per second.
Australia also ranked 32 out of 35 OECD nations for broadband speeds according to data compiled from the Australian Parliamentary Library: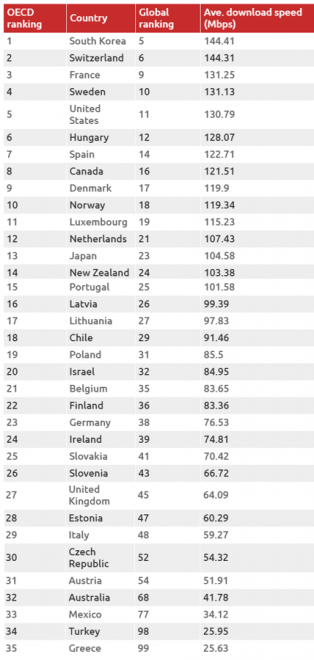 Yesterday's testimony from Professor Mark Gregory from RMIT says it all:
Prof Gregory said the NBN was "most certainly not value for money".

"We've spent $51 billion on a second-rate, 20th-century network"…
In other words, the $51 billion NBN may already be obsolete.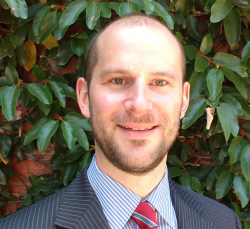 Latest posts by Leith van Onselen
(see all)