Two former heads of the Australian Treasury have united to call for the replacement of property stamp duties with a broad-based land tax:
Dr Henry says the stamp duties levied by state governments on property purchases create an unfair hurdle for young aspiring homeowners.

"It's a big obstacle for first home buyers – saving for the deposit and then saving for the stamp duty – it's just nuts," he said. "Particularly in Sydney, it's a massive bill they've got to pay."

"If stamp duty were abolished and replaced with an annual land tax, of course, over a 15-year period – or whatever it is – they'll end up paying the same amount. But they don't have to come up with all the cash up front."

Dr Henry's successor at Treasury, Dr Parkinson, also backed the call to abolish stamp duty.

"I'm already on the record as suggesting we do that, with a switch to land tax, preferably," he said.

Dr Henry helmed a landmark tax review a decade ago which also recommended abolishing stamp duty in favour of an annual land tax. Doing so would not only remove many "distortions" created by stamp duties, Dr Henry said, but also put state finances on a more sustainable footing.

"Ten years ago, when we looked at the various taxes in the federation, stamp duty stood out then as being the worst, for a whole host of reasons," he said.

"It doesn't make sense to tax transactions per se – and that is, of course, what stamp duty does. So it creates all sorts of economic and social distortions: people being reluctant to sell their property and buy a property that makes more sense for them because they're in a new stage of their lives, for example…

"It's just a bad tax…
Treasury analysis shows that stamp duties on real estate are one of the least efficient taxes going around whereas land taxes are the most efficient source of tax available, actually creating positive welfare gains to the domestic population since non-resident home owners are also taxed (see below chart).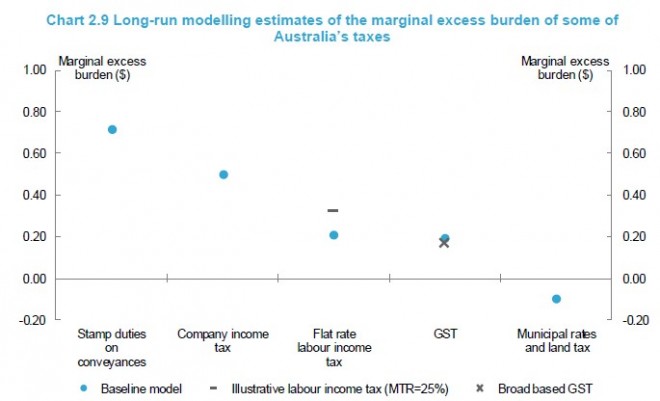 Meanwhile, Prime Minister Scott Morrison has attacked NSW Treasurer Dominic Perrottet for requesting that Canberra help fund the switch from stamp duties to land taxes:
Scott Morrison has slapped down the NSW treasurer for demanding Canberra do more on tax reform…

The Liberal treasurer has pointed out if NSW abolished stamp duty in favour of a more efficient land tax, the state would lose $1 billion in GST revenue.

The prime minister claimed the idea was a thinly-veiled attempt to increase the consumption tax.

"When states want to dress reform up as asking the Commonwealth government to increase the GST, I'm afraid my answer is 'no'," Mr Morrison told reporters on Monday.
This is a ridiculous attitude from Scott Morrison.
Given there is a clear productivity pay-off in switching-out stamp duties for land taxes – some of which would flow to federal government coffers via the broader tax system (e.g. personal and company taxes) – it makes sense for the federal government to provide incentive payments to the states to facilitate reform. This is how cooperative federalism should work.
A key reason why Australia's federation is broken is because of the vertical fiscal imbalances embedded in the system, which has the Commonwealth raising 82% of total tax revenue, the states and territories 15%, and local government just 3%.
This system has left the states as the primary providers of public services (e.g. public health, education, transport, and law and order) but not the practical scope to fund them. Accordingly, they are heavily reliant on a narrow base of inefficient taxes like stamp duties.
Meaningful tax reform will remain off the agenda in Australia unless the federal government joins the party and helps to fund it.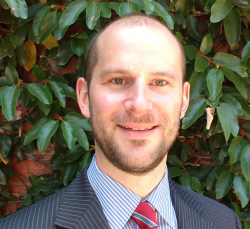 Latest posts by Leith van Onselen
(see all)