The latest Roy Morgan Research (RMR) unemployment estimate for January registered a big lift in unemployment from 8.7% to 9.7%: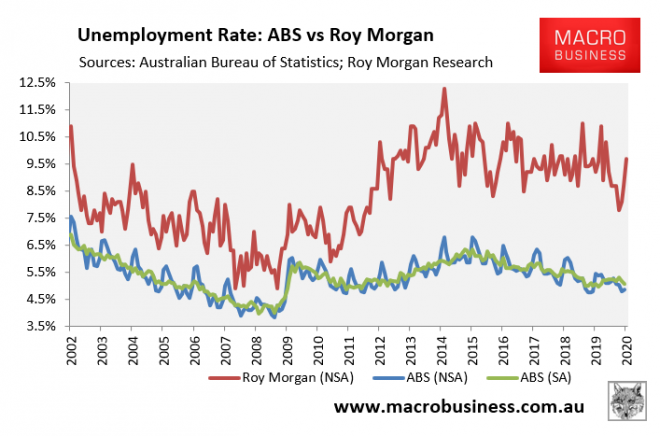 RM data is not seasonally-adjusted so the number always leaps in the new year with school leavers.  More importly, over the year, unemployment rose by 0.5%.
However, underemployment dropped by 1.2% over the month and by 0.9% over the year, with labour underutilisation tracking at 18.4% (down from 0.3% from a year ago):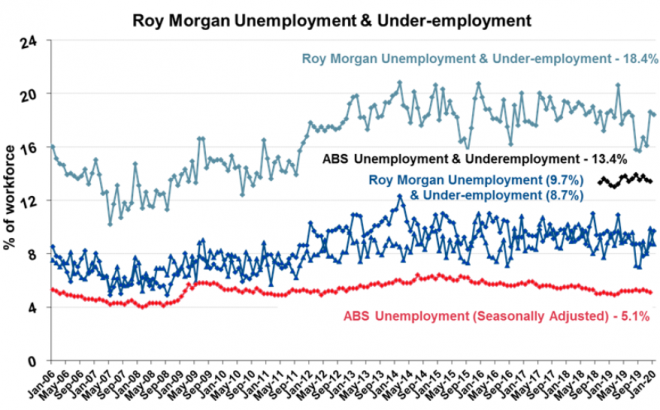 Below are the key points from the release:
In January over 1.36 million Australians were unemployed (9.7% of the workforce), with an additional 1.23 million (8.7% of the workforce) now under-employed.
The workforce in December was a record high 14,067,000 – comprised of 12,706,000 employed Australians and 1,361,000 unemployed Australians who are looking for work. The total includes a year-on-year increase of 417,000. The growth was driven by significant increases in both employment and unemployment compared to this time a year ago.
The number of Australians in employment was up 309,000 from a year ago to 12,706,000 in January 2020. This was driven by a significant increase in full-time employment of 344,000 to 8,601,000, partly offset by a drop of 35,000 in part-time employment to 4,105,000.
Unemployment, the number of Australians looking for work, was up 108,000 on a year ago, to 1,361,000, and the unemployment rate was up by 0.5% points to 9.7%. In contrast, under-employment, Australians working part-time and looking for more work, is now 8.7% of the workforce or 1,225,000 people (down 75,000, or 0.8%).
Roy Morgan's unemployment figure of 9.7% for January is higher than the current ABS estimate for December 2019 of 5.1%. Roy Morgan's under-employment estimate of 8.7% is also marginally higher than the current ABS under-employment estimate of 8.3%.
Although Roy Morgan's total unemployment and under-employment of 2,586,000 Australians (18.4% of the workforce) in January, up 33,000 on a year ago, is larger than figures usually estimated, the biennial ABS survey the 'Barriers and Incentives to Labour Force Participation', last released in late 2017, claimed that 2.7 million Australians would like a job or to work more hours – including 1.1 million people who wanted a job but were excluded from the Labour Force.
As explained each month, RMR measures employment differently from the ABS:
According to the ABS definition, a person who has worked for one hour or more for payment or someone who has worked without pay in a family business, is considered employed regardless of whether they consider themselves employed or not.

The ABS definition also details that if a respondent is not actively looking for work (ie: applying for work, answering job advertisements, being registered with Centre-link or tendering for work), they are not considered to be unemployed.

The Roy Morgan survey, in contrast, defines any respondent who is not employed full or part-time and who is looking for paid employment as being unemployed…

Since Roy Morgan uses a broader definition of unemployment than the ABS, it necessarily reports a higher unemployment figure. In addition, Roy Morgan's measure tends to be far more volatile, owing to the fact that it draws on a smaller sample than the ABS and is not seasonally adjusted.
The difference between the ABS unemployment rate (4.4% NSA in December) and the unofficial RMR measure has widened to 4.8%: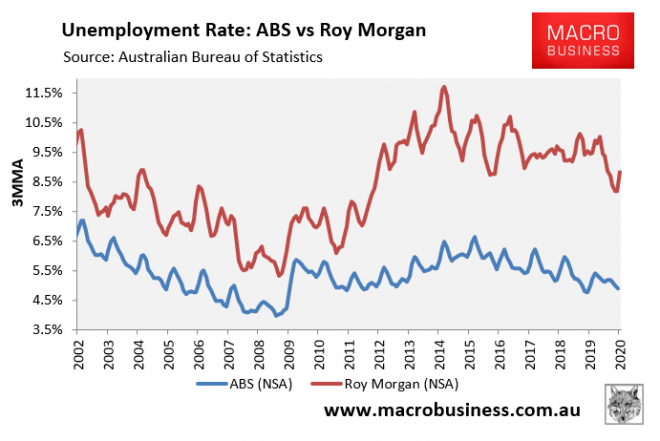 Given the dwelling construction bust is all but baked-in: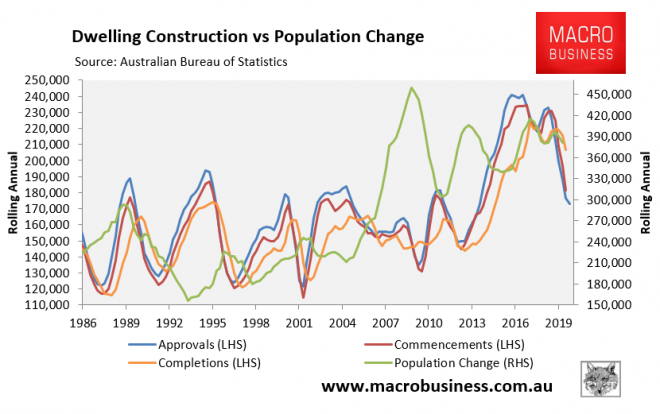 Alongside weakness across discretionary spending: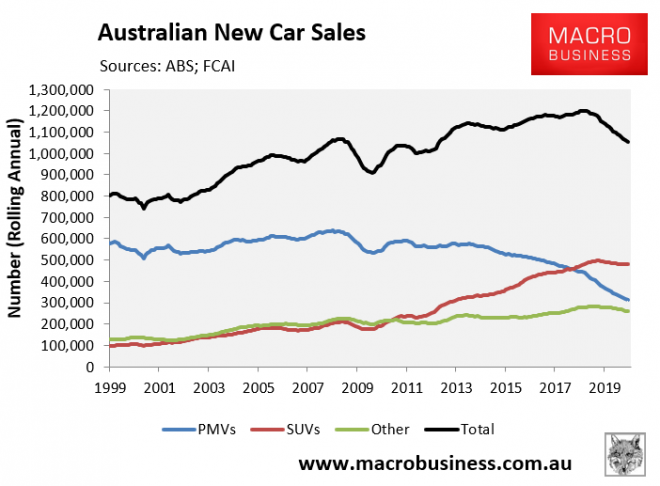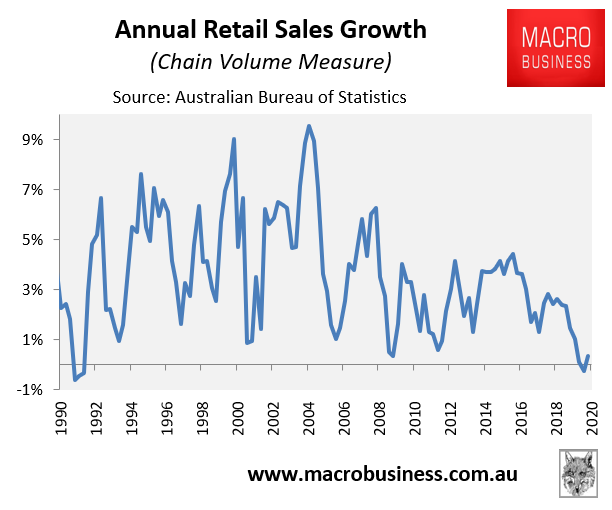 Unemployment should rise in 2020.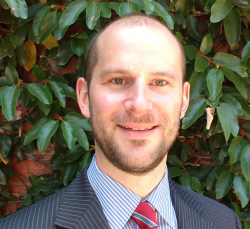 Latest posts by Leith van Onselen
(see all)