As Leith outlines today, the Morrison Government is on the verge of opening Australian borders to China and the coronavirus to save a few bob for Aussie universities and property developers. The process of opening up will first allow 1k high schools students in, then 100k university students, and just as many tourists.
Clearly this makes no medical sense. It's either safe to remove the quarantine or it isn't, and on our numbers it's NOT. In the following charts, we extrapolate the mild cases that the CCP systematically excludes from its numbers: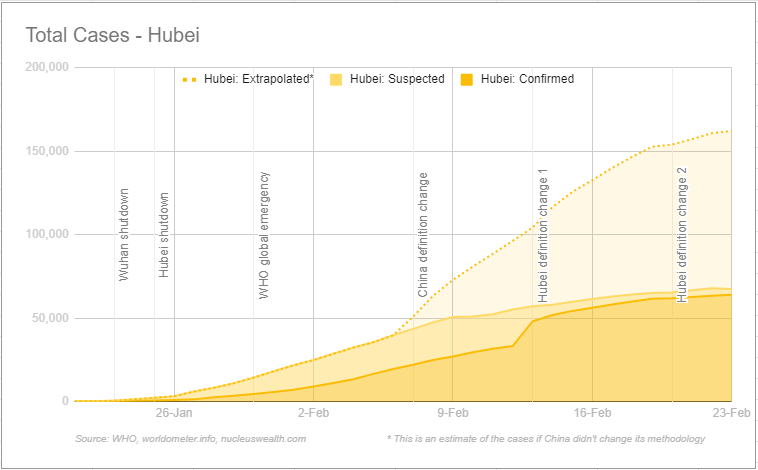 Moreover, rest of world cases are doubling every two days: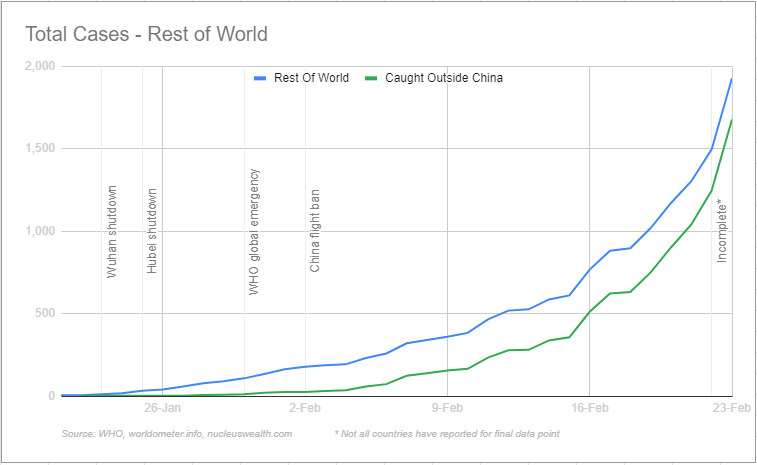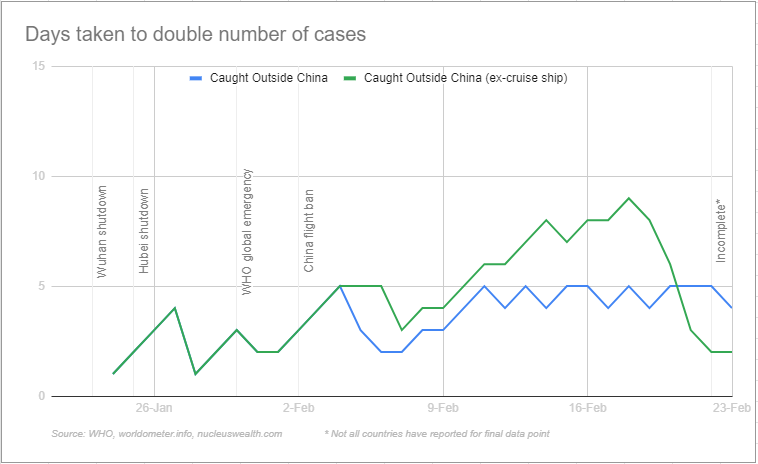 Morrison's behaviour makes sense in another way.  A slow release of the Chinese quarantine is a political trial balloon to see how the public reacts before throwing the border fully open. It's a live fire market research exercise, if you will, which is what this government is all about.
As we saw during the bushfires crisis, Morrison is incapabale of empathising with ordinary Australians. To him the virus risk is simply another political calculation as faceless lives are weighed against such imperatives as "the surplus".
Don't expect the media to object to a premature border opening. The MSM is completely compromised on Chinese students. Nine's business is little more than a real estate agent. Murdoch is the Government's propaganda arm. The ABC is a race-obsessed useful idiot. The MSM has barely covered the mushrooming pandemic so far and the border opening gets no mention today.
That leaves you. If you are as shocked and appalled as we are at Morrison's recklessness then get on the blower to your local member, start petitions, call radio stations, send group emails. Link the Nucleus Wealth virus charts if you need evidence.  Get active fast.
Otherwise the borders will be opened later this week and the virus risk will skyrocket, especially for retirees. The following is the illness severity breakdown based upon the deepest Chinese study: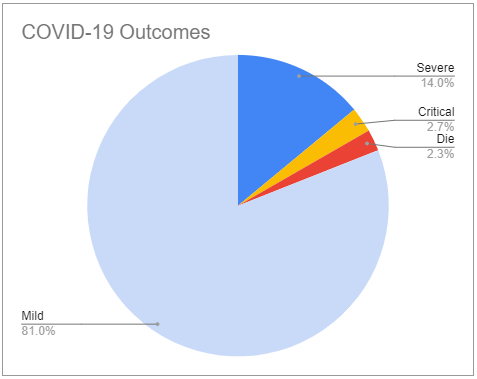 Our best guess for the demographic spread of mortality risk of those who contract the virus is below:
| | | | | |
| --- | --- | --- | --- | --- |
| | People | Proportion | Proportion who die | Number who die |
| | 1000 | | 1.07% | 10.73 |
| <30 | 300 | 30% | 0.01% | 0.03 |
| 30-50 | 200 | 20% | 0.10% | 0.2 |
| 50-65 | 200 | 20% | 0.75% | 1.5 |
| 65-80 | 200 | 20% | 2.00% | 4 |
| 80+ | 100 | 10% | 5.00% | 5 |
For a few dollars, Morrison is risking putting a one-in-twenty Russian roulette revolver to the head of every Australian retiree.
Would you do that?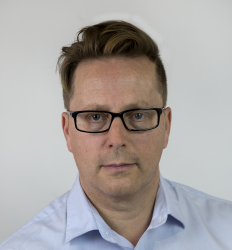 Latest posts by David Llewellyn-Smith
(see all)