In 1998, following the release of the Financial System ('Wallis') Inquiry's final recommendations on financial system regulation, the Australian Government implemented a new organisational framework for the regulation of the financial system.
Prior to the Wallis Inquiry, regulation was either governed by the states for some products or based on a sectoral approach with industry specific regulation.  The Inquiry recommended that regulation be nationalised and based on functional objectives, with three 'peaks' — a single prudential regulator (the Australian Prudential Regulation Authority (APRA)), a regulator for consumer protection and market integrity (the Australian Securities and Investment Commission (ASIC)), and an institution responsible for systemic stability and payments, as well as setting interest rates (the Reserve Bank of Australia) (RBA) (see below graphic).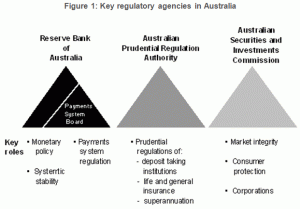 There are 1276 words left in this subscriber-only article.