CoreLogic's head of residential research, Eliza Owen, has penned an interesting article analysing the current housing market recovery, which is the fastest on record and being driven by owner-occupiers:
With record-high values expected across Australian dwellings in a few months' time, 2020 will see the fastest market recovery on record with respect to the length of the downswing. And it's being led by owner-occupiers.

A remarkable recovery

Since national dwelling values bottomed out 8.4% below their peak at June 2019, the Australian dwelling market has quickly recovered 6.7%.

If growth rates continue at the January trajectory (of 0.9% value growth per month), Australia's dwelling market would make a full nominal recovery by April, marking a 10 month recovery period since values found a floor last June. This is compared to an average recovery time of 11.7 months in previous cycles.

This is remarkable when considering the relatively long time it took for the market to bottom-out. The table below shows the number of months taken to get from peak to trough, and then from trough to recovery throughout past cycles.

Most recovery periods match the length of time it takes to go from peak to trough. However in 2020, the market recovery could be half the length of the downswing.

The owner-occupier upswing

Housing finance data from the ABS shows much more activity from first home buyers, upgraders, and down-sizers in this recovery. During the previous upswing that took place from 2012-2017, the portion of new housing finance to owner occupiers (excluding refinancing),
averaged 59.4% based on the value of commitments.

Over the past 7 months, this has risen to 71.4%. It is worth noting that data on the latter is covering a relatively short period of time, and investor participation may increase over 2020.

There may be a demographic aspect explaining the rise too. ABS data suggests that about half of the first home buyer cohort was in the 25-34 age group in 2017-18. Millennials, Australia's largest generation, now mainly fall into this cohort.

Millennial movement through the typical first home buyer aged cohort is likely to have increased owner-occupier demand over the past ten years or so. Reduced mortgage rates and the decline of investor participation may have further enabled first home buyers in the past 7 months…

Investor demand has grown relatively slowly since the start of the upswing in June last year. Regulations such as a 10% limit on investment lending growth, and a 30% limit on interest only lending (favoured by investors) have affected investor demand for housing since 2014 – but these policies were repealed by the start of 2019.

If affordability constraints create more demand in rental markets, the investor cohort could expand in the year to come, off the back of rising rents. This would be amplified as low mortgage rates make property investment more attractive.
The key question is: can Australian property values continue their strong growth without investor support?
The current upswing has been driven to a significant extent by APRA's relaxed mortgage serviceability requirements, first home buyer (FHB) subsidies and, of course, falling interest rates.
ScoMo will likely expand the FHB deposit subsidy scheme, which would provide some further support to prices.  But with interest rates approaching their lower bound, APRA's serviceability changes likely already capitalised into prices, sluggish income growth and the employment outlook deteriorating, the affordability ceiling will soon be reached.
Rental yields have also collapsed, which makes the prospect of an investor-led rebound unlikely: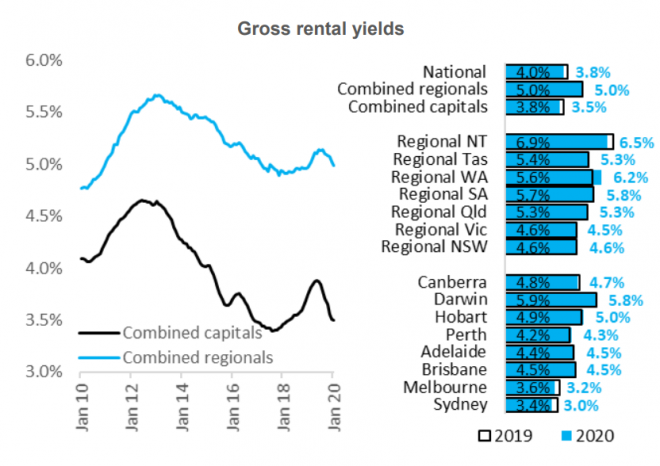 Prices should slow materially as the year progresses and there's an outside chance of prices falling if the coronavirus escalates, thereby smashing the economy and cancelling the Chinese bid.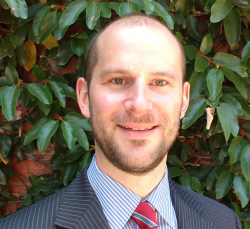 Latest posts by Leith van Onselen
(see all)