The NBN's embarrassingly slow speeds were thrust into the spotlight recently when the Ookla fixed broadband speed rankings ranked Australia 68th out of 177 nations, down three places from the prior year.
According to Ookla, Australia's average broadband speed was just 41.8 megabits per second, far below the global average of 73.6 megabits per second. Upload speeds were even worse, with Australia coming in at 18.8 megabits per second versus the global average of 40.4 megabits per second.
In a similar vein, the Parliamentary Library ranked Australia 32 out of 35 OECD nations for broadband speeds: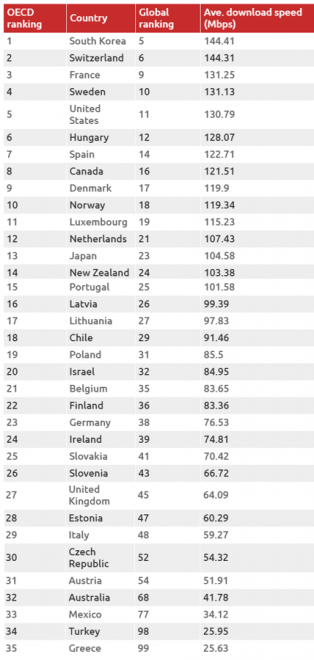 Now, Telstra has advised that its top-tier NBN plan of 100Mbps will now be restricted to customers with fibre-to-the-premises and hybrid fibre-coaxial connections. Customers with fibre-to-the-node, fibre-to-the-curb and fibre-to-the-basement connections will now be offered a top speed of 50Mbps.
Telstra notes that many of these customers cannot access the top NBN speed anyway. However, technology expert Steven Conway warns that Australia risks being "left behind" if the NBN's deficiencies are not addressed:
The 50Mbps plan will now be the fastest Telstra NBN available to the more than 50 per cent of premises with FTTN/B/C connections.

Only customers with fibre-to-the-premises (an estimated 19 per cent of premises) and hybrid fibre-coaxial (an estimated 23 per cent) connections will be able to sign up to Telstra's "premium speed" 100Mbps NBN plans.

The decision was made because "a number of our customers on FTTN/B/C do not have connections that are capable of achieving 100Mbps", Telstra said…

Last year, Swinburne University of Technology technology expert Steven Conway warned that the NBN's speed, reliability, and congestion issues would worsen, particularly for the more than 40 per cent of users with FTTN connections, as more users come online before the June 2020 completion deadline.

Telstra's decision to axe 100Mbps plans for FTTN/B/C customers shows that the NBN has failed to deliver for Australians, he said.

This was absolutely predictable from the day they decided they were not going to do FTTP,'' Dr Conway said.
"Anyone with any understanding of how broadband infrastructure works would have told you that there are gonna be innumerable problems emerging from this kind of short cut."

Dr Conway said that the NBN's speed constraints mean that most Australians will be unable to take advantage of cutting edge and future technologies.

The NBN's problems will continue to worsen, with Australia fast approaching "a breaking point where we are going to be left far behind", he said.

"When you compare us to any other first-world country, in terms of the speed at which data can move and the amount of data we have to move, we're going to be left in the dark ages."

Dr Conway said that while it will be expensive to fix the NBN's issues, it must be done without delay.

"We obviously are in a situation where we're quickly approaching the precipice," he said.

If we don't take action within the next 12 months we are going to suffer quite enormously – on a macro scale as a country – economically.
"We need to be able to participate in first-world information economies at a level comparable to our competition."
In other words, the $51 billion NBN is already obsolete before its roll-out has been completed.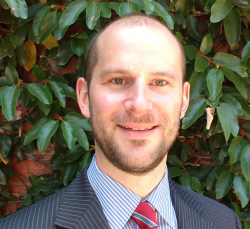 Latest posts by Leith van Onselen
(see all)