Via the World Health Organisation WHO:
The window of opportunity to contain wider international spread of the epidemic of the new coronavirus disease is closing, the World Health Organization (WHO) warned on Friday, after cases were reported in Iran and Lebanon.

Tedros Adhanom Ghebreyesus, WHO director-general, asked whether the outbreak is at a "tipping point" after new cases and deaths in Iran from COVID-19, and cases in Lebanon and Canada, said that he still believed the virus spread could be stopped.

"Although the window of opportunity is narrowing to contain the outbreak, we still have a chance to contain it," he said.

"If we don't, if we squander the opportunity, then there will be a serious problem on our hands," he said.
Via The US Centre for Disease Control (CDC):
"We believe our aggressive travel precautions are working. The fact that we have been able to keep this number low [13 net cases, counting separately the 2 cases of people repatriated from Wuhan and the 18 cases of people returning from the Diamond Princess cruise ship in Japan] is good news, especially given what we're seeing amongst some countries in Asia that are beginning to experience community spread: this is when cases are detected in a community but it's not known what the source of the infection was. This is being reported in Singapore, South Korea, Taiwan, and Vietnam, as well as Hong Kong and Japan."

"We are not seeing community spread here in the United States, yet. But it is very possible, even likely, that it may eventually happen."

"This new virus represents a tremendous public health threat. We don't yet have a vaccine for this novel virus nor do we have a medicine to treat it specifically."

"We are now taking, and will continue to take, unprecedented aggressive actions to reduce the impact of this virus."

"We are working with state local and territorial health departments to ready our public health workforce to respond to cases and the possibility that this outbreak could become pandemic."
Via the Victorian Chief Medcial Officer:
Thread:
Victoria has been working on its #pandemic preparedness for #COVID19 for some weeks. It's clear that with local transmission in several countries that a pandemic is very likely, if not inevitable. We are working rapidly on planning and surge with our health sector. (1/6)

— Chief Health Officer, Victoria (@VictorianCHO) February 23, 2020
Via the bloody-minded Morrison Government:
The travel ban has been extended for another week but federal and state chief health and medical officers have advised "there is a case for government to consider … a temporary relaxation of the travel restrictions to allow entry to a larger number of tertiary students" after February 29 if coronavirus cases in China do not blow out.

The officers cautioned that any easing of restrictions should be subject to cases levelling off in provinces outside Hubei, where the outbreak began. The advice stated there would still be a low risk of importing cases to Australia if the current characteristics of the virus were maintained.

The advice said the overall ban on foreign nationals entering Australia for 14 days after leaving China should remain in place.

"The flow of students would likely be slow, given the current number of cancelled flights and the alternative pathways into Australia already undertaken in third countries," the committee said.

The officers advised that students allowed to return "would need to agree to self-isolation in Australia and universities would need to make arrangements to support student self-isolation".

Coronavirus cases and deaths are continuing to increase in Hubei province but are apparently slowing elsewhere amid the Chinese government's sweeping efforts to contain the virus' spread.

Asked about the case for relaxing the ban, chief medical officer Brendan Murphy said it was a "risk-benefit thing that government will have to consider".
It has already begun, via The Australian:
The federal government is relaxing travel restrictions for school students stuck in China, declaring the coronavirus is now contained in Australia.

About 760 year 11 and 12 students enrolled in Australian schools will be able to apply to get back into the country as long as they are not unwell, as as long as they have not come from the Hubei province at the centre of the outbreak. States and territories will still have the final say on whether to let students return.

Health Minister Greg Hunt said COVID-19 had been contained in Australia and the medical recommendation to the government is that the Australian Border Force continue to provide case-by-case exemptions to the travel ban from mainland China.

"In particular, that should include consideration of year 11 and 12 secondary school students from mainland China, excluding Hubei," Mr Hunt told reporters in Melbourne on Saturday.

Federal Education Minister Dan Tehan said it was important to get some "normality" back into the international student market.

A similar relaxation of travel restrictions will be considered for university students this week, but no decision has been made yet.
As a global pandemic shifts to centre stage, the Morrison Government is opening the border to the most badly affected country. Literally to invite in hundreds of thousands of people from the global infection epicenter, jumping the national risk exposure when the existing blockade has worked superbly.
Let's not kid ourselves that this came from medical advice or logic. Either it is safe to open the border or it is not. You don't experiment with kids to test the thesis. It is a political decision based upon an idea that was hatched by the Chinese Embassy, via the AFR:
A small cohort of Chinese students could soon be allowed into Australia on a test basis, as the Morrison government seeks to protect the domestic population from the coronavirus while trying to limit the damage to the education sector.

… the National Security Committee of Cabinet, acting on medical advice, agreed on Thursday to extend the ban for at least another week…But it also discussed allowing in a small number of students from China who are not from Hubei province, which is the epicentre of the outbreak.

This was alluded to in a statement released by Prime Minister Scott Morrison after Thursday's meeting.

…Sources said the Chinese government, which is increasingly unhappy at the travel ban, has been lobbying for the option of allowing in a small number of students.
Other rentiers have chimed in. The National Union of Students has demanded the Morrison Government immediately revoke its China travel ban to enable one hundred thousand international students currently stuck in China to commence their studies in Australia:
The National Union of Students has called for the travel ban to be lifted immediately, saying it was a "heavy handed, inconsistent and discriminatory decision" that had "disproportionately affected" international students…

"The travel ban has created a situation of uncertainty, which has heightened stress and anxiety with students," Willmott said.

"Things like their education, visa, housing and work are all affected by this travel ban and the longer it is in place the more this uncertainty grows. There are obviously already issues with international student mental health and isolation, so this situation is just exacerbating these issues."
The largest provider of student accommodation, Scape, has also demanded the Morrison Government immediately lift the China travel ban:
Scape executive chairman Craig Carracher said he hoped the federal government would "balance the chief medical officer's advice with economic reality" and go ahead and "open the borders, with strict rules"…

About 85 per cent of its portfolio is booked. Around a quarter of those bookings are yet to arrive, mostly due to the travel ban…

Scape generates about $1 million a week in rents across its portfolio. Were the ban to extend into March, those students would most likely not take up those rooms.
We know as well that the universities have been hammering the Government. This is a decision based upon lobbying pressure.
Even a quick glance at the Chinese data shows no medical or logical basis for opening the border. Tha statisitcs have been all over the place. The numbers obviously manipulated. MB estimates are that the pandemic is still 3x larger than reported given those with mild symptoms are systemically excluded from statistics: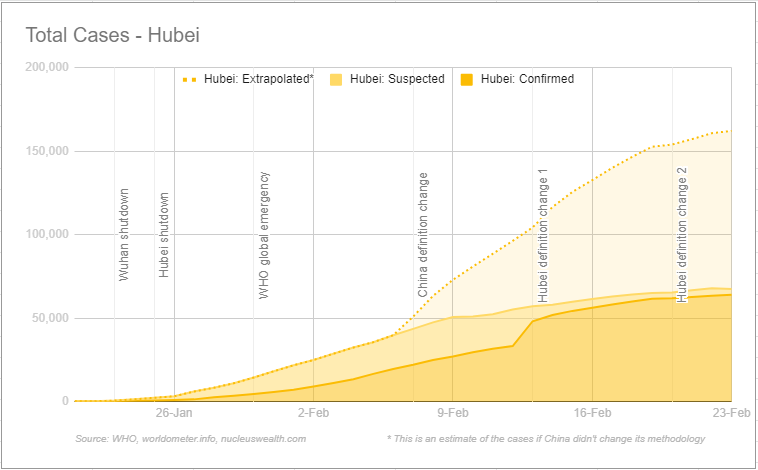 The Chinese containment effort is working slowly but it has a long way yet to go before victory is clear.  Most of the country remains shut. At last count, more than fifty countries have some form of Chinese travel ban. None have been lifted. Some are still being toughened.
Maintaining public health should be the government's number one priority, not concerns around short-term revenue losses. A few virus cases at schools and univerities and the entire education system will grind to a halt in a panic with perfectly innocent Chinese kids ostracised.
Schools and universities are petridishes for contagion. What will  be the additional costs – physical and financial – if the virus spreads into the community from there?
Aside from the risk to life and economy, it will be the Australian taxpayer picking up the enormous costs of treating the coronavirus via Medicare, not the noisy rent-seeking lobbyists demanding that Australia open its borders. A point made by Professor Salvatore Barbones over the weekend:
The coronavirus epidemic, and the travel bans it prompted, threaten to derail that particular gravy train. So it comes as no surprise that university vice-chancellors have lobbied aggressively to have Australia's travel ban lifted for Chinese students. This, despite the fact that most have prohibited their own staff and students from travelling to China — or even to Hong Kong. And despite the fact that university studies have been suspended in China and Hong Kong themselves.

How can it be that Hong Kong and Australian vice-chancellors have come to such radically different evaluations of their ability to safely manage coronavirus exposure? In another two words: moral hazard.

Moral hazard is the expectation that organisations (and their leaders) will reap the rewards of their successes while others will bear the burdens of their failures. If the government lifts its travel ban and 100,000 Chinese students fly into Australia, university revenues will continue the robust growth that has propelled Australia up the international rankings.

But if those students introduce coronavirus into the general population, Medicare — which means taxpayers — will pick up the bill. If Australian universities were required to reimburse the government for the costs of treating any coronavirus cases that could be traced back to their Chinese students, they would probably be much less eager to lift the travel ban.
If the pandemic grows – with major outbreaks in Korea, Japan, Iran and Italy, as well as probably in Vietnam today –  the national interest response will demand policy redress for economic, national security and social fallout. Instead we have this mad notion of inviting it into the education system.
MB has chronicled the slow death of Australian public policy over the past decade. Now it may literally cost lives.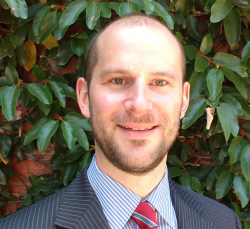 Latest posts by Leith van Onselen
(see all)