With Sydney's water storages shrinking at a rate that is 50% faster than the Millennium Drought, and with storages at just 42.1%: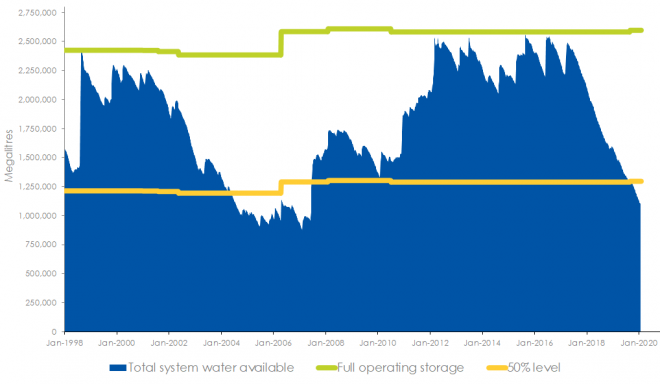 Moody's has warned that "water stress" will be the biggest threat facing Sydney by 2030:
The ratings agency Moody's is warning that NSW faces significant pressures on its budget as it grapples with climate change and increasingly severe droughts and bushfires.

Moody's also warns that "water-related stress" will be the most significant issue for Sydney by 2030, with "large scale infrastructure investment" needed to ensure the city has enough water…

"In addition to hindering agricultural production, the prolonged drought is also exacerbating future water stress risk in Greater Sydney – an area that accounts for a growing share of NSW's overall economy.

"We currently consider water stress to pose the greatest risk to this part of NSW over the longer term."
It is important to note that the key reason why Sydney's water supply is falling faster than the Millennium Drought is because the city's population has ballooned by one million people (20%) since that drought ended in 2006.
Obviously, with Sydney's population officially projected to increase by 1,700 people every week over the next half century, all due to mass immigration. And with Sydney's population projected to almost double to 9.7 million by 2066: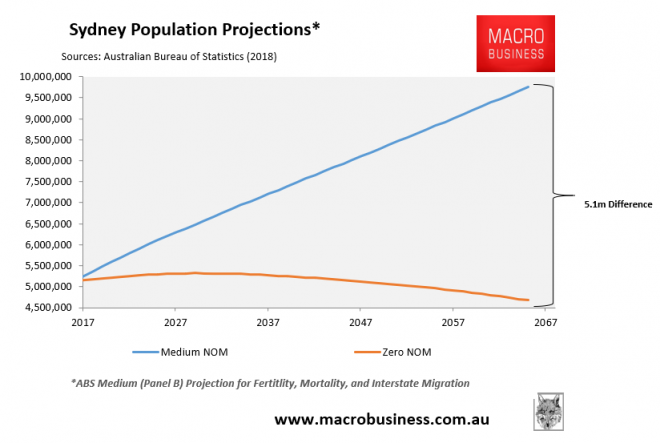 Water shortages will become an increasing problem for Sydney, even before accounting for reduced rainfall and increased evapotranspiration rates from climate change.
This immigration-driven population explosion will necessarily require a battery of energy-hungry desalination plants to be built along Sydney's coast. And given desalinated water is around four times as expensive as traditional dam water: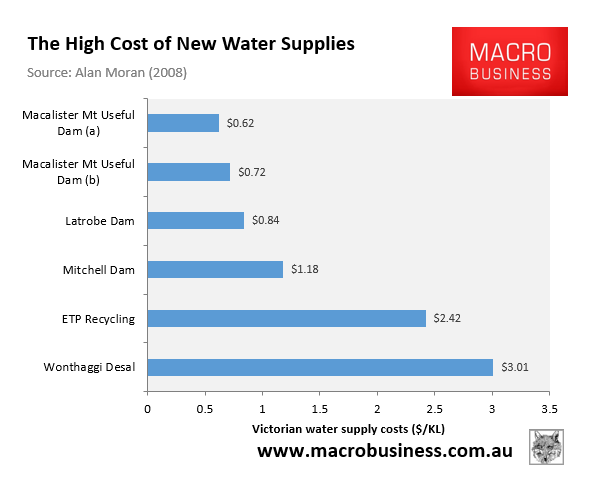 These desalination plants will necessarily mean that household water bills will rise dramatically, which will adversely impact lower income households in particular.
Don't just take my word for it. Modelling by Infrastructure Australia in 2017 projected that household water bills would more than quadruple in real terms because of population growth and climate change, rising from $1,226 in 2017 to $6,000 in 2067. The report also warned that "the impact of these changes on household affordability could be substantial… and could lead to significant hardship":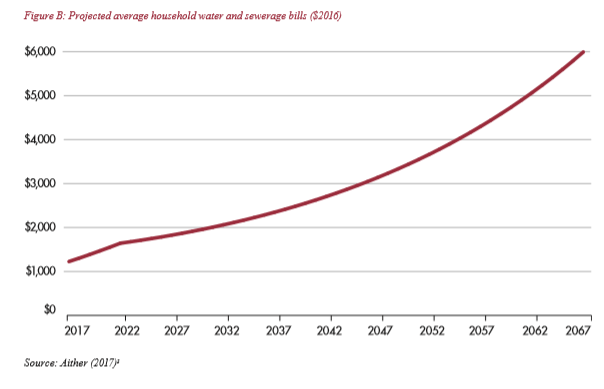 Here is another textbook example of how the mass immigration 'Big Australia' policy is wrecking living standards for the working class, as well as threatening Australia's water security.
Cut immigration.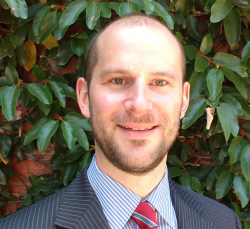 Latest posts by Unconventional Economist
(see all)