China has issued its full COVID-19 body count numbers now for yesterday. Here's the update:
At 04:00 on February 13th, 31 provinces (autonomous regions, municipalities) and the Xinjiang Production and Construction Corps reported an increase of 5,090 confirmed cases, 2174 severe cases, and 121 death cases (116 in Hubei, 2 in Heilongjiang). Cases, one each in Anhui, Henan, and Chongqing), with 2,450 new suspected cases.

1081 new cases were cured and discharged on the same day, and 26905 close contacts were lifted from medical observation.

As of 24:00 on February 13, according to reports from 31 provinces (autonomous regions, municipalities) and the Xinjiang Production and Construction Corps, there were 55,748 confirmed cases (including 10,204 severe cases), and a total of 6,723 discharged cases were cured (269 cases in Hubei Province ), A total of 1,380 deaths (108 cases in Hubei Province due to repeated statistics), a cumulative report of 63,851 confirmed cases (1043 cases in Hubei Province), and 10109 suspected cases. A total of 4,930,67 close contacts were traced, and 177,984 close contacts were still in medical observation.

There were 4823 newly confirmed cases in Hubei (3910 in Wuhan), 690 newly cured cases (370 in Wuhan), 116 new deaths (88 in Wuhan), and 46806 confirmed cases (32959 in Wuhan). Among them, 9278 cases were severe cases (7492 cases in Wuhan). A total of 3,862 discharged patients were cured (2016 in Wuhan), a total of 1,318 deaths (1016 in Wuhan), and a total of 5,1986 confirmed cases (35,991 in Wuhan). There were 1154 new suspected cases (473 in Wuhan) and 6169 suspected cases (2585 in Wuhan).

A total of 81 confirmed cases were reported from Hong Kong, Macao and Taiwan: 53 in the Hong Kong Special Administrative Region (1 discharged, 1 died), 10 in the Macau Special Administrative Region (3 discharged), and 18 in Taiwan (1 discharged).

At present, 36,719 cases are still being treated in the hospital , of which: 7953 cases are critically ill and 1685 cases are critically ill. They are all under isolation treatment at designated medical institutions. There were 6,169 suspected cases, 3689 were excluded on that day, and 5,352 were concentrated and isolated. A total of 166,818 close contacts have been tracked, and 77,685 people are still undergoing medical observation.
So, an extra 5090 cases for a total of 64,974: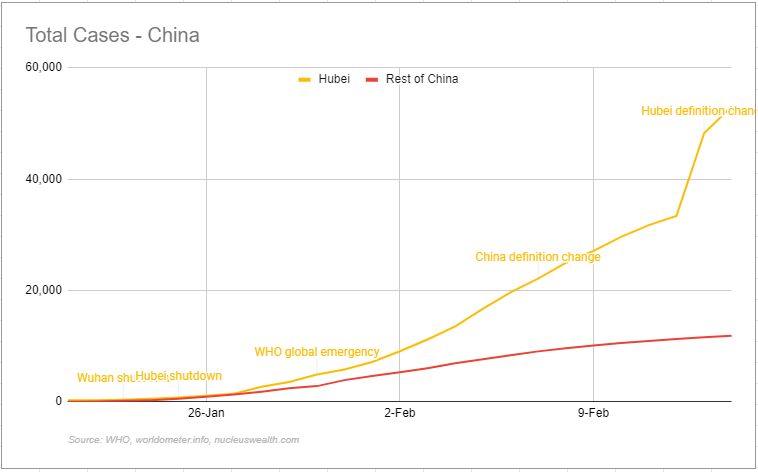 These numbers are a mess now. Definition changes all over and no sense in terms of rate of change. For what it is worth, it appears Hubei got worse while the rest of China slowed in terms of new cases: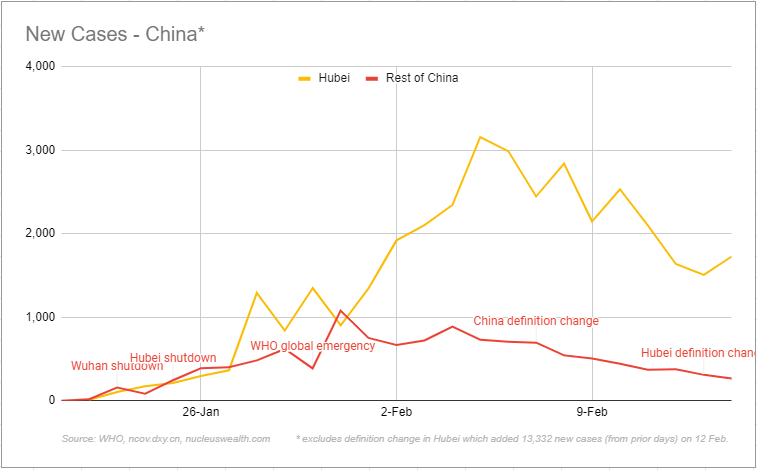 Total deaths are now at 1426 in Hubei and 1486 with rest of China included: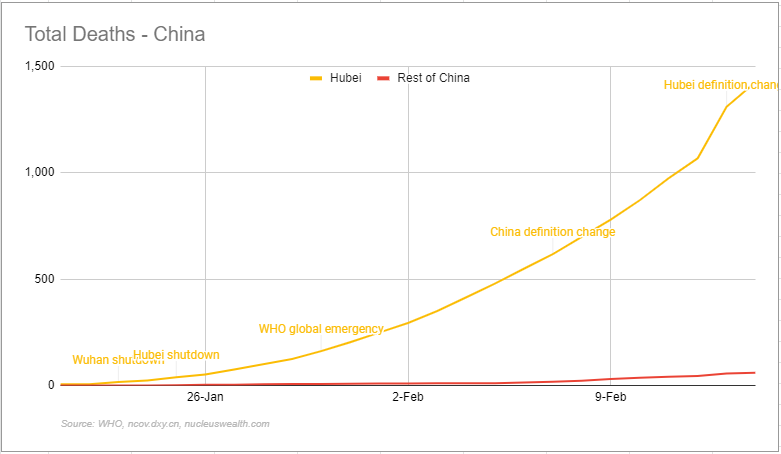 The mortality rate in Hubei is still horrendous if improving slowly: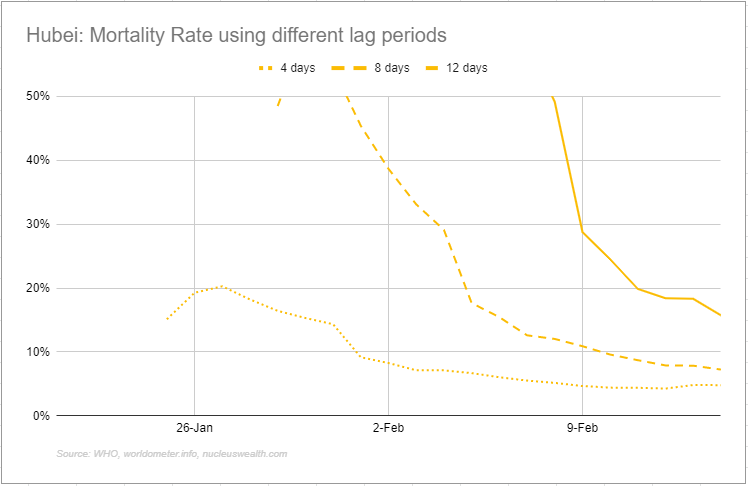 It was a worse day for the rest of the world too but it is still being distorted by the ship of the damned: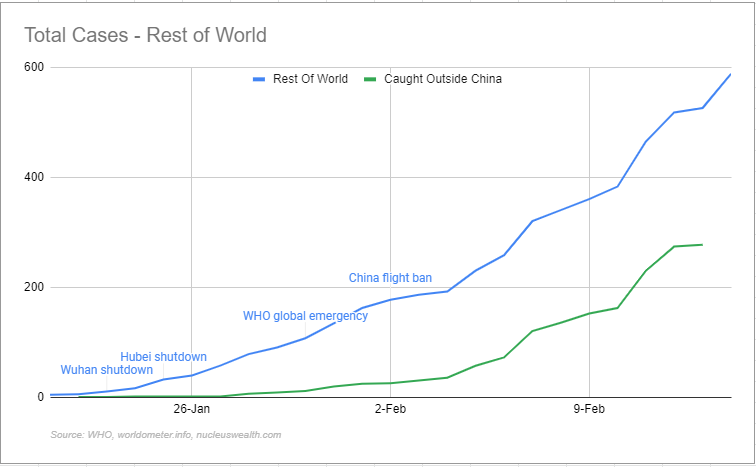 The mortality rate took a turn for the worse as well: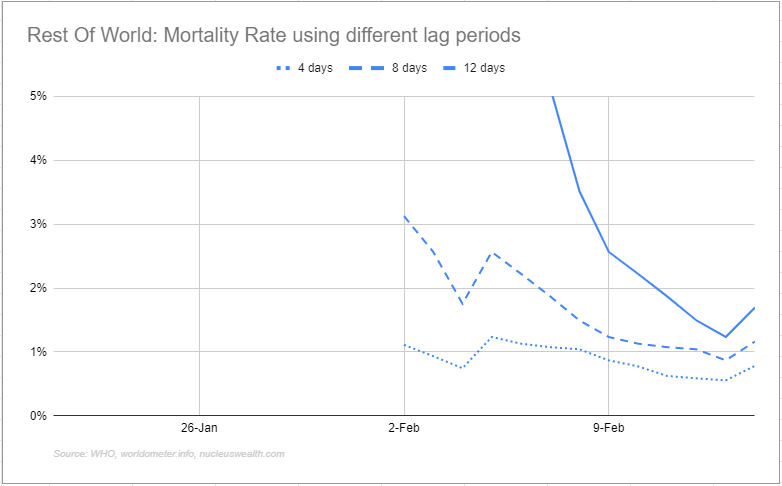 Clear as mud but enough for markets.
WHO is trying to sort the proper numbers so stand by in the next few days.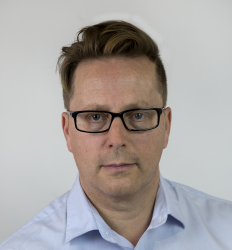 Latest posts by David Llewellyn-Smith
(see all)