You must listen to the CCP embassy:
"Only Australia and a small number of countries have taken such extreme measures which are overreaction indeed."

"We urge the Australian side to assess objectively and rationally the prevention and control measures taken by the Chinese side and the actual risk faced by Australian side."
Here is the list of various bans as of four days ago:
Antigua and Barbuda,
Armenai
Australia
Azerbaijan
Bahamas
Bangladesh
Belize
Cook Islands
El Salvadoror.
Fiji
Grenada
Guatemala
Hong Kong
India
Indonesia
Iran
Iraq
Israel
Jamazica
Japan
Jordan
Kazakhstan
Kiribati
South Korea
North Korea
Kosovo
Kuwait
Macau
Malaysia
Maldives
Marshall Islands
Mauritius
Micronesia
Mongolia
Myanmar
New Zealand
Niue
Palau
Paraguay
Philippines
Russia
Samoa
Seychelles
Singapore
Solomon Islands
Somalia
Sri Lanka
Taiwan
Tonga
Trinidad and Tobago
USA
Vanuatu
Vietnam
Read 'em all here. Today, all of Europe is mulling closing its borders if things get worse. (Don't tell Crikey, which hasn't figured out how to use the internet yet).
Here is the Chinese authorities' and people's reaction to the virus outbreak, at the FT:
Two-thirds of China's passenger planes have been grounded as travel restrictions and fear sparked by the coronavirus outbreak batter passenger numbers and force the country's airlines to scale back operations dramatically.

The total number of passengers carried by Chinese airlines from the end of the lunar new year break on January 27 to February 12 was 10.21m, down 70 per cent compared with the same period a year ago, according to the Civil Aviation Administration of China.

Less than half of all seats were filled on an average flight during the period, according to the CAAC.

Collapsing passenger numbers have forced airlines to slash routes and put pilots on unpaid leave. Across China up to 70 per cent of aircraft are grounded as a result, according to industry analysts.
Nearly 100 cities are locked down in China, some 400m people: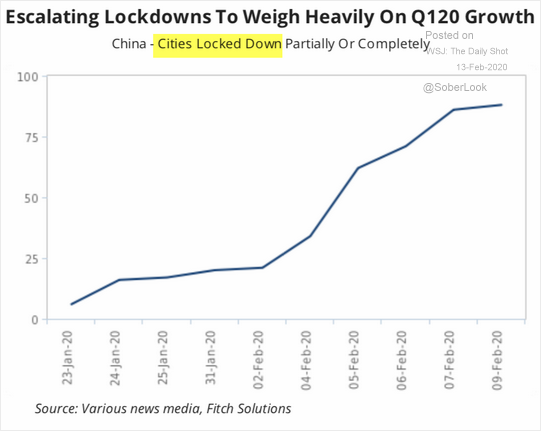 Yet Australia should "objectively and rationally" throw open the border…
A few points need to be made in response:
CCP officals have demonstrated a clear resort to lying about the severity of the outbreak.
CCP response to the virus has itself illustrated that blockades are the first line of defence. If the virus is allowed to gain a foothold then the mortality rate skyrockets as the health system is overrun. This is the main reason why deaths are so much higher in Hubei versus other Chinese provinces. It is essential that the virus be slowed by travel bans even if it can't be stopped.
CCP may well want the virus to go global. It lets it off the hook at home, politically. And it ensures travel bans are lifted.
Let's end on a word from CCP "double agent", Gladys Liu, queen of social media misinformation:
Federal Parliament's first Chinese-born MP has told Australians not to be scared of Chinese businesses and restaurants as iconic venues in Melbourne and Sydney get pummeled by unsubstantiated coronavirus fears.

Gladys Liu said social media has fuelled misinformation in the Chinese-Australian community, conflating the spread of the coronavirus in China with Australia, causing many to stay home while there was no threat to their wellbeing.

…"I understand how Chinese people feel," she said. "When they check WeChat and get messages from China saying 'don't go out, don't go out', but these messages are not for Autralia.
Actually, they are. Chinese Australians have understood from the outset the damage that will done to public health and the Chinese reputation worldwide if the virus gets out. Their response has been highly admirable, leading local quarantine efforts.
Gladys and her angry friends at the embassy should take note.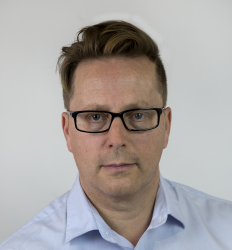 Latest posts by David Llewellyn-Smith
(see all)