More forecasts have arrived on the financial impact from the travel ban on Chinese international students, which has blocked an estimated 106,680 Chinese students from entering the country, roughly 56% of the total Chinese student cohort.
Australian National University higher education expert Andrew Norton estimates universities could loose at least $2 billion in fee income alone should the coronavirus seriously disrupt the first half of the university year.
Chief executive of the International Education Association of Australia Phil Honeywood claimed the broader economic cost of the travel ban (i.e. beyond just lost tuition fees) could hit $6 billion under a worst-case scenario.
Whereas credit ratings agency Standard and Poor's estimated a $3 billion loss in tuition fees.
According to Moody's investor services, Australia has easily the biggest exposure to international students in the developed world, with the Group of Eight (Go8) universities especially exposed: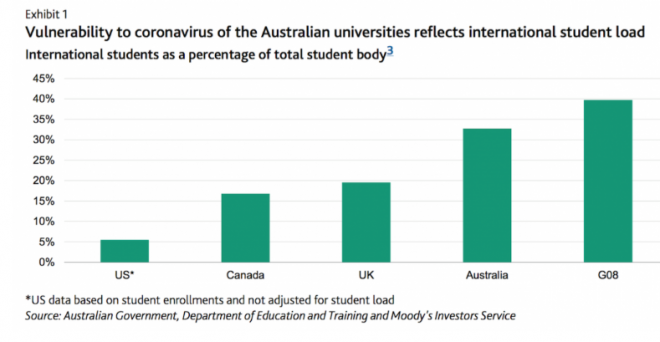 As shown above, international students accounted for one-third of total Australian university enrollments last year which rises to 40% for the Go8. This dwarfs the 20% international student concentration at second-placed United Kingdom and is roughly double Canada's exposure.
Chinese international students accounted for 28% of total Australian international student enrollments in 2019 and, more importantly, one-third of Australia's total $36.6 billion education exports: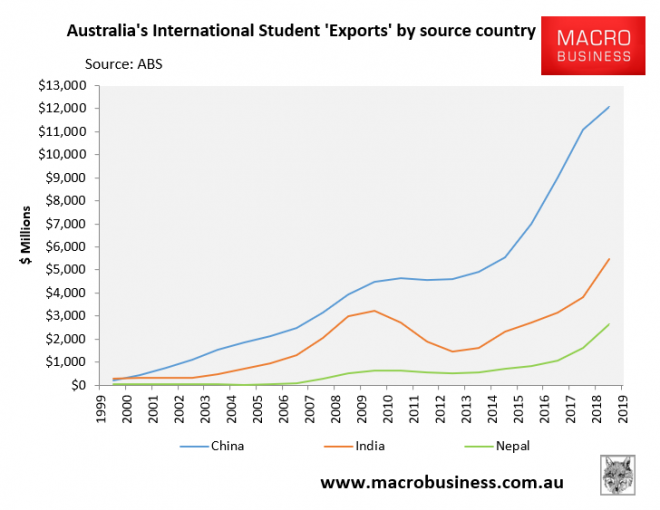 The impact from the pull-back in Chinese students will be greatest in Sydney and Melbourne, given their four representatives in the Go8 rely on international students for one-third or more of their revenue: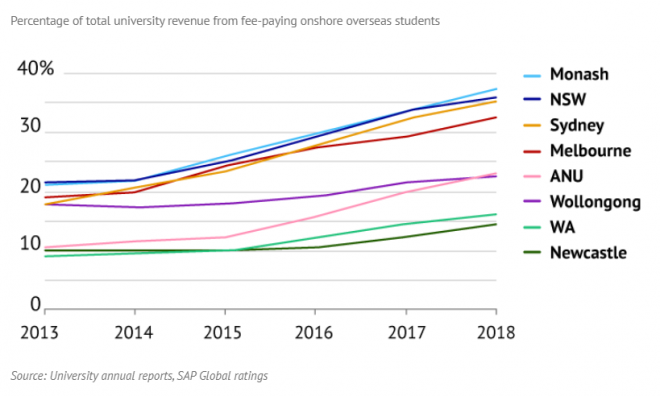 As noted by The SMH:
At Sydney University overseas student fees reached $885 million in 2018, more than double the total in 2014. About 70 per cent of that university's international student revenue comes from Chinese students. At Melbourne University consolidated revenue from "fee-paying onshore overseas students" reached $883 million in 2018, up a hefty 17 per cent on the previous year.

Analysis by regional economist Terry Rawnsley shows total employment in tertiary education in the inner-Sydney region jumped by 37 per cent between the 2011 census and 2016 census. In inner-Melbourne, tertiary education employment rose by 28 per cent in the same period.
Obviously, the longer the coronavirus drags, the bigger the financial impact will be.
This is what happens when you put all of your eggs in the China basket.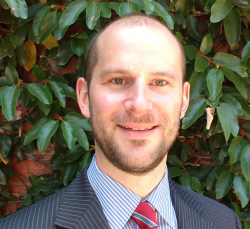 Latest posts by Leith van Onselen
(see all)