The Attorney General's Department has released its Trends in Federal Enterprise Bargaining Report for the September quarter of 2019, which reveals that wage growth continues to decline.
Specifically, wage increases in new private sector agreements fell from 2.9% to 2.8% in the September quarter:

By contrast, wage increases in new public sector wages rose by 0.1% to 2.6% in the September quarter, with total wage growth remaining flat at 2.7%.
For all 7,773 EBAs currently in force, wage growth fell 0.1% to 2.6%:

The next chart plots the quarterly changes in EBA wage increases, and suggests that overall wage growth will soften: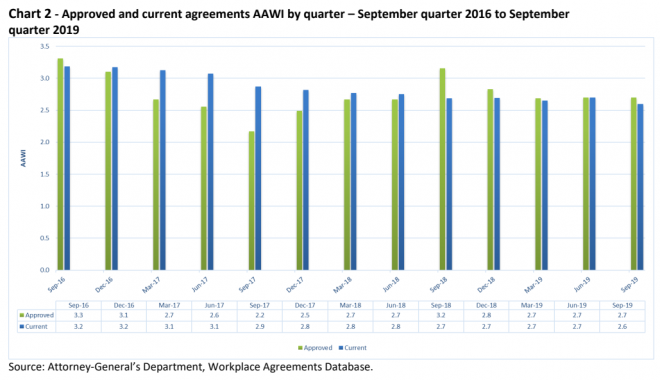 In particular, the EBAs data suggests that private sector wage growth will moderate even further from current already sluggish levels: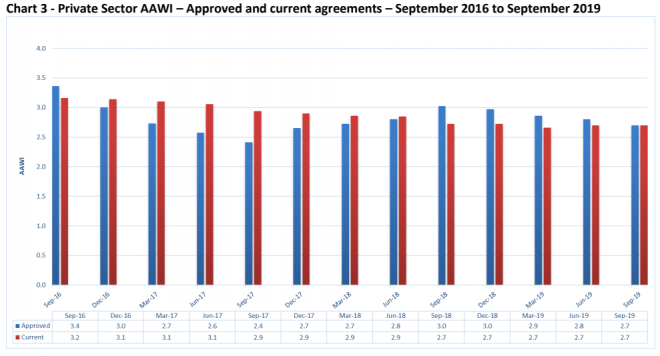 Not much joy here for Australian workers, with decent wage growth to remain evasive.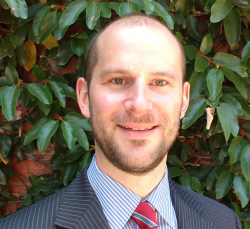 Latest posts by Leith van Onselen
(see all)