It all comes down to how you want to look at it. If you go with the Chinese data, then there is a miraculous straight-line recovery, new cases are falling every day outside of Hubei (helped by a definition change on 7 Feb):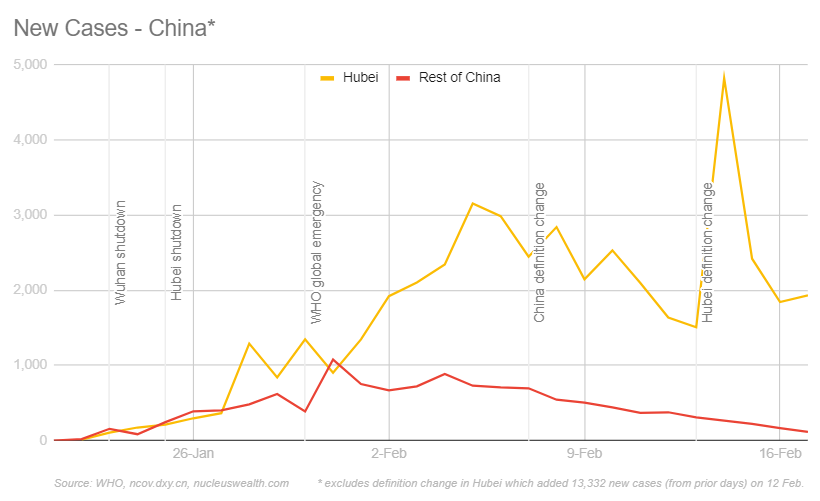 If you look at the rest of the world data, then the opposite is happening: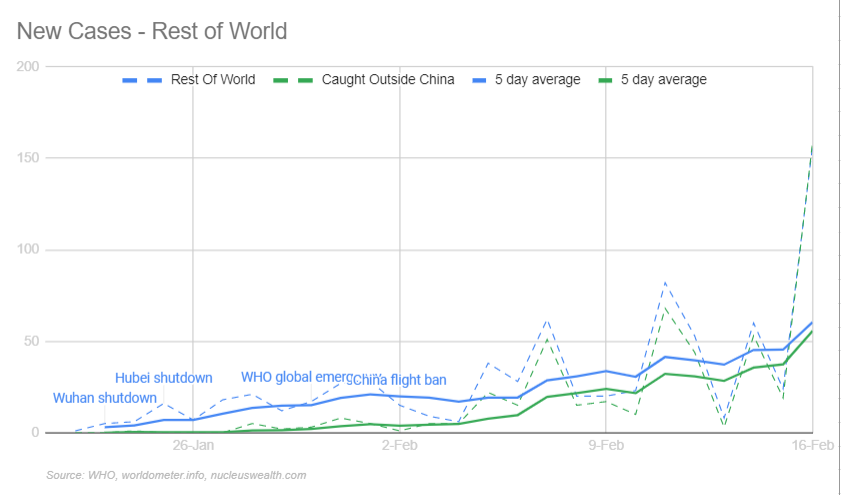 See https://nucleuswealth.com/articles/updated-coronavirus-statistics-cases-deaths-mortality-rate/ for updated data throughout the day.
The latest count from China:
At 04:00 on February 16, 31 provinces (autonomous regions, municipalities) and the Xinjiang Production and Construction Corps reported 2048 new confirmed cases and 105 new deaths (100 in Hubei, 3 in Henan, and 2 in Guangdong). 1563 suspected cases were added.

On the same day, 1,425 cases were cured and discharged, 28,179 close contacts were released from medical observation, and 628 severe cases were reduced.

As of 24:00 on February 16, according to reports from 31 provinces (autonomous regions, municipalities) and the Xinjiang Production and Construction Corps, there were 57934 confirmed cases (10644 of which were severe cases), 10844 cases of discharged patients were cured, and 1770 were dead cases. A total of 70,548 confirmed cases were reported, and there were 7,264 suspected cases. A total of 546,016 close contacts were traced, and 150,539 close contacts were still in medical observation.

There were 1933 newly confirmed cases in Hubei (1690 in Wuhan), 1016 new cases of cured discharges (543 in Wuhan), 100 new deaths (76 in Wuhan), and 49847 confirmed cases (36385 in Wuhan). Among them, 9797 were severe cases (8056 in Wuhan). A total of 6639 discharged patients were cured (3458 in Wuhan), 1696 deaths (1309 in Wuhan), and 58182 confirmed cases (41152 in Wuhan). There were 909 new suspected cases (338 in Wuhan), and 4826 suspected cases (1971 in Wuhan).

A total of 87 confirmed cases were reported from Hong Kong, Macao, and Taiwan: 57 cases in the Hong Kong Special Administrative Region (2 cases discharged, 1 death), 10 cases in the Macau Special Administrative Region (5 cases discharged), and 20 cases in Taiwan (2 cases discharged, 1 case died). ).
I don't doubt that the significant shutdowns have helped to slow the spread of the virus. However, according to Chinese data, there are just as many people per capita with COVID-19 in Singapore than there are in Shanghai. Of that I am skeptical.
For this reason, we split the data into three parts: Hubei, Rest of China, Rest of the World.
COVID-19 cases caught outside of China
Whilst at first most cases of COVID-19 outside China were people who had flown from China to another country, we now seeing the number of people who caught the virus outside of China beginning to climb: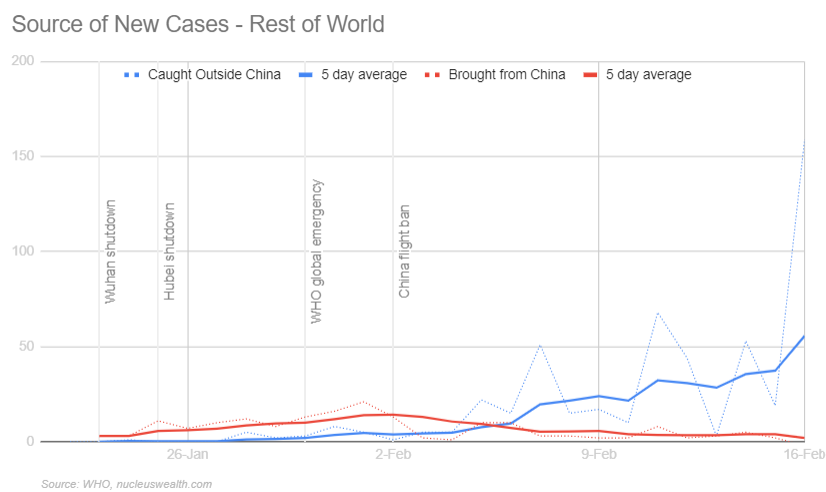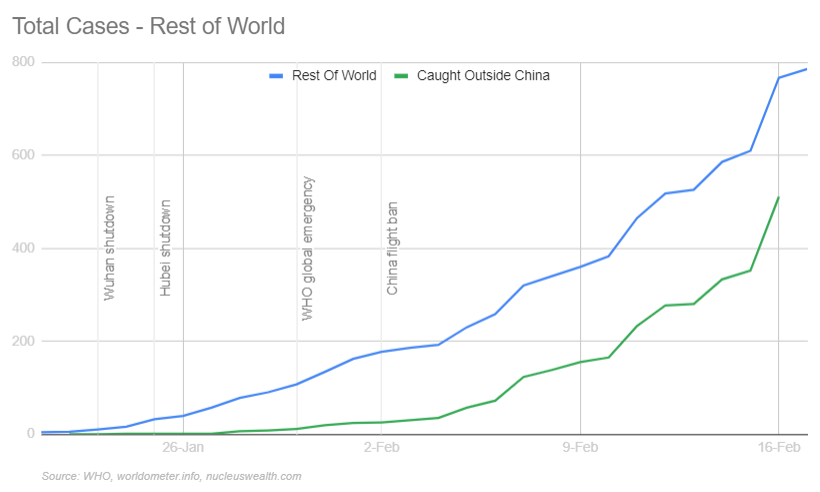 Notably, a single cruise ship makes up the bulk of cases outside China. Excluding the cruise ship, cases still continue to grow: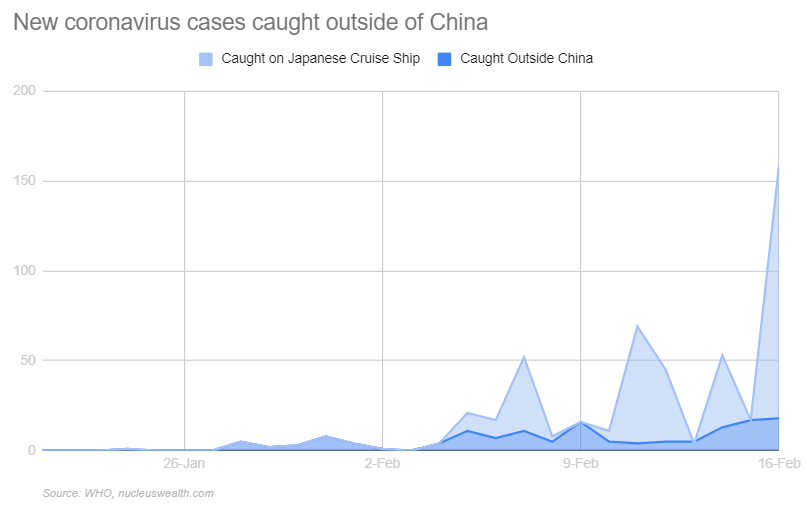 Time to doubling
We have started looking at how many days it takes for cases or deaths to double. It is still less than a week for the rest of the world: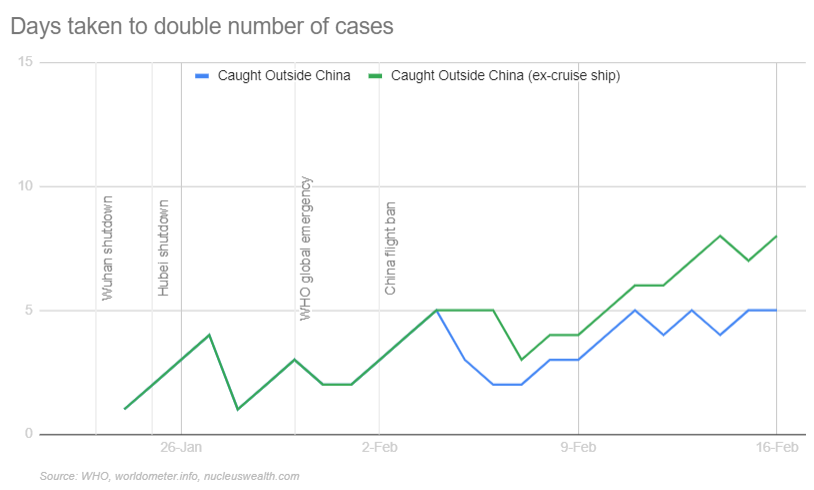 In China, the number of deaths and cases in Hubei is doubling every week. The Rest of China Deaths are still doubling every week. The number of cases for the rest of China are staging a remarkable improvement.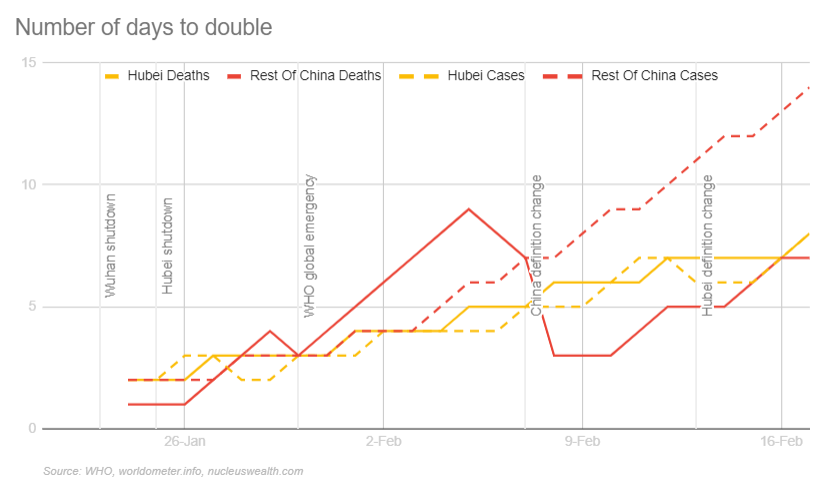 COVID-19 Mortality Rate using lag periods
The mortality rate is another area where we can see distinct differences in data. Dividing the number of deaths by the number of cases during the early stages of an outbreak is very misleading. People who were diagnosed today with the disease are still alive, but they still might die from the disease in the coming days.
A better way is to compare the current deaths to the number of cases from "x" days ago. We still don't know how many days we should be looking back. The stats so far suggest that the median days from the first symptom to death is 14. But with a broad range from 6 to 41. And, we don't know how long on average after the first symptom a person would take to become a case.
The below charts show the death rate if the right period to look back is 4, 8 or 12 days. Using data without Hubei, a mortality rate of somewhere between 0.5% and 3% is likely. 
Latest posts by Damien Klassen
(see all)