The Department of Home Affairs has dealt another hammer blow to the international student trade, halting visas to Chinese students that had been accepted to study at Australian education institutions:
A group of education agents — whose members channel Chinese students into all major universities — says it has not seen any student visas issued to mainland Chinese applicants since February 1, the day Scott Morrison imposed the coronavirus travel ban…

"After the Prime Minister's announcement, we haven't seen any new visas granted," said Gary Li, president of the Education Consultants Association of Australia, which has about 35 members.

Acting Immigration Minister Alan Tudge confirmed on Tuesday that "due to the enhanced border measures we are not finalising applications for individuals currently in mainland China"…

The group of Chinese students who are still waiting for their visas to be issued are additional to the 100,000 who have visas but are caught in China.
This follows the Chinese Government's cancellation of English-language exams for a second consecutive month, which will also stem the flow of new students into Australia's universities (other things equal).
Meanwhile, Health Minister Greg Hunt yesterday gave his strongest indication yet that the travel ban on China looks set to extend beyond Saturday:
Mr Hunt used his strongest language yet to warn the travel ban, due to expire at the weekend, would likely be extended when a decision was made at the end of the week…

"We don't want to set a false expectation that is likely to change yet at this point," he said.

"We're going to have a very serious consideration of that at the end of this week."

He said the travel advice for Australians regarding China remained "do not travel", but would not be drawn on for how long the ban for entrance to Australia from China would be extended.

"We follow the medical advice … everybody understands the huge implications of these travel bans, and if there's any reason or basis for relaxing them, that advice will come as soon as it's there," Mr Hunt said.
Recall that China is by far Australia's biggest source of international students, with 255,000 enrolled across Australia at the end of 2019: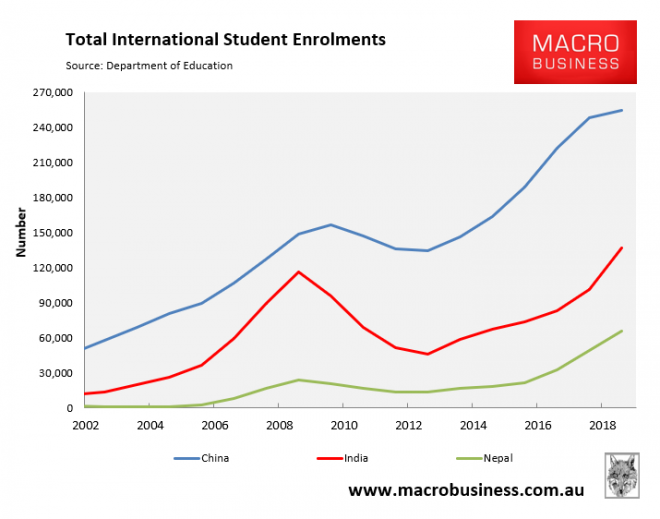 China also accounted for $12.1 billion of Australia's education 'exports' in 2019: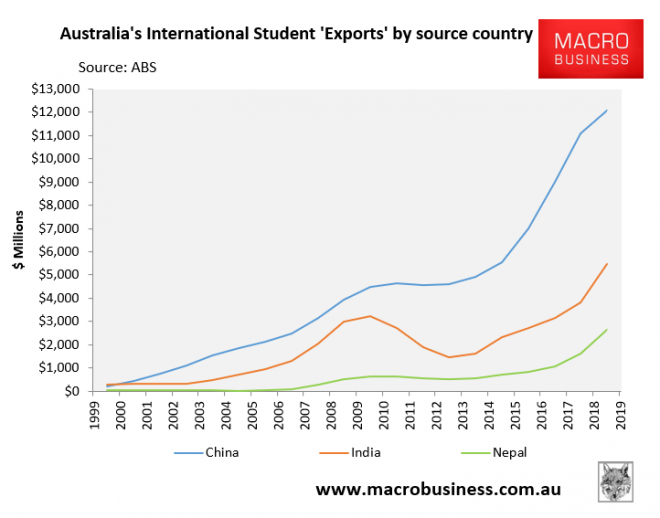 With more than 100,000 Chinese students unable to enter Australia to commence their studies, Australia's economy is facing a multi-billion hit from lost tuition fees and spending.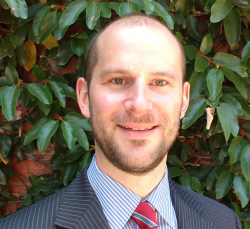 Latest posts by Unconventional Economist
(see all)