China is currently switched off: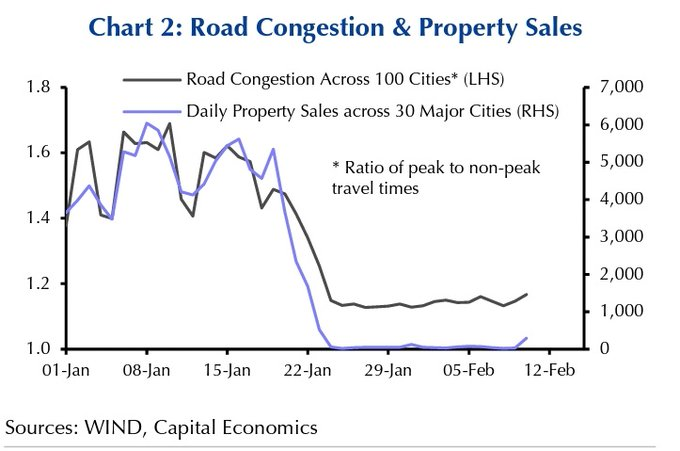 How quickly can it turn itself back on? Even in the bull case, not as fast as markets are pricing, via Bloomberg:
Economists are turning more pessimistic over the chances of a speedy recovery for China's virus-hit economy, as evidence mounts that the disruption will be deeper and more long-lasting than first thought.

With factories struggling to re-open amid curbs on movement, consumers housebound and global supply chains fraying, analysts from Citigroup Inc., Nomura Holdings Inc., Gavekal Research are among those signaling deeper concern than their initial estimates. That's even amid signs that the spread of the disease is slowing.

Global Ratings said growth this year could be as low as 5%, which would be the weakest since the early 1990s, while Capital Economics Ltd. goes as far as to predict the end of the world economy's 43-quarter growth streak.

…Doubts are mounting. Restoring production is being complicated by orders to wear face-masks and curbs on travel. Economists note real-time data such as property sales, coal consumption, airport arrivals, box office sales, traffic flows and the return of migrant workers from the recent Lunar New Year holiday all point to lackluster economic activity that may take longer to recover.
Here is the problem:
Company in #Suzhou reopened. One #CoVid2019 case found. Over 200 employed couldn't go home and immediately under quarantine. They managed to organize quilts for themselves.
苏︍州单位提前开工,确诊一例 #武汉肺炎 ,全单位的人上了一天班,家都回不去了,200多人自带被子,全部隔离 pic.twitter.com/Fd660RKfqL

— 曾錚 Jennifer Zeng (@jenniferatntd) February 12, 2020
The Global Times is hammering the restart as the private sector baulks:
While businesses in most regions of the country were told to postpone reopening until the beginning of this week, various local authorities have still taken measures discouraging work resumption. It is, of course, understandable for local authorities to take some control measures, but preventing companies from resuming work is not a sustainable way of containing the NCP.

Moreover, there are rumors regarding NCP cases found at factories that resumed operation, which may scare companies that are planning for a return to work. The motive behind the resumption rumors is obviously sinister, even though it is not hard to clarify it. The malicious rumors reflect someone's dark desire to see the Chinese economy plunged into chaos amid fears of the NCP. While rumors may spread panic and increase anxiety over the resumption of work to a certain extent, they won't weaken China's determination to restart its economy from the shock of the NCP outbreak.

The more headwinds facing China, the more imperative it is for businesses nationwide to resume production, or at least to prepare for the return to work. Of course, this doesn't mean that all companies across the country should return to work at the same time, disregarding their epidemic control conditions. Authorities and companies should arrange work resumption in a safe and orderly manner based on the virus control situation. It is unrealistic for local governments to expect companies to resume production only after the NCP is declared completely under control.
It is still our base case that virus containment inhibits the Chinese restart for many more months.
If that is the case, why would other nations open up to China, as the CCP press is demanding:
Some countries have completely cut off traffic communications with China and even banned non-citizens who have been to China within last 14 days to enter their country. This is serious violation of WHO recommendations. As the situation has significantly relaxed in recent days, these countries should reconsider and revoke these practices.

China is the world's largest manufacturing factory, and one of the places with the largest human flow on the Earth. Canceling flight to and from China has made many airlines suffer huge losses, which also deals a heavy blow to the first-quarter performance of the world economy. If all the countries keep their measures unchanged, it means all sides will pay bigger cost from the epidemic.
Many expert observors still see it as likely to get worse, at the FT:
Frontline healthcare workers, patients and international experts have accused China of under-reporting the number of coronavirus victims in the country, saying authorities were conducting inadequate testing and medical facilities were overwhelmed. China's health commission has reported a decline in new coronavirus cases for eight consecutive days outside of Hubei province, where the outbreak started in the city of Wuhan.

…health experts have questioned the timeliness and accuracy of the figures, saying the testing system captured only a fraction of the cases in China's poorly run hospitals. Professor Neil Ferguson, an epidemiologist at Imperial College London, said only the most severe infections were being diagnosed and as few as 10 per cent of cases were being properly detected, in a video released by the university.

Addressing reporters from WHO headquarters in Geneva, the organisation's director general, Tedros Adhanom Ghebreyesus, said the number of newly confirmed cases of coronavirus in China appeared to have stabilised, "but this must be interpreted with extreme caution. This outbreak could still go in any direction," he warned.

In Wuhan, the official figures for confirmed cases could capture as few as 1 in 19 infections, according to a paper published by Prof Ferguson. Dr Brendan Murphy, Australia's chief medical officer, told state broadcaster ABC that China's prediction the outbreak would peak in April was "far too premature", adding he expected the number of cases to keep rising.
I surmise that the CCP would not mind of the virus went global. Although it would cost it economically, the bill would be less that shutting down by itself and, crucially, it lets it off the hook the politcally.
China may want to turn itself on in a hurry but it appears its own internal contrictions, and other nations, will not let it.
The full Sinocism linkfest is below:
Xi Jinping convened another Politburo standing committee meeting and the official readout makes it clear the leadership is very worried about the economy and the goals the Party has set for 2020.

The local officials are under huge pressure to prevent an outbreak in their areas while at the same time getting their local economy up and running again. It is almost a no-win choice for them, but so far most seem more focused on stringent measures to prevent the spread of the virus. Are the local officials also not confident in the official data on the number of cases?

1. Another standing committee meeting

Xi chairs leadership meeting on epidemic control, noting "positive changes" – Xinhua |

The Standing Committee of the Political Bureau of the Communist Party of China (CPC) Central Committee on Wednesday held a meeting on the prevention and control of the pneumonia epidemic caused by the novel coronavirus or COVID-19.

Xi Jinping…chaired the meeting and made an important speech…

Xi said the epidemic situation has shown positive changes due to concerted hard work and that the prevention and control work has achieved notable outcomes.

"The results are hard-won progress made by all sides," Xi said.

Noting that epidemic prevention and control have entered a critical stage that requires stringent efforts, Xi stressed focusing on priorities without any let-up and strengthening prevention and control in areas where the epidemic situation is particularly serious or at greater risk.

Xi demanded resolute efforts from Party committees and governments at all levels to win the people's war against the epidemic and urged them to strive to achieve this year's economic and social development goals and tasks…

The non-key regions for epidemic prevention and control should coordinate curbing the epidemic and restoring the economic and social order, the meeting said, requiring greater efforts to reduce the impact of prevention and control measures on people's life.

The meeting called on Party committees and governments at all levels to minimize the impact of the epidemic to maintain steady economic performance as well as social harmony and stability…

More efforts should be made to formulate policies and measures to cope with the impact of the epidemic. To better combat the epidemic, the country will increase funding and roll out targeted tax and fee reduction measures to ease strains on firms, while looking to offer discounted loan interest rates for producers of anti-virus materials.

The meeting also called for ensuring the orderly resumption of work and production in enterprises. At the same time, multiple measures will be taken to ensure a stable job market for college graduates and other job seekers.

中共中央政治局常务委员会召开会议 分析新冠肺炎疫情形势研究加强防控工作 中共中央总书记习近平主持会议_CCTV

会议强调,要强化医疗物资等的供应保障,充分调动口罩、医用防护服生产企业的积极性,加快推动企业复工达产,鼓励有条件的企业扩大产能或转产,帮助解决缺员工、缺设备、缺原材料和资金紧张等问题。紧缺物资要进行统一调拨,优先保障重点地区需要。同时,要做好生活必需品生产供应工作,严格落实"米袋子"省长责任制和"菜篮子"市长负责制,切实抓好主副食品生产、流通、供应组织。当前正值春耕备耕关键时节,各地要抓紧组织好种子、化肥、饲料等农资供应,落实好春管春种措施,夯实农业生产基础。

会议指出,非疫情防控重点地区要以实行分区分级精准防控为抓手,统筹疫情防控与经济社会秩序恢复。要按照科学防治、精准施策原则,以县域为单元,确定不同县域风险等级,分区分级制定差异化防控策略。各级党委和政府要实事求是做好防控工作,对偏颇和极端做法要及时纠正,不搞简单化一关了之、一停了之,尽可能减少疫情防控对群众生产生活的影响。

会议强调,今年是全面建成小康社会和"十三五"规划收官之年。各级党委和政府要努力把新冠肺炎疫情影响降到最低,保持经济平稳运行和社会和谐稳定,努力实现党中央确定的各项目标任务..

要聚焦重点领域,优化地方政府专项债券投向,用好中央预算内投资,调动民间投资积极性,加快推动建设一批重大项目。要推动服务消费提质扩容,扩大实物商品消费,加快释放新兴消费潜力。

Coronavirus: Xi Jinping sends message on economy and getting back to business | South China Morning Post

Xi also urged local authorities to refrain from taking excessive measures to curb contagion.

"We must correct these overreactions and extreme measures and avoid an oversimplified approach [such as] blanket closures or suspensions of business operations," Xi said…

And Premier Li also stressed the need to get the economy restarted at a Tuesday State Council executive meeting – Chinese premier stresses resuming work, ensuring supply amid epidemic – Xinhua

To alleviate difficulties of enterprises, private and small businesses in particular, during the epidemic, China will establish support mechanisms and implement favorable measures including cutting loan interest rates and improving tax reduction policies.

More should be done to ensure the supply of daily necessities as well as energy, while the construction of major projects should be started as soon as possible, according to the statement.

The meeting also highlighted efforts to prevent large-scale layoffs, encouraging local authorities to take comprehensive measures to support employers and ensure a stable job market.

China to maintain economic and social progress while advancing epidemic control – Xinhua

As it advances epidemic control with all-out efforts, China will enhance macro-economic regulation, and step up production, allocation and supply of key materials, to maintain social and economic progress.

These arrangements were made at a State Council's executive meeting chaired by Premier Li Keqiang on Tuesday…

The timely launch of key projects will be promoted. [Infrastructure stimulus coming? In the standing committee readout aboce Xi said '加快推动建设一批重大项目 accelerate the construction of a number of major projects"]

Employment is another priority and massive lay-offs must be prevented. Local governments will be encouraged to allocate funding, including tapping the balance in unemployment insurance funds, to help businesses keep their payrolls stable. In places where conditions permit, deferral or refund on social insurance contributions and other possible means will be encouraged.

---

2. The outbreak

Coronavirus Latest: Singapore Cases Hit 50, Japan Extends China Travel Restrictions – Caixin Global

New confirmed coronavirus infections drop by nearly half in China: spokesperson – Xinhua |

The number of daily new confirmed cases of the novel coronavirus infection fell from a peak of 3,887 on Feb. 4 to 2,015 on Tuesday, with a decrease of 48.2 percent, according to the National Health Commission (NHC)

China's new coronavirus cases drop, world still scared – Reuters

China reported on Wednesday its lowest number of new coronavirus cases in two weeks, bolstering a forecast by Beijing's senior medical adviser for the outbreak in the country to end by April – but fears of further international spread remained.

China accused of under-reporting coronavirus outbreak | Financial Times

Frontline healthcare workers, patients and international experts have accused China of under-reporting the number of coronavirus victims in the country, saying authorities were conducting inadequate testing and medical facilities were overwhelmed…

Professor Neil Ferguson, an epidemiologist at Imperial College London, said only the most severe infections were being diagnosed and as few as 10 per cent of cases were being properly detected, in a video released by the university.

In Wuhan, the official figures for confirmed cases could capture as few as 1 in 19 infections, according to a paper published by Prof Ferguson.

Here is the conversation with Professor Ferguson:

China's Cities Lock Up Residents to Prevent Spread of Virus – Bloomberg

With no unified national policy on how to stop the spread of the coronavirus outside the epicenter of Wuhan, officials are freelancing with their own, sometimes draconian, restrictions in a bid to avoid becoming the next locus of the disease…

Across China, one of the most common restrictions has been to impose lockdowns on residential areas, with the provinces of Liaoning and Jiangxi, as well as major cities such as Shenzhen, Guangzhou, Nanjing, Ningbo, Chengdu and Suzhou restricting visitors and asking inhabitants to limit trips outside.

At Outbreak's Center, Wuhan Residents Question Accuracy of Virus Tests – WSJ $$

Medical experts around the globe have expressed fears that the scale of the outbreak could be much larger than Chinese data suggests—in large part because of concerns about potential flaws in testing. Independent experts say many tens of thousands of Wuhan residents are likely infected by the coronavirus, while the city's government puts the tally at less than 20,000.

China seizes hotels, hospitals and cars to fight coronavirus | Financial Times $$

But the measures, particularly the requisitioning of hospitals, have left some people with other life-threatening diseases without critical care, creating what one relative of a cancer patient affected by the seizures described as a "humanitarian" disaster.

China's southern industrial hub of Guangzhou this week joined a host of other big city governments such as Zhengzhou, Fuzhou and Xi'an in passing emergency legislation for requisitioning.

What is the situation in other Hubei cities?

The Shiyan measures – 湖北十堰张湾区实施战时管制,所有楼栋封闭管理 – 国内 – 新京报网

74-member medical team from Guangxi departs for Shiyan to help combat novel coronavirus – Xinhua

A medical team comprised of 74 medical staff departed for Shiyan of central China's Hubei Province on Wednesday to help combat novel coronavirus there.

China vows to house all coronavirus patients. Treatment isn't guaranteed – Inkstone

On February 5, he was taken to the Sunny Sky Inn in Qiaokou district. The building had been converted into a temporary quarantine center. At that time, Peng said, community officers promised that his father would be tested for the coronavirus and looked after by doctors.

But no doctor was working at the site, Peng said. On February 8, Peng's father stopped answering his phone calls. Two days later, Peng found his father in his hotel room unresponsive.

"I touched his hand, and it felt hard and cold," Peng, 30, told Inkstone. "He had vomited blood. I called out to him. No response. I knew he had passed away." A doctor later confirmed his death, Peng said.

Peng's story echoes that of a number of Wuhan residents who have complained about the lack of medical resources inside makeshift shelters that the authorities hope will help save the growing number of people sickened by the coronavirus in the city.

U.S. CDC says not yet invited to assist with coronavirus investigation in China – Reuters

An advance team of World Health Organization medical experts arrived in China on Monday to help investigate the outbreak, and the United States has been waiting for approval to send its experts as part of the WHO team

The annual Gaokao university entrance exam may be delayed

In Virus-Stricken Hubei, Locals Keep Hospitals Supplied – SixthTone

The grassroots relief groups have played a vital role in helping hospitals deal with the shutdown of almost all air, rail, and road transportation in over 15 cities across Hubei, which has made it difficult for medical workers and supplies to reach local health centers. But local authorities are now starting to take back control from some of the small-scale teams as officials try to restore order.

Remember the Women Fighting Coronavirus – The Diplomat

Data released by the Shanghai Women's Federation, a local chapter of the All-China Women's Federation, show a whopping 90 percent of total nurses and at least half of the total doctors at the frontline are female, according to People's Daily. Despite these remarkable figures, when it comes to donations to aid frontline personnel, donors barely take into account female necessities  –especially sanitary essentials — which has irked female rights workers

China and fake news in the time of coronavirus | Financial Times $$

China's coronavirus has also sparked an epidemic of online panic. When Sars hit in 2003, 6 per cent of China's population was online; now almost 60 per cent are. The average user of WeChat, the country's dominant social media platform, spends 90 minutes a day on the app. As a result, while more than 40,000 patients in China are fighting the virus, the entire country is facing an onslaught of online media — much of it disinformation

Comment: And there is plenty of disinformation on global social media too

Taiwan News Publishes COVID-19 Misinformation as Epidemic Spreads | New Bloom Magazine

Children's Book Under Fire for Promoting Wildlife Consumption – SixthTone

The book's publisher, Wuhan University Press, said Tuesday that it had notified all sales outlets nationwide to remove the book and launched an investigation into the matter. Earlier this week, a photo of a page from the book Animal Encyclopedia went viral on Chinese social media for referring to the masked palm civet as a "rare delicacy," with many objecting to the potentially unsafe characterization.

Yunnan introduces barcodes to track residents' movements in public – The Washington Post

The southwestern Chinese province of Yunnan on Wednesday launched a WeChat in-app program called Kang Yiqing (Fighting the Epidemic) that requires residents to register their personal information by scanning a QR code whenever they enter a public venue

China to stagger the return of students to school to curb virus: official – Reuters

Wang Dengfeng, an official in charge of virus prevention at the Ministry of Education, told a media briefing that China would coordinate with schools and local authorities to try to reduce the number of students returning at any one time.

Ten provinces and regions as well as the municipalities of Shanghai and Chongqing have all announced that schools will remain closed until at least the beginning of March

Early Coronavirus Genetic Data May Have Forewarned Outbreak – Bloomberg

China didn't release key genetic data on the coronavirus until about two weeks after it emerged that a new SARS-like illness may be sickening people, highlighting the need for outbreak detection systems to incorporate modern scientific tools.

Insufficient attention was paid to the information doctors had gathered about the genetic sequence of the novel coronavirus, scientists said in a commentary paper in the Lancet medical journal Tuesday. The authors, who include two members of the World Health Organization's emergency committee, said this wasn't the result of a cover-up or deliberate delay, but rather the absence of mechanisms to inform outbreak warning systems

Huge Shelters for Coronavirus Patients Pose New Risks, Experts Fear – The New York Times

The makeshift shelters in Wuhan do not have adequate heating and have suffered power failures, according to early reports. Staffing is inadequate, and medical equipment is in short supply.

"This is taking us back to the 19th century," Dr. Markel said. "It's an old-fashioned approach to an epidemic, because you care more about the healthy than the people who are sick."

---

3. Economic impact

Coronavirus: Xi Vows to Meet Economic Goals and Defeat Disease – Bloomberg

"It will not have a long-term impact on the supply of production and productivity, nor will it even affect the whole year or weaken the potential growth capacity of China's economy," Cai Fang, vice president of the Chinese Academy of Social Sciences, wrote in Wednesday's People's Daily. China can reach its targets as long as economic growth this year is about 5.7%, he wrote.

Cai's piece – 继续为实现今年经济社会发展目标任务而努力(人民要论)蔡 昉

In Depth: How Coronavirus Outbreak Has Hurt China's Economy – Caixin

Weak demand has led to an inventory buildup in the upstream supply chain of many parts of the energy industry. Refineries in China have generally suffered rapid growth of inventory, said Zhu Fang, an analyst at the China Petroleum and Chemical Industry Federation, an industry group.

Such buildups have also become commonplace in other heavy industries, including steel and copper smelting. On Friday, China's steel inventory hit an all-time high of 25 million tons, up 54% from the level before the Lunar New Year holiday, according to Mysteel.com, a Shanghai-based industry data provider.

Yicai Global – Four-Fifths of China's Car Dealers Are Still Shut Due to Epidemic, Industry Group Says

Just 573 of 2,895 4S stores owned by almost 50 auto distributors have gotten back to work, according to the survey on the impact of the epidemic on the industry carried out by the China Automobile Dealers Association and submitted yesterday to the National Development and Reform Commission, the country's top economic planner

Resolve to resume production crucial to China's economic restart – Global Times

While businesses in most regions of the country were told to postpone reopening until the beginning of this week, various local authorities have still taken measures discouraging work resumption. It is, of course, understandable for local authorities to take some control measures, but preventing companies from resuming work is not a sustainable way of containing the NCP.

Moreover, there are rumors regarding NCP cases found at factories that resumed operation, which may scare companies that are planning for a return to work. The motive behind the resumption rumors is obviously sinister, even though it is not hard to clarify it. The malicious rumors reflect someone's dark desire to see the Chinese economy plunged into chaos amid fears of the NCP. While rumors may spread panic and increase anxiety over the resumption of work to a certain extent, they won't weaken China's determination to restart its economy from the shock of the NCP outbreak.

Foxconn aims to resume half of output in virus-hit China by month-end: source – Reuters

The world's largest contract electronics maker also aims to resume 80% of production in China in March, added the source, who has direct knowledge of the matter, citing internal targets set by Chairman Liu Young-Way.

China unveils stronger financing support for virus prevention, control enterprises – Xinhua

The guideline from a state financing guarantee fund unveiled measures to improve financing guarantee services for key enterprises in prevention and control and regions severely affected by the novel coronavirus outbreak.

Specifically, the fund will provide re-guarantee services for loan guarantee programs of epidemic control and prevention companies, and half the re-guarantee fees for loan guarantee programs of Hubei-based enterprises seriously hit by the outbreak.

Coronavirus: does China have the financial power to repair the economic damage caused by the outbreak? | South China Morning Post

Wang Tao, head of Asia economics and chief China economist at UBS, estimated that China's gross domestic product (GDP) growth rate would plunge 1.5 per cent in the first quarter, assuming that all companies were able to resume operations at the start of April.

"We believe the impact of the novel coronavirus [on China's economy] will be bigger than severe acute respiratory syndrome-related (Sars) coronavirus," said Wang.

"In my view, China has to rely much more on fiscal policy. So far we've seen some relief in tax cuts in the short term," added Wang, who believes China's fiscal deficit to GDP ratio is likely to exceed 3 per cent in 2020.

Comment: A 1.5% drop in Q1 GDP seems low, especially if as this article says Wang assumes "all companies were able to resume operations at the start of April". April of course is in Q2…

Local Governments Get Extra Bond Boost as Virus Bites – Caixin

China's provincial-level governments have been given the green light to issue a further 290 billion yuan ($41.6 billion) of special-purpose bonds (SPBs) early, adding to the 1 trillion yuan of such debt approved in November to boost infrastructure spending amid a slowing economy that's set to take an additional hit from the coronavirus epidemic

Communities in Tech Hub City Bar Renters From Returning Home – Caixin

As work resumed across China this week after an extended Lunar New Year holiday due to the coronavirus outbreak, many people arriving back to their rented apartments in Zhejiang province tech hub Hangzhou found they were barred from entering their communities…

"The Hangzhou government has ordered that neighborhoods should not freely ban residents and tenants from entering, but because it's now a period of high incidence of the epidemic, each community has its own management measures and tenants have to cooperate accordingly," an operator of the city's administrative hotline told Caixin.

China Rapid Rebound Thesis Tested as Virus Fallout Deepens – Bloomberg

Ray Dalio, the billionaire founder of Bridgewater Associates, said on Tuesday that the impact of the outbreak on markets has been exaggerated and is likely to be short lived.

Mobile World Congress Canceled Due to Coronavirus Concerns – Bloomberg

It's the first time in MWC Barcelona's 33-year history that organizers have called off the event, which draws more than 100,000 participants

SILICON | What industry can't stop? Semiconductors · TechNode

While there are other key Chinese memory companies—e.g. Changxin memory in Hefei—the two Wuhan memory makers have both have confirmed they are not stopping production. While the rest of us are forced to work from home due to covid-19 fears, two companies at the heart of the epidemic cannot be allowed to discontinue production.

Yicai Global – Beijing Sells Land for Quarter Over Asking Price as City Scraps Price Cap

Beijing has auctioned off three parcels of residential land to the highest bidders in its first sales since the end of the extended Chinese New Year holiday the Securities Daily reported today. Prices reached as much as a 25 percent premium.

Chinese Firm Makes Gilead Drug in Virus Fight, Raising IP Fears – Bloomberg via Yahoo Finance

A Chinese drugmaker said it has started mass-producing an experimental treatment from Gilead Sciences Inc. that has shown potential to fight the novel coronavirus, adding to concerns that the U.S. pharma company is losing patent control in China's accelerating effort to fight the outbreak

F1 Chinese Grand Prix postponed due to coronavirus – Reuters

The race, in what is an important market for Formula One, was originally set to be held in Shanghai on April 19, but the governing body FIA and Formula One said in a statement that they had jointly decided to postpone it.

Japan expands entry restrictions to virus-hit Zhejiang – Nikkei Asian Review

The Japanese government decided Tuesday to bar entry to travelers from Zhejiang Province, tightening its entry restrictions in light of the widening reach of the new coronavirus.

Foreign nationals who have been in Zhejiang within 14 days of arrival in Japan, or who hold a passport issued in the province, will be denied entry. This follows an earlier decision to ban travelers from Hubei Province, the epicenter of the outbreak.

American Airlines extends China flight cancellations through April – The Washington Post

American Airlines announced Tuesday that it will suspend flights to China and Hong Kong through the end of April, a month longer than the carrier had previously planned

Time to resume suspended flights to China – Global Times

Some countries have completely cut off traffic communications with China and even banned non-citizens who have been to China within last 14 days to enter their country. This is serious violation of WHO recommendations. As the situation has significantly relaxed in recent days, these countries should reconsider and revoke these practices.

China is the world's largest manufacturing factory, and one of the places with the largest human flow on the Earth. Canceling flight to and from China has made many airlines suffer huge losses, which also deals a heavy blow to the first-quarter performance of the world economy. If all the countries keep their measures unchanged, it means all sides will pay bigger cost from the epidemic.

China calls on countries to lift coronavirus travel restrictions – Xinhua

Liang Nan, an official with the Civil Aviation Administration of China (CAAC), said China's civil aviation sector is willing to work with other countries and take strict epidemic control measures to safeguard the health of passengers…

she noted that certain countries have overreacted by suspending flights to and from China or implementing border entry restrictions.

Megvii denies reports it applied for 100m RMB as part of the Beijing loan program for companies to help with the fight against the virus. Netizens are in an uproar because the reports listed Megvii as applying for the loan to develop face recognition technology even when people are wearing masks

As Coronavirus Stifles China, Economic Logjams Build Worldwide – The New York Times

Mr. Morse, at Citigroup, said several key markets — like crude oil — had already been showing softness, suggesting that the global economy was weak even before the virus hit. That could complicate any quick rebound for commodities prices.

"The market has been thinking that there's going to be a V-shaped recovery at some point," he said. "And we don't think that's in the cards."

OPEC report: Coronavirus expected to weaken oil demand growth in 2020 – CNBC

"The impact of the Coronavirus outbreak on China's economy has added to the uncertainties surrounding global economic growth in 2020, and by extension global oil demand growth in 2020,"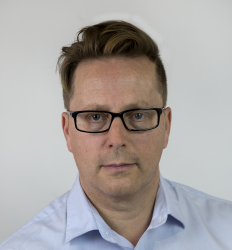 Latest posts by David Llewellyn-Smith
(see all)