In 2015, Bob Birrell and David McCloskey from the Australian Population Research Institute released an explosive report examining new household and dwelling projections for Sydney and Melbourne for the period 2012 to 2022.
The report found that there would be a continuing scarcity of family-friendly housing in both cities, especially of detached housing, but an epic oversupply of shoe box apartments, particularly in Melbourne, if current construction trends persist.
Basically, younger households wishing to start a family would find it increasingly difficult to secure a detached home with a backyard, since the stock that is available will be taken-up mostly by older empty-nesters at the same time as the number of younger households is increasing via rapid immigration.
BIS Oxford Economics came to the same conclusion, warning that as Millennials age and start families they will be locked-out of family friendly homes:
Investor demand has seen apartment construction boom — particularly in Sydney, Melbourne and Brisbane — but Mr Zigomanis said the studio, one and small two-bedroom apartments that are attractive to Generation Y as they rent in their 20s are unlikely to hold the same appeal as they age…

Outdoor spaces, such as courtyards and rooftops, and more space inside, will also be in demand — something he said has been missing from the apartment market over the past decade…

The large-scale, high-rise developments that sell apartments off the plan to investors do not hold the same appeal to owner-occupiers…

The growing over-65s segment of the population is not tipped to favour smaller apartments either.
Now, a new report from the Australian Housing and Urban Research Institute (AHURI) reveals that most over-55s want dwellings with at least three bedrooms, which is not being fulfilled by the high-rise apartment boom:
They consider "spare" bedrooms necessary for use as permanent guest rooms (58%), studies (50%), or dedicated rooms for children or grandchildren (31%).

Space remains important to Australian downsizers. Over half of them move to a dwelling with three or more bedrooms. A third move to an apartment.

However, two-thirds of downsizers surveyed did move to a dwelling with fewer bedrooms. Three bedrooms was the preferred dwelling size for older Australians…

The survey finding of a lack of suitable housing options matching would-be downsizers' preferences may explain why so few were able to downsize in their original neighbourhood.
As we know, high-rise apartments – predominantly comprising one and two bedrooms – have taken an increasing share of new dwelling construction: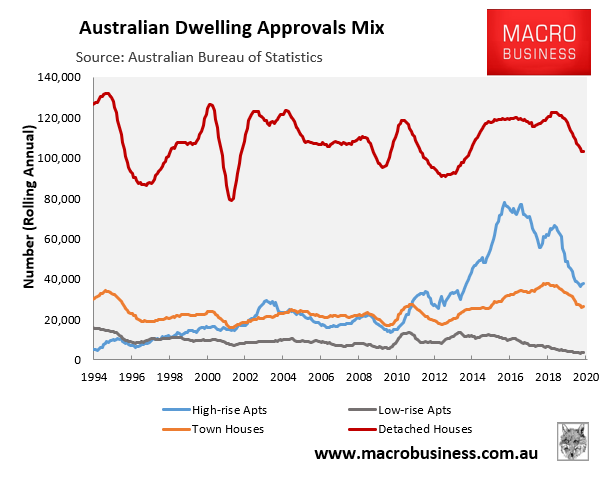 Thus, Australia is increasingly building homes that are unsuitable to both families and older Australians.
The situation looks particularly dire in Sydney. According to projections from the Urban Taskforce, apartments will make up half of Sydney's dwellings mid-century, whereas only one quarter of Sydney dwellings will be family-friendly detached homes: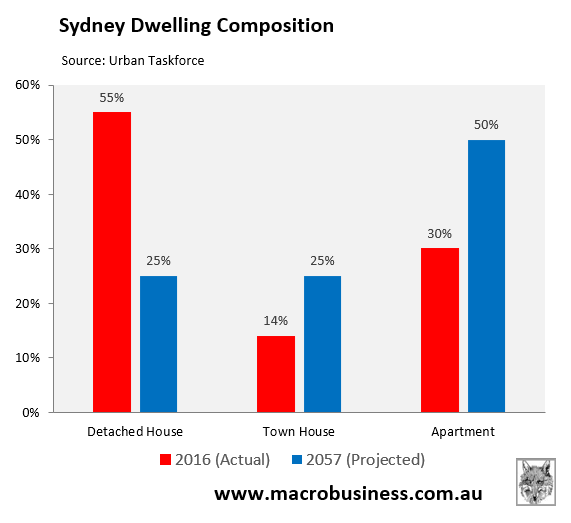 The housing mis-match will only worsen as Australia's population balloons and the share of high density apartments rises.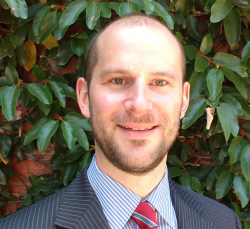 Latest posts by Leith van Onselen
(see all)