In her speech to the annual John Curtin Lecture, Labor's immigration spokesperson, Kristina Keneally, launched another tirade against the surge in bridging visas under the Coalition's term in office, which has been fuelled by "criminal people smuggling syndicates… running a work scam":
We have seen an explosion in this type of people smuggling in the last six years. Some 100,000 people claiming asylum after arriving in Australia on an airplane.

If 100,000 asylum seekers sounds like a lot – it is. It is more than double the number of boat arrivals that came under the previous Labor Government. It represents a growing number, year on year since 2014.

It is, quite frankly, an explosion of asylum claims under Scott Morrison and Peter Dutton's watch…

90% of these asylum claims from airplane arrivals have been found to be without merit.

So, if these people aren't refugees, why are they coming to Australia and claiming refugee status?

Because the people smugglers have updated their business model. To put it bluntly – the criminal people smuggling syndicates are now running a work scam.

They're still trafficking to Australia in false hope. Still preying on desperate people. Still undermining the rules and norms that our humanitarian system is built on.

But instead of unsafe boats on dangerous seas, they've found a new way in by airplane – and a new product to sell – a job in Australia…

They use online tourist visa systems, now available to Malaysia and China, where most of these airplane arrivals come from.

Once the trafficked worker is here, the smugglers instruct them to apply for asylum, knowing the worker will be put on a bridging visa for at least three years before their application is determined.

Meanwhile, the smugglers send the workers out to dodgy labour hire companies and that's when the real exploitation begins: pay as low as $4 an hour; physical or sexual assault; extortionate costs for food and accommodation; and curtailed movement as their passports are withheld.

It's no better than indentured servitude. In a lot of cases, it's worse…

It's booming because there are dodgy labour hire companies and unscrupulous employers who see exploitation as a cost-cutting tool.

And it's booming because Scott Morrison and Peter Dutton care more about the rhetoric of strong borders than they do about the reality of a temporary visa system in crisis…
Abul Rivzi has backed Kristina Keneally's claims:
The fact is the large backlog of asylum applications slowly being processed creates a honeypot for people smugglers and unscrupulous labour-hire companies…

The December report to the Senate shows that the backlog of asylum applications at the primary stage is now 36,777 and growing steadily. It grew by 1,222 in just December 2019…
Advertisement
As shown in the next chart, bridging visas have ballooned by around 120,000 since the Coalition was elected in 2013: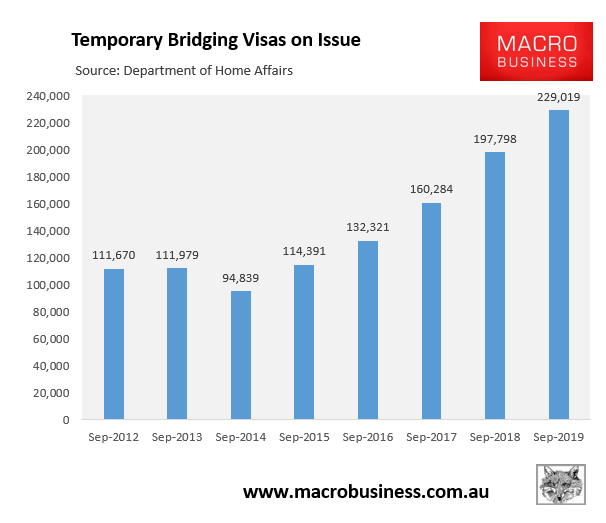 Last year, former High Court justice, Ian Callinan, warned that the Administrative Appeals Tribunal (AAT) was being inundated with dodgy asylum seeker applications, fuelled by organised criminals:
Advertisement
[Former High Court justice Ian Callinan] said "almost everyone" with migration law experience had told him there were applic­ants and representatives who "game the system, well knowing there is an automatic entitlement to a bridging visa".

The Australian Skills Quality Authority told Mr Callinan that delays had repercussions beyond the AAT. It told him it was aware that organised crimin­als were sometimes, "perhaps even regularly", benefiting from fake vocational training prog­rams or "ghost'' colleges…

The AAT now handles about 59,000 lodgements a year: more than half (52 per cent) are migra­tion and refugee cases…

The AAT's caseload of migra­tion and refugee matters doubled in the two years to June 30 last year…
Moreover, Malaysians using dodgy agents were behind the surge in bogus asylum applications:
The Malaysian government this week acknowledged Malaysians seeking to earn money in Australia were scamming the country's protection visa system by the thousands each year…

Malaysian Deputy Foreign Minister Marzuki Yahya told parliament there were few disincentives for workers to try their luck because it was so cheap to apply for a protection visa.

The worst that could happen was they would be sent home at Australia's expense…
Advertisement
In truth, the rorting of Australia's visa system comes in many forms, including:
Plane arrivals making bogus applications for asylum;
International students undertaking bogus tertiary courses to obtain work rights and permanent residency;
Undocumented migrant workers being paid well below market rates, facilitated via criminal syndicates and illegal labour hire companies; and
Employers hiring 'skilled' temporary migrant workers at below market rates around the minimum salary threshold of $53,900.
Basically, Australia's immigration system has been corrupted and requires fundamental reform.
Advertisement