It is carnage in Asian gas markets, via Platts:
The outbreak of coronavirus in China has dampened market sentiment, with market sources hearing Chinese buyers delaying spot cargoes, re-selling some February and March cargoes and potentially delaying their term off-take.

"Everyone is taking a wait and see approach as we do not know yet how bad the situation is likely to get and how much [volume] would Chinese buyers be able to take this summer," a Singapore-based trader said.

Buyers remained on the sidelines as they expect further downside to prices going ahead and would be buying only on a hand-to-mouth basis, trade sources said.

"There is absolutely no reason to buy in a hurry in the current market. Every time I think market has stopped falling, it goes down further," a Japanese trader said.

With the ongoing concerns about prompt Chinese demand, there were reports of offers for February and early March delivery cargoes being marketed aggressively due to limited buyers.

During the Market on Close assessment process Monday, Shell offered at $3.55/MMBtu for March 5-7 delivery cargo with a GHV of 1,030-1,130 and volume of 3.2-3.4 TBtu. This was 35 cents/MMBtu lower than a similar offer by the same entity on Thursday.
China is going declare force majeure any second and flood the market with cargoes. The bottom is NOT in.
JKM is the price benchmark used by the ACCC to govern the Australian Domestic Gas Reservation Mechamism (ADGSM). Local prices should be JKM minus $1.50Gj. Thus, today, the east gas price should $4Gj: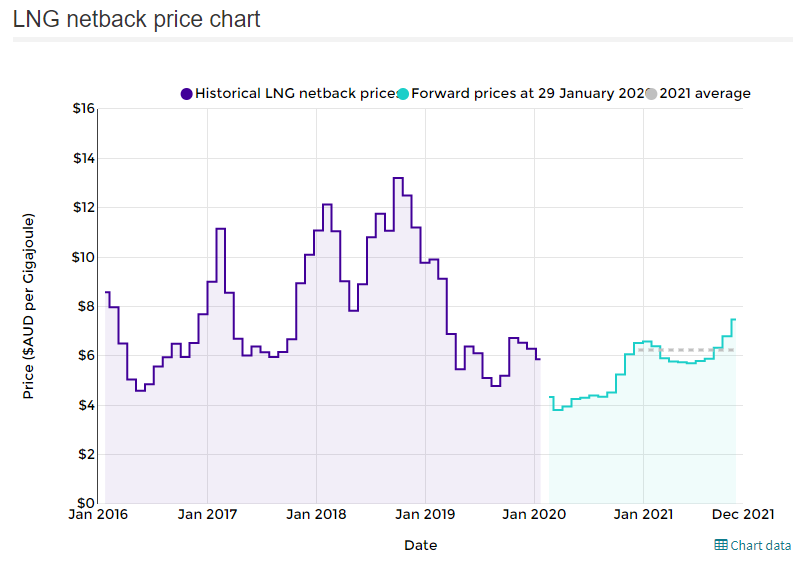 That would provide immense income relief for every household and business on the east coast just as the virus shock arrives.
But no. Instead the price is at $11Gj, setting power prices at suicidal highs. Why? Because the Morrison Government hasn't pulled the lever on the ADGSM even though its own review said that it should:
The review recognises that price is an important indicator in establishing whether the domestic market is functioning effectively and considers that the ACCC's forward LNG netback price series is the most applicable prices when estimating the likelihood and extent of a potential shortfall. As such, the review recommends amending the ADGSM's guidelines to include referencing the ACCC's LNG netback price series in estimating a potential shortfall.

This amendment clarifies the relevance of the ACCC's LNG netback price series to considerations under the ADGSM and strengthens the ADGSM's ability to deliver on its objective of securing domestic gas supply.
Instead it has done a sweetheart deal with Santos to reserve only Narrabri gas, via Domain:
Before Australia started exporting gas in late 2014, the long-term average wholesale price for gas on the east coast was $3 to $4 a petajoule. Queensland's export industry has grown rapidly since then to make Australia the world's largest gas exporter. Linking the domestic market to international prices has pushed up Australia's wholesale price, which hovers around $8 to $12 a petajoule.

Grattan Institute energy program director Tony Wood said boosting NSW gas supply could result in slightly cheaper prices for local buyers, who wouldn't have to pay the transport cost for piping in gas from interstate.

"More gas will bring down the price of gas, but the impact will be limited because the market's linked to export parity," Mr Wood said. "Most market indicators show gas supply and international prices are looking better, and new supply could potentially take us below $8, but we won't get back to where we were in the past."
Exactly. You have to reserve the entire market not specific assets.
Santos, not the public interest, appears to be running the Morrison Government. Why? Via Crikey:
Palmer's company Mineralogy handed his United Australia Party (UAP) more than $83 million in by far the largest political donation ever made, aimed at preventing Labor from winning the election. Palmer, a climate sceptic, is pushing for the development of mammoth coal mines in Queensland's Galilee Basin via his coal company Waratah Coal, which also donated $150,000 to the UAP.

Right-wing industrial relations employer group the Australian Petroleum Production and Exploration Association was also a major donor, handing more than $160,000 to the Coalition and $77,000 to Labor across different branches.

Energy company Woodside, which enjoys extraordinary access to and protection from the federal government under both sides, gave $148,000 to the Coalition and $135,000 to Labor. Gas company Santos, which will enjoy a taxpayer-funded windfall courtesy of Scott Morrison's energy deal with NSW, gifted $79,000 to the Coalition and $69,500 to Labor, while Origin Energy handed around $50,000 to both sides. Adani gave just under $100,000 in total to the Coalition.
Perhaps all of the bushfire donations should be used to buy the government back.
As well, the ADGSM falls under the management of Resources Minister Matt Canavan and where is he? Via AFR:
Last night, after Mr Joyce confirmed his intention to depose Michael McCormack, Mr Joyce's co-conspirator and Resources Minister Matt Canavan quit cabinet in preparation for the spill.

Senator Canavan, a staunch supporter of coal and land clearing, said the Nationals needed to take a stronger stand against environmentalism.

He also confessed he was a member of a football club that received government assistance from the Northern Australian Infrastructure Fund and was seeking advice whether he had failed to manage a conflict of interest and would be disqualified permanently from the ministry.
Looking after number one, embroiled in corruption, completely distracted by politics. So, as every other economy on earth is stimulated by falling energy prices, a disgraced Canavan takes Australia the other way.
If we had a media worth dogshit this alone would be fatal to a failed government. Instead, it looks on slack-jawed as Canavan vaults uninhibited from gas corruption to Nationals deputy leader.
Latest posts by David Llewellyn-Smith (see all)