Jessica Irvine has penned another article imploring policy makers to replace property stamp duties with a broad-based land tax:
Even as young Australians can't afford the homes they want, many older Australians say they don't want the homes they currently have. A mismatch, of sorts…

This brings us to the final strand of this story and findings released this week from an ongoing review by former Telstra CEO David Thodey of state and federal financing arrangements, being conducted for the NSW government.

Out of 33 written submissions to the review, more than half raise the issue of the distorting effects of stamp duty on property purchase….

The activity that stamp duty distorts and discourages is home purchase and transfer.

…it's not just younger people negatively affected by stamp duty.

Would-be downsizers are also discouraged from switching homes by the significant tax hit they'd face if they do. It may not be the primary thing keeping older Australians in their larger family homes, but it must be a factor for many – a suggestion also made by the Thodey review.

"Throughout the consultation period, we consistently heard how transfer duty is a costly tax that impacts citizens' freedom to move throughout the seasons of life. We also heard how it can often have the worst impact on first home buyers and seniors. By hindering mobility, we heard stories of people living in housing that doesn't meet their current needs"…

This is not a surprise, given former Treasury Secretary Ken Henry said the same thing in his tax review over a decade ago, advocating that stamp duties be axed and replaced with a broad-based and ongoing annual land tax.

Unlike its scare campaigns on reform of capital gains tax and negative gearing, the property sector is also backing the push for reform of stamp duties…

Such a switch could not only ease barriers to entry to home ownership for younger Australians, but also make downsizing an easier financial decision for older Australians.
When it comes to inefficiency, you would be hard pressed to find a worse tax than stamp duty on property.
Victoria University recently ranked it as the most inefficient tax: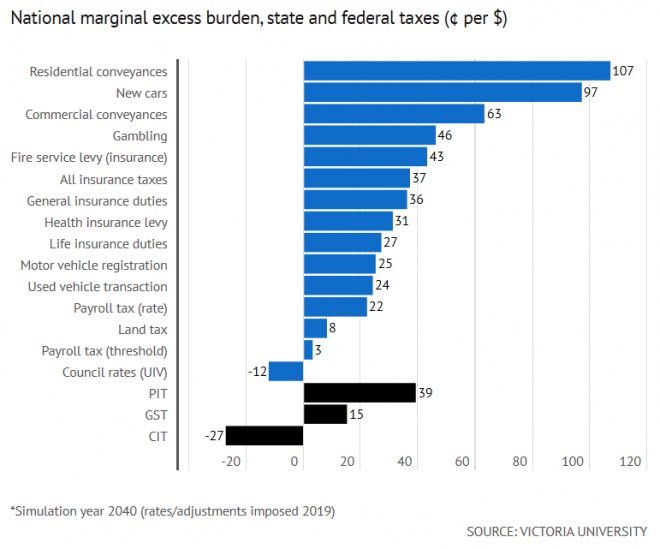 As did Treasury's discussion paper on tax: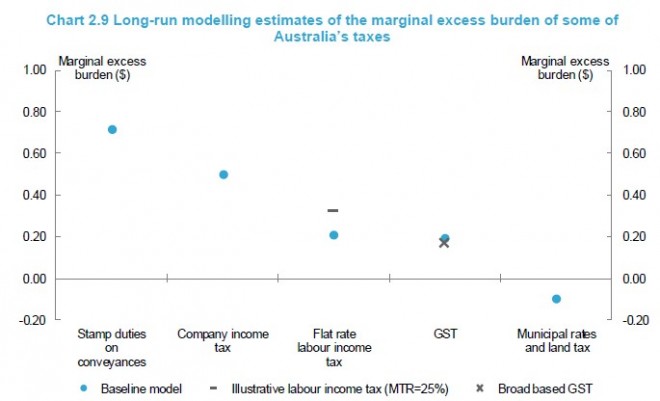 At the other end of the efficiency spectrum is land taxes, which are highly efficient.
Stamp duties are also linked to the number of property transaction and, therefore, are inherently volatile: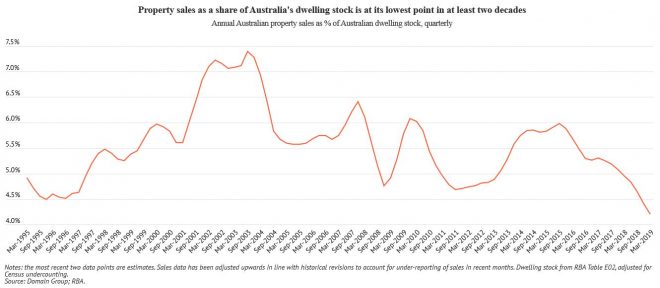 Moreover, because only between 4% and 8% of the housing stock is transacted annually, we have a bizarre situation where a small minority of the population are paying taxes that support services for the whole community – all for the privilege of moving to a home that better suits their needs!
Clearly, there are strong efficiency arguments in shifting from stamp duties to land taxes.
The problem is political: landed property holders will squeal like stuck pigs at the prospect of change, no matter how good the economic arguments are.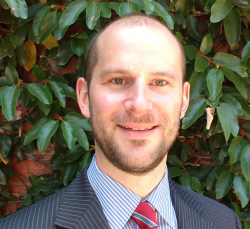 Latest posts by Leith van Onselen
(see all)