Perhaps Labor's Albotross is a genius after all. His embrace of coal at the edge of climate disaster has given the Morrison Government so much rope that he's determined to hang himself.
We begin with SmoCo at The Australian:
Scott Morrison has called for a ­national standard for bushfire hazard-­reduction burns and ­declared that tracking measures to cut fuel loads is at least as important as monitoring Australia's carbon emissions.

In the wake of the bushfires crisis, the Prime Minister criticised the fact there were clear rules and transparency arrangements for reporting on emissions but not on mitigation measures.

He highlighted hazard-reduction burns, land-clearing laws and management of native vegetation and national parks as critical state issues that had to be scrutinised.

"We report all the time on what our emissions reductions are but across the country there is not a national system of reporting to track how hazard reduction is progressing," Mr Morrison said on Tuesday night.
But there's no money and no interest, says Domain:
Leading ecologists say decades of underspending on environmental research mean governments will likely struggle to assess the impact on wildlife from the huge bushfires let alone develop effective recovery plans.

The assessment comes days after the Victorian and NSW governments developed initial responses to the fires, and the Morrison government declared as many as 100 threatened species had lost at least half their habitat.

The Australian Conservation Foundation said federal Coalition governments had sliced 40 per cent off the Environment Department's budget since 2013, with more loss of staff likely once it is merged with the Department of Agriculture.
As the fires keep on burning, via ABC:
Rain across firegrounds in south-eastern Australia has slowed several blazes, but failed to provide the knockout blow authorities had hoped for.

Light to moderate falls over the past week have helped firefighters, however the NSW Rural Fire Service (RFS) said more than 60 blazes were still burning.

A third of those fires remain uncontained, and the showers have also hindered backburning efforts.
And international pressure is relentless, with SmoCo's psychos caned, via Domain:
One of the UK's top climate scientists has described federal Liberal MP Craig Kelly's understanding of climate change as being only "partial", after the parliamentarian quoted from a report she co-authored in a social media spray about "brainwashed climate cultists".

In response, Mr Kelly told The Age and The Sydney Morning Herald he was happy to be called a climate sceptic, but said calling him a climate change denier was offensive.

"A denier is a slur equating you to a Holocaust denier, and trying to silence debate on this issue," he said.
There's Godwin's Law for ya. Bloomie is savage:
Spilling from burning alpine hamlets and coastal resorts in their thousands, Australians fled raging wildfires towing caravans and trailers packed with pets, livestock and keepsakes.

The exodus was a poignant reminder of how even in one of the world's most advanced economies, areas can be reduced to the level of disaster zones with refugee camps in the face of a changing climate.

For weeks, many of the displaced camped out on sports fields and parks — unable to access communities cut off by blazes, or with no homes to return to.
ScoMo insists there's no division but there most assuredly is, via The Guardian:
After Morrison claimed that there were no members of his frontbench wanting stronger action on climate change policy, sources have told Guardian Australia that ministers discussed the issue at length in the cabinet meeting that followed in Canberra that day.

Some cabinet ministers are understood to have expressed the view that there is a need for the government to step up action in a way that is both "genuine and believable" in the year ahead.

However, no one argued for any substantial policy change that strayed from the Coalition's election commitments, with senior members of the Coalition unified around the government's emissions reduction targets of 26% to 28% of 2005 levels by 2030.
In lieu of policy that is impossible amidst divisions, lie. Especially if you're at the World Economic Forum in Davos, via Matthias Cormann:
1) "We are committed to effective action on climate change. We're planning to meet and beat our emission reduction targets agreed to in Paris." @MathiasCormann

— World Economic Forum (@wef) January 21, 2020
Green is Paris, using the Government's own projections: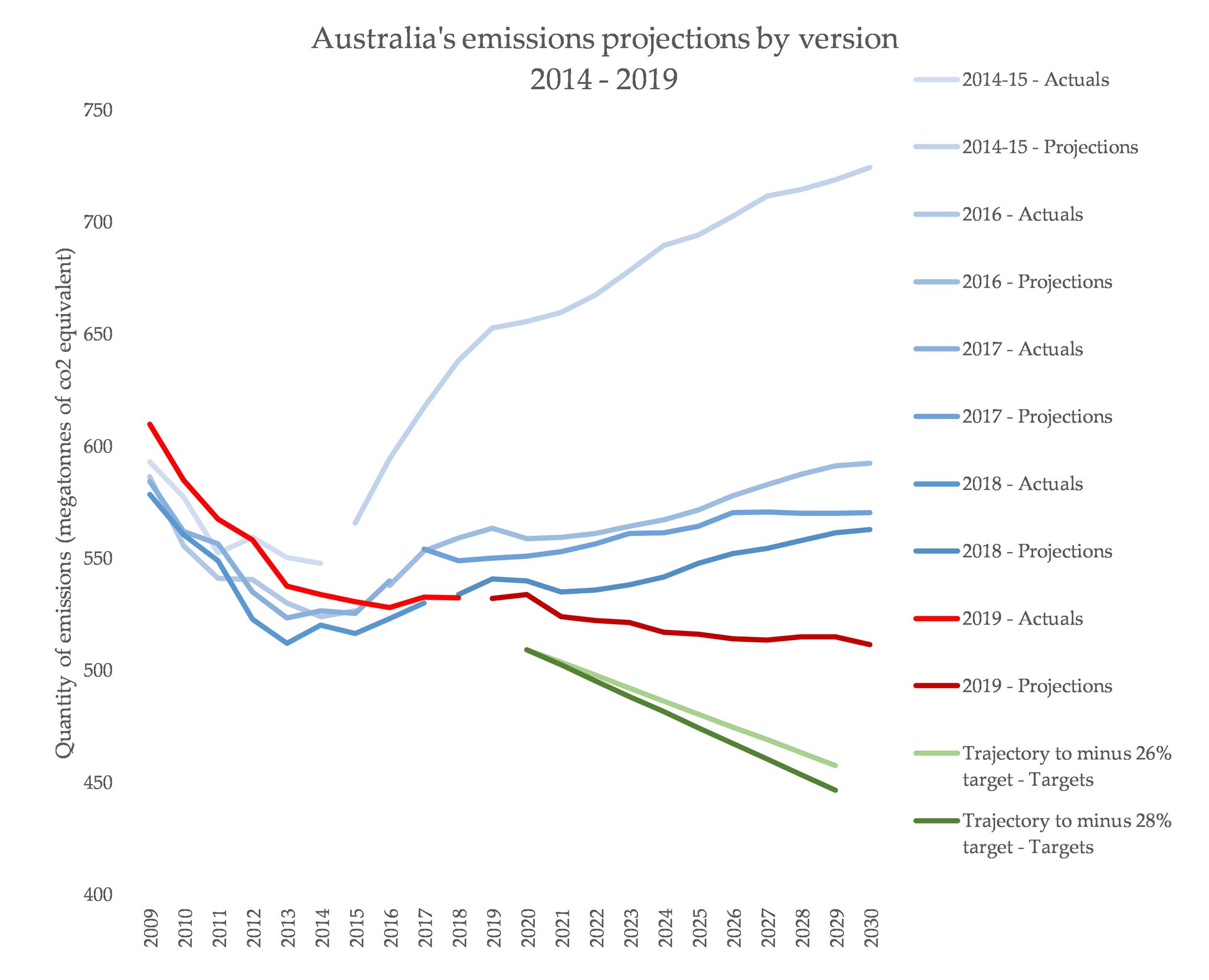 We were supposed to return to Paris this year with more aggressive targets. Fat chance. The Morrison Government is a climate psychopath serially murdering the truth. Given its determination to do nothing, it has no choice, via Domain:
The environment has catapulted to the top of the list of Australians' biggest worries, leapfrogging cost of living, healthcare and the economy.

When asked to pick the top three biggest issues confronting the nation – out of a potential list of 19 – 41 per cent of participants in an online poll conducted by Ipsos Australia this month put "the environment" in their top three, up 10 percentage points since last month.

"Cost of living" and "healthcare" ranked as the equal-second biggest concerns, appearing on the top three lists of 31 per cent of about 1000 people surveyed. The "economy" featured on 25 per cent of lists and "crime" on 21 per cent.

Ipsos social researcher Daniel Evans said the summer's bushfire crisis and continuing drought had focused minds, but environmental concerns had been climbing steadily for half a decade.
And the Albotross said: let's back coal!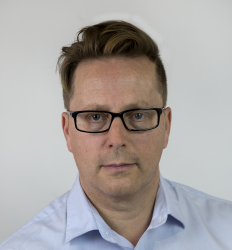 Latest posts by David Llewellyn-Smith
(see all)