Following his re-election in 2018, Tasmanian Premier Will Hodgman rejoiced at the acceleration in the state's population growth:
Tasmania's population is growing at its fastest rate in five years and the State Government wants to see more of it…

"There's no doubt that Tasmania has ample room for additional intake of people from interstate or overseas who might choose to live here," Premier Will Hodgman said…

"A strong population base … actually supports growth in not only the economy but also in government's ability to provide the sorts of services that Tasmanians need, into our schools, into our hospitals, into our infrastructure," Mr Hodgman said…
The reality on the ground for ordinary Tasmanians is no so pretty, with Tassie experiencing a full-blown housing crisis:
Thousands of Tasmanians have been left languishing on the state's growing housing waiting list, new figures reveal, with the list now higher than at any point in the past year…

New figures released by the Department of Communities reveal that… thousands of Tasmanians remain on a housing waiting list that is getting longer.

The number of Tasmanians waiting for public housing rose in the September quarter to 3,444 — higher than at any point in the previous 12 months…

Labor's housing spokeswoman Alison Standen said the waiting list was evidence of a deepening housing crisis in Tasmania.

"People in Tasmania tonight are concerned about where they're going to get a roof over their heads. This means that very many vulnerable Tasmanians are struggling to find a home," she said.

"Clearly this is a crisis in housing that is getting worse and worse."
Meanwhile, 'experts' believe that Tasmania's housing crisis will worsen in 2020 as population growth continues to outrun supply:
Property prices are set to keep rising in Hobart, experts say, offering no relief from the affordability crisis facing Australia's southernmost capital city, after rapid rises in recent years.

Locals report a continued influx of mainlanders moving to the Tasmanian capital…

The city's median house price, at $482,960 last quarter, jumped 35 per cent over the three years to September, Domain data shows. Meanwhile, unit prices increased more than 50 per cent to $395,715.

Hobart became the fourth most expensive apartment market in 2019… This is a stark contrast to two years ago when it was the most affordable…

[Independent economist Saul Eslake] noted upward price movements had been driven by a significant turnaround in population growth — with more people migrating south and fewer locals leaving — increasing demand for homes…

Rob Henry of Harcourts Hobart has seen an influx of mainland buyers in recent times as east coast housing prices have jumped…

The undersupply of housing has put a squeeze on Hobart's rental market, the most rapidly rising of all the capital cities – with rents increasing 9.8 per cent for houses and 12.9 per cent for units over the year to September.

Hobart also has the lowest vacancy rate, sitting at 0.6 per cent in December compared to the national rate of 2.4 per cent.

"Vacancy rates are very, very low, you don't get one or two people applying for a rental, you get 10 to 15 people wanting to put in rental applications," Mr Henry said.
According to CoreLogic, Tassie has experienced by far the sharpest rental growth over the past year: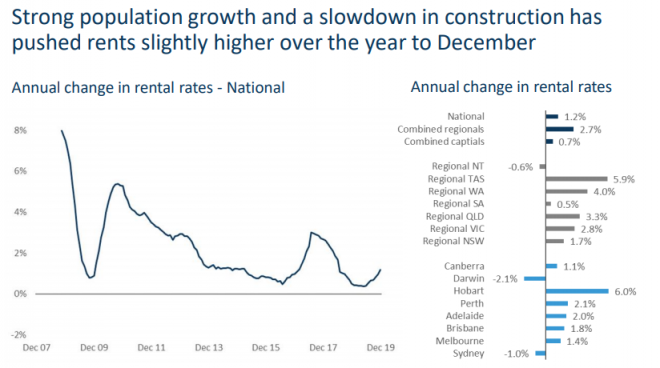 Hobart rents have also soared above the national average over the past four years, according to the ABS: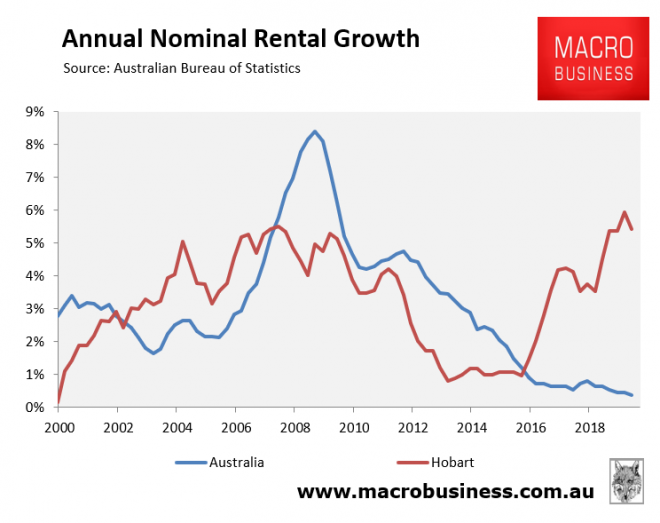 Which has come about following the collapse in rental vacancies: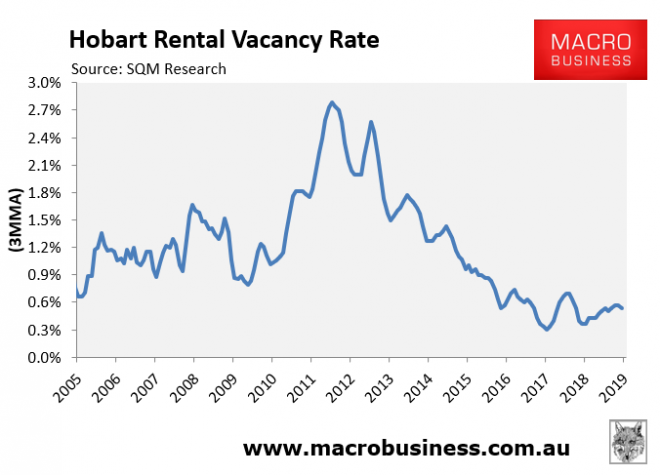 Tassie's dwelling values have also risen strongly over the past decade: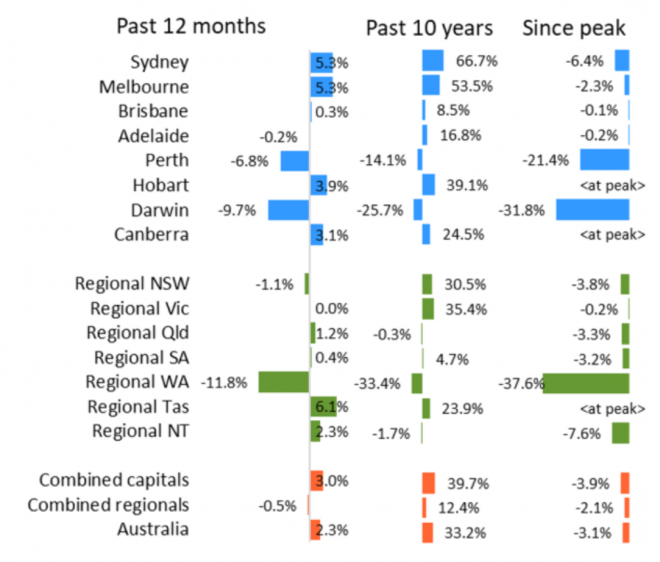 The nightmare of the mainland East-Coast population ponzi / housing bubble have well and truly landed in Hobart.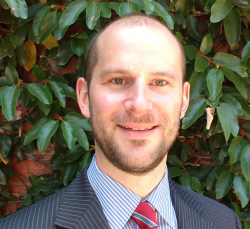 Latest posts by Leith van Onselen
(see all)