In last year's federal budget, the Morrison Government promised to "bust congestion" via a $100 billion infrastructure program over 10 years, alongside a $4 billion Urban Congestion Fund to support projects at a State level to fix pinch points and improve traffic flow.
It has been revealed that just three of 114 government-promised road projects under the Urban Congestion Fund have been started:
Construction has started on just three of 114 federal government-funded road projects promised in the lead-up to the election…

All 114 projects are out of the $4 billion Urban Congestion Fund, designed under Malcolm Turnbull, but used by Scott Morrison as a way of making localised funding promises in the lead-up to the election.

Labor has accused the government of leaving Australians "stuck in the slow lane".

But the government told 9News the progress is "very fast" – and says it has worked with six state government and local councils to get things built.

"We're moving as quickly as possible on these," Urban Infrastructure Minister Alan Tudge said…

Many developments for roads, traffic lights and car parks are either in planning or not yet progressed.

"This is a government unable to deliver on its key election promise of building busting congestion across the country," Shadow Infrastructure Minister Catherine King said.
The $104 billion committed by the federal government over 10 years was always laughably small and was never going to be enough to keep pace with the 3.5 to 4.0 million population growth expected to be added over this 10-year period, nor backfill the infrastructure deficit that has accumulated over the past 15 years as Australia's population has soared: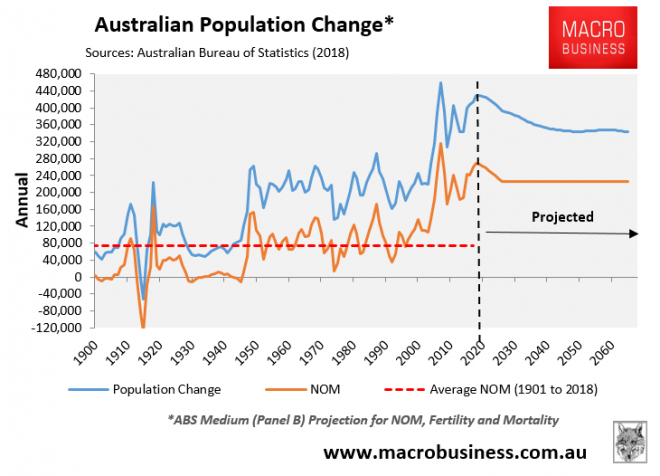 The whole reason why Australia has an infrastructure deficit in the first place is because the federal government has for more than a decade run a mass immigration program more than double the historical average. And this population crush was projected to strengthen over the Budget forward estimates:

This is projected to drive massive population increases for NSW (~600,000) and VIC (~650,000) over the next four years: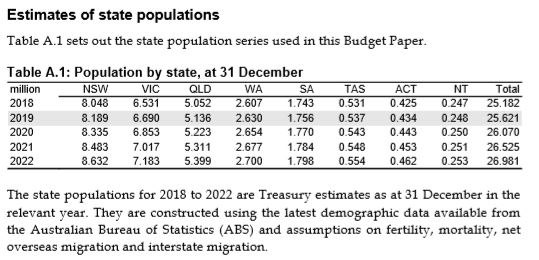 The federal government, which collects more than 80% of the nation's tax revenue, runs a mass immigration 'Big Australia' policy because it gets to collect the benefits via personal and company taxes.
But the costs are borne by the states and existing residents, who have to stump up funding for all of the extra economic and social infrastructure required to accommodate the larger population (think schools, hospitals, roads, rail, etc).
The fact is, catering for population growth costs a fortune. But these costs aren't born by the federal government, which sees migrants purely as a cash cow to milk for extra tax revenue.
Moreover, whatever infrastructure is delivered will be crush loaded before launch, will be pork, or be sold to rentiers for private taxation. It won't lift productivity, incomes or living standards. It will lower all three in the context of mass immigration and rampant corruption.
Relying on building to drive economic growth never lasts. It is the rate of change in the investment that matters so you always have to build more every single year to add to growth at all.
It's nearly impossible to keep the pipeline full enough. The failing Chinese model is the greatest living example, now building a new Europe every year and striding backwards into stagnation and debt. We are seeing that exact outcome todayin Australia as infrastrcuture leads the national construction bust: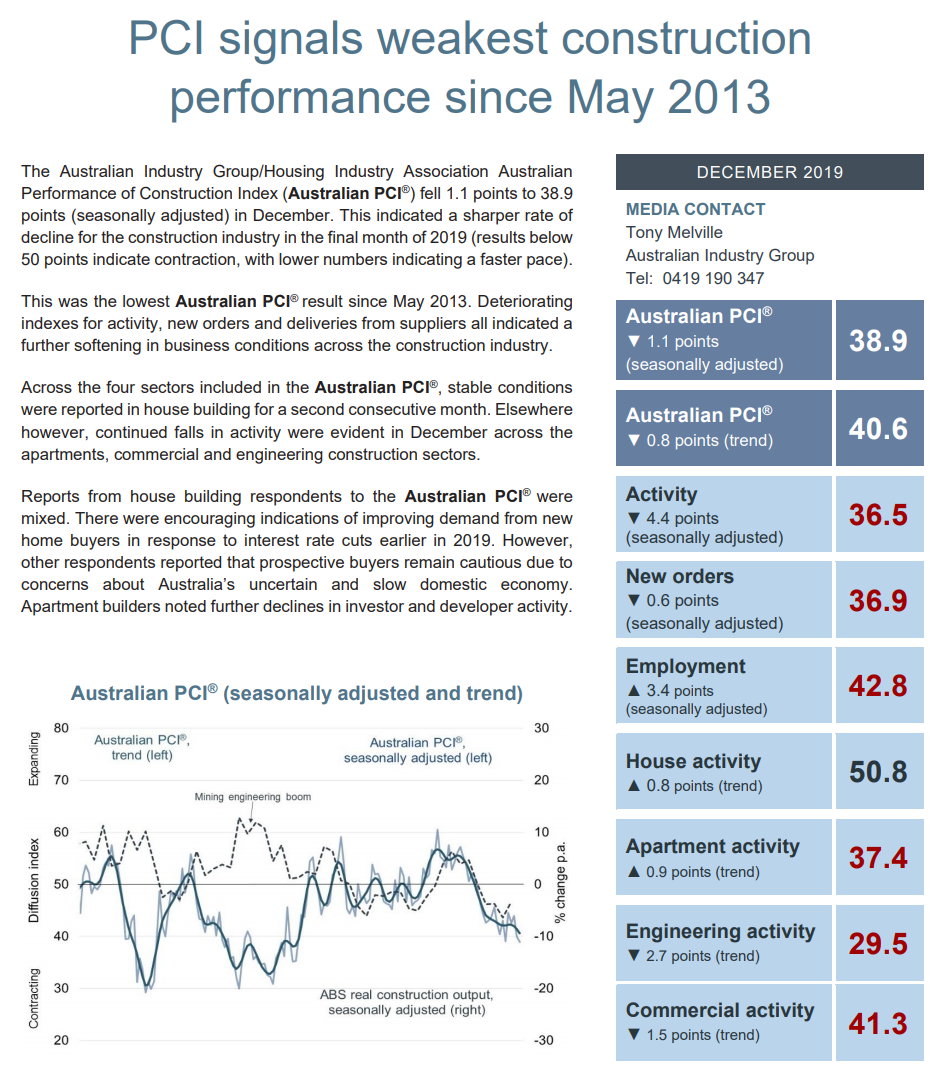 As we crush load everything in sight with mass immigration, we have little choice but to keep the rat wheel spinning. But let's not pretend that it is anything other than a pointless running on the spot enriching nobody but a few growth lobbyists like Transurban.
The answer is as obvious today as it has been for years: cut immigration; boost innovation and competition; reform tax concessions; lower land prices; lower energy costs and lower the AUD.
Following the current path will further hollow out Australia's productive capacity, leading to much deeper stagnation as we force feed people and pointless building.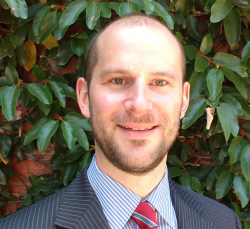 Latest posts by Unconventional Economist
(see all)