Front page at The Australian over the weekend:
Booming share prices, record household debt and a resurgent property market are increasing pressure on the Reserve Bank to hold fire on further interest rate cuts, despite the economy absorbing a hit from the bushfire crisis, which has rocked the agricultural and tourism sectors.

…Former RBA board member and Australian National University professor Warwick McKibbin said the central bank should hold fire, pointing to evidence that near-zero and falling rates were starting to scare people.

"Once rates get to a certain level, the effects start to disappear quickly. There's a balance between­ cheaper credit and making people concerned that there is a serious problem. There are much better policies to stimulate growth than cutting rates."

…Professor McKibbin said, over time, persistently low rates created "a great deal of problems with the build-up of debt and the distortion of companies' and households' balance sheets".
Who could possibly disagree with that?
The problem is Professor McKibbin is continuing his bizarre campaign to never mention the words "macro" and "prudential". He has done this for years as the macroprudential tool kit available to global central banks has dramatically expanded and been endorsed by every major economic entity. Eventually it even landed in Australia and was deployed successfully to end the last housing boom. Which ushered in a very worthwhile period of deleveraging without triggering a recession, a truly rare experience in macro economic management.
The entire article, by Patrick Commins, is very poor journalism for the same reason. At no point does it interview anybody that holds a counter-argument. It just rounds up the usual suspects that have failed to move with the times and mentions neither macroprudential nor APRA, its manager. This is monetary policy fake news.
So, let's have the debate here instead. What would happen if the RBA stopped cutting today:
We are in a period of hysterical market reflation so the Australian dollar would fly. The last comparable period was 2016 when it shot up to 80 cents.
This would crush nominal growth, hammer the Budget and send a shock through the external sector, especially tourism and education.
Inflation would crater to 1% and wages growth fall further, lifting the debt burden for all.
The share market mini-bubble would pop. The construction bust would get worse.
It might force the Morrison Government to spend which is a good idea. Or not. It is ideologically driven.
If confidence did lift on no cuts, as the McKibbin argument implies, then households will…err…go and borrow more, house prices might accelerate!
Versus the alternative of rate cuts with macroprudential tightening:
The Australian dollar will keep falling to 65 cents this year supporting the external sector, Budget repair, nominal growth and inflation.
The sharemarket mini-bubble is harmless. It's not being driven by corporate borrowing or margin debt. It's savings poured in owing the high equity risk premium. If it pops it will have little impact on financial stability.
Fiscal spending is needed regardless.
If confidence is damaged then lower rates will accelerate deleveraging. Hooray!
House price gains will fade while Australia keeps growing and avoids a high unemployment debt-deflation. What Ray Dalio calls a beautiful deleveraging, in other words.
In short, Professor McKibbin's argument is not only dangerously blinkered, it actually makes no logical sense. If rate cuts are damaging confidence then they are also aiding deleveraging. Lower rates also accelerate repayments to prevent the houshold debt load from growing. Indeed, despite the mortgage rebound, the debt ratios are trending lower. Guess since when? The advent of macroprudential in 2015!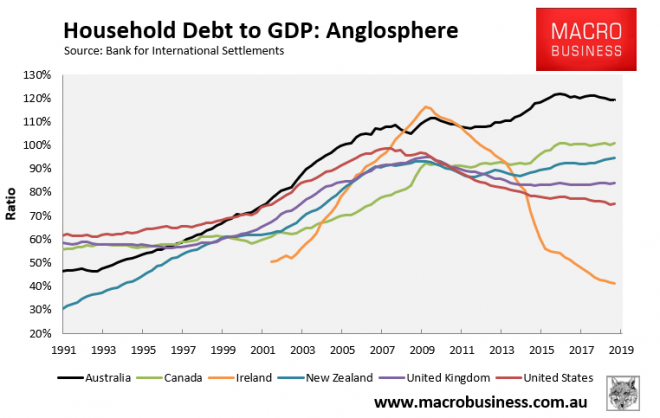 There is a problem with macroprudential in-so-far-as it is operated under the aegis of APRA not the RBA. The two should be banged back together in the mold of the far superio RBNZ to ensure appropriate accountability.  But that doesn't mean macroprudential doesn't hasn't worked via the Council of Financial Regulators. It has, even if used too lsowly.
Professor McKibbin is right to worry about any further house price and household debt rebound but it's time he joined the modern world and attacked APRA for loosening too far, not the RBA.
Latest posts by David Llewellyn-Smith (see all)