With the percentage of Australians between the ages of 20 to 39 with private health insurance falling from 40% to 34% over the past five years, and older Australians claiming more than ever, Private Healthcare Australia (PHA) has demanded the private health insurance rebate to be restored to 30% once the federal Budget has returned to surplus. PHA has also urged the federal government to increase the Medicare levy surcharge for high-income earners who do not have private health insurance:
"Subsidies for private health insurance-funded services cost the commonwealth budget around 30c in the dollar. The ­alternative, providing more services in public hospitals, costs the commonwealth budget 45c in the dollar."

PHA's call for a full restoration of the 30 per cent rebate is an advance on its previous position of wanting the rebate to be restored for those aged under 40…

PHA on Friday released modelling it said showed that an increase in the Medicare levy surcharge of 1 per cent would encourage more high-income earners to take out insurance.
Doing the same thing over and over again and expecting a different result is the very definition of insanity.
Crispin Hull recently penned an interesting counter-point to the private health insurers special pleading:
Private health insurance has demonstrably failed in Australia. Without the tax concessions for premiums and without the Medicare penalty levy for people without insurance, they would go under.

The government subsidies of private education and private health also have a high incidental cost. They have has resulted in a swathe of articulate, engaged, middle-class, middle-income people leaving the public systems.

When that happens governments can get away with poor service. There are fewer articulate people to voice demands for better service at the cost of votes.

Further, when the articulate, middle-income people are engaged, they improve the public system…

Strip away the subsidies and only a very few would be able to afford genuine free-enterprise health.

It would mean a great proportion of articulate middle-income people would come back to the public sector and no government would get away with long waiting lists for elective surgery or starved public schools. They would be thrown out of office…

Further, the government support now given to private education and health is so high that per capita it is almost as much per capita as to public education and health anyway. So nothing lost. For every private student or patient who jumps ship, it will not cost government much more.
It's hard to disagree with Hull's arguments.
As shown recently by the Grattan Institute, private health premiums are rising much faster than inflation and wages growth, which is ultimately unsustainable: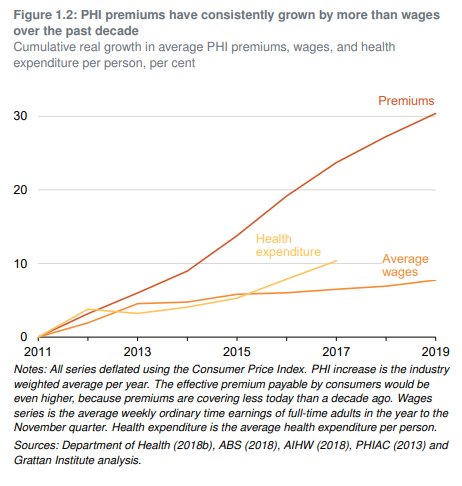 Therefore, young people are dropping their cover, leaving older and sicker people in the system, which is driving premiums up further: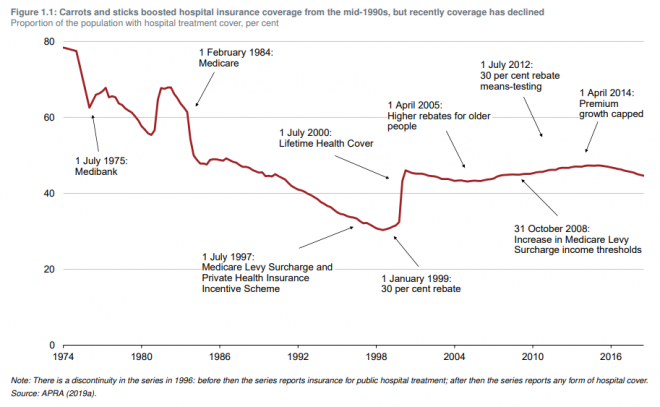 And this comes despite taxpayers subsidising private health insurance to the tune of about $9 billion every year: $6 billion for the private health insurance rebate, and $3 billion on private medical services for inpatients: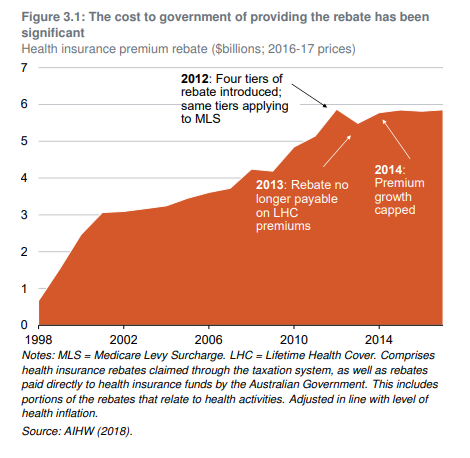 There is no evidence that private health insurance buys patients extra quality and safety. The Productivity Commission (PC) found that the larger, most comparable public and private hospitals had similar adjusted premature death ratios. Further, the PC found that the team-based care in large public hospitals also leads itself to better coordination of care.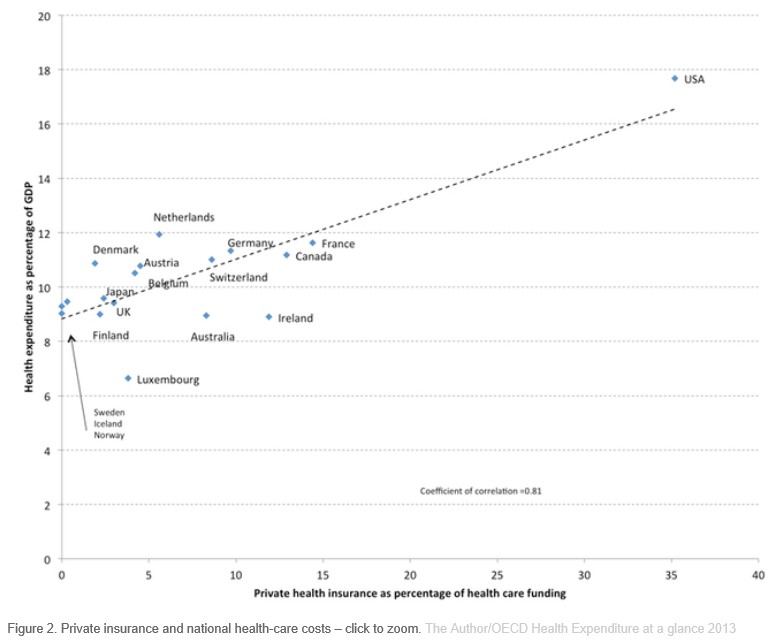 The last thing the federal government should do is to waste more taxpayers' money on private health insurance subsidies. Rather, diverting the $9 billion of private health subsidies into the public system may well prove a better use of scarce taxpayer funds.
Cut the cord.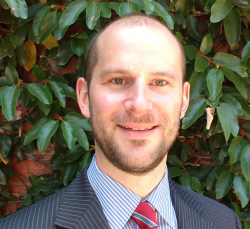 Latest posts by Leith van Onselen
(see all)