The traditional Gallup International End of Year survey conducted in countries all over the world shows Australians are amongst the least optimistic about 2020 of anyone: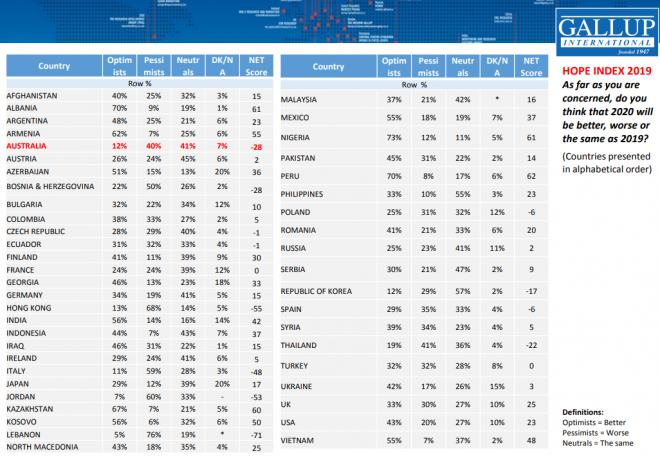 As shown above, only 12% of Australians are optimistic about 2020, versus 40% that are pessimistic. In fact, the only OECD nation that is more net pessimistic than Australia is Italy.
These results accord with a survey conducted by Roy Morgan just prior to Christmas, which showed that Australians are largely negative on prospects for 2020, with the net negative rating of 28% the worst in nearly 40-years:
A special Roy Morgan web survey shows two-fifths of Australians (40%) think 2020 will be 'worse' than 2019. This represents a significant increase of 26% points from a year ago and is the highest figure for nearly three decades since 1990 – during the midst of Australia's last recession.

In addition a record low 12% of Australians think 2020 will be 'better' than 2019 (down 32% points from a year ago) while 41% (up 9% points) say 2020 will be about the same and 7% (down 3% points) don't know.


The net negative rating of 28% points is the largest negative gap in the survey's history going back nearly forty years. This exceeds the previous record gap of a net negative rating of 16% points in 1990 when 33% expected the next year (1991) would be better and 49% expected it to be worse.

Roy Morgan CEO Michele Levine reflects on the mood of Australians as we head towards 2020 and notes that pessimism about the future has rarely been so pronounced: "Australians are facing 2020 with a large degree of pessimism about prospects for the new year. Only 12% of Australians expect next year will be 'better' than this year while 40% – the highest since 1990 – expect next year will be 'worse'.

"Pessimism is widespread with at least 40% of respondents in Australia's two largest States of New South Wales and Victoria, as well as Tasmania, expecting next year to be worse. The trend is the same across age groups with at least 40% of everyone aged 25 or older expecting a 'worse' year in 2020.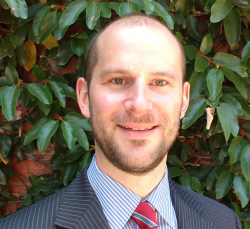 Latest posts by Leith van Onselen
(see all)