Last month, the latest results from the Ookla fixed broadband speed rankings were released, which continued the downward trend that we have witnessed over the past decade with Australia now positioned 68th place out of 177 nations on these rankings, down three places from the prior year.
This slide in broadband speed rankings comes despite the ongoing rollout of the $51 billion National Broadband Network (NBN), which is nearing its completion.
According to Ookla, Australia's average broadband speed was 41.8 megabits per second, way down from the global average of 73.6 megabits per second. The upload speed differential was even worse, with Australia coming in at 18.8 megabits per second versus the global average of 40.4 megabits per second.
The New Daily has published an interesting table, sourced from the Australian Parliamentary Library, which shows that Australia is also ranked 32 out of 35 OECD nations for broadband speeds: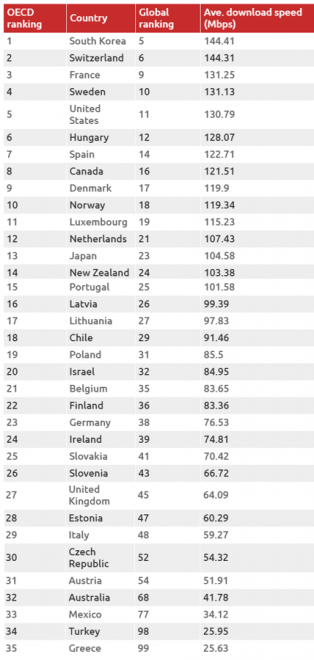 The results have led to widespread condemnation of the NBN by telecommunications experts:
"Australia ranking so poorly in their results does clearly show that Australia's broadband speeds are significantly behind most countries with comparable wealth, and most countries in our region," [Curtin University associate professor of internet studies Tama Leaver] said.

Australian internet speeds are embarrassingly slow, and reveal just how poorly the NBN rollout has been managed.''
The NBN was "supposed to future-proof Australian internet speeds and capacity and has, instead, failed to meet even the current speed and capacity requirements", Dr Leaver said.

"The NBN should have included fibre to every home to ensure the expectation of working remotely, connecting remotely, and participating fully in the digital economy was possible," he said.

Instead, the NBN is a Frankenstein's monster of old and new parts, and the ultimate speeds rely on the oldest and weakest parts of the network.

"That's why Australians have such poor speeds, and that's a problem that was understood long before the NBN rollout began"…

RMIT telecommunications and network engineering academic Mark Gregory said the results show that the Coalition government's NBN has failed to deliver for the nation.

After taking power in 2013, the Coalition government scuppered Labor's plans for an NBN with 93 per cent fibre-to-the-premises (FTTP) coverage, and has instead rolled out a network comprising a hotchpotch of old and new technologies of varying quality…

We have ample evidence now from other countries that the cost of rolling out fibre-to-the-premises would have continued to drop, in line with projections.

"And it is only by providing fibre-to-the-premises that you're going to meet future demand."
In short, Australia is facing a dastardly situation where the $51 billion NBN is obsolete by the time its roll-out is completed.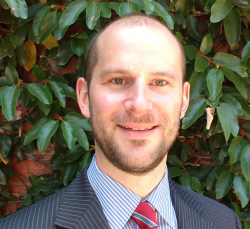 Latest posts by Leith van Onselen (see all)